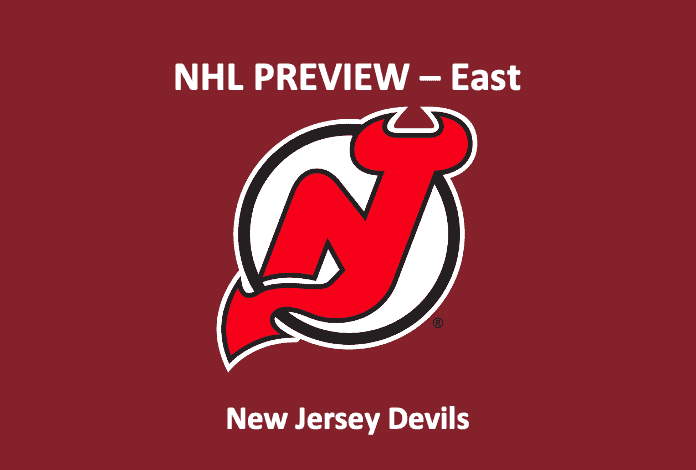 The Devils were one of seven teams to not make the qualifying round for the playoffs last year. Their 28-29-12 record placed them last in the Metropolitan Division. Their 68 total points were tied for the sixth worst total in the league. Along with this they owned the fourth worst goal differential of any NHL club. The Devils made a few big moves this offseason. Our New Jersey Devils preview 2021 looks at how these transactions will affect their standing in the East Division this year.
Devils Forwards
While the Devils scored the seventh least goals last season, there is some promise for their forward corps. Kyle Palmeri, Nikita Gusev, and Nico Hischier all return as the team's three top scorers from last year. Palmeri had a team leading 45 points and 25 goals last season. Gusev had 44 points in his first NHL season. Hischier is one of the top young players that the Devils are building around. He had 36 points including 14 goals last season. While he saw a slight dip in production compared to his first two seasons, the Swiss center will be a crucial piece for New Jersey this season.
The most promising forward this season looks to be Jack Hughes, the first overall pick from last year. Hughes had a Disappointing rookie season scoring just seven goals and assisting on 14 others. A big issue was that he was undersized and underdeveloped for an NHL player. Hughes has apparently put on a decent amount of muscle over the offseason and looks to be more physically ready for the NHL. The young center has plenty of skill and it is only a matter of time before he breaks out as one of the league's top young players.
The one addition the Devils made up front this offseason was Andreas Johnsson. After spending the past two seasons with Toronto, Johnasson was traded to New Jersey in exchange for Joey Anderson. While the Devil's lost a promising young forward, they received a winger who has already proven that he can provide adequate secondary scoring. The Swede has a total of 30 goals and 37 assists through his 125 career games.
New Jersey Devils Preview 2021 – Defense
The Devils biggest upgrade this offseason came on their blueline. They acquired Ryan Murray via trade with the Columbus Blue Jackets. Murray was limited to 27 games last year but is a stable top-four defenseman when healthy. He played just under 20 minutes per game last season. He will likely be utilized even more on a Devils blueline which has far less depth than Columbus'.
PK Subban, Damon Severson, and Will Butcher are projected to play large roles for the Devils. Subban and Severson both played over 22 minutes per game for New Jersey during the 2019-2020 season. While Severson had 31 points on the year, the most among Devils defenseman, Subban had a very underwhelming first season in New Jersey. He finished with career lows in both points and plus-minus. Subban had 18 points and a -21 rating through 68 games. Butcher had 21 points in 56 games. He will enter his fourth professional season in 2021 and could see an uptick from his 17:55 minutes of ice time per game.
New Jersey Goaltending
While the Devils made a huge free agent splash when they signed Corey Crawford, it looks to be all for naught. Crawford retired suddenly at the start of the season before playing a single game for New Jersey. Despite this, the team still has a very capable netminder in Mackenzie Blackwood. The 6'4'' goaltender has been great over his first two NHL seasons. Last year he started 43 games compiling a 22-14-8 record despite his team owning a losing record on the season. Blackwood owned a solid 2.77 GAA and a .915 save percentage as well. He is a very solid goaltender and should be a good enough starter for the Devils in 2021.
With Crawford gone, Scott Wedgewood will be New Jersey's backup. Wedgewood hasn't played an NHL game since the 2017-2018 season. He saw action in 20 games that year while compiling a 3.45 GAA and a .893 save percentage. Wedgewood had a rough year in the AHL last season. While he owned a 13-8-3 record, he allowed 3.01 goals per game while saving just .893 percent of his shots. The backup position in net will be a big question mark for the Devils this season.
New Jersey Devils Preview 2021: Outlook
While our New Jersey Devils Preview 2021 acknowledges the potential for Hughes, Hichier, and Blackwood to be great players this year, the club lacks depth overall. It is very hard to bet on a blueline which has underproduced recently. Their backup situation in the crease is also troublesome. The Devils are expected to finish last in the East, which looks to be the strongest of the four realigned Divisions.
New Jersey Devils Preview 2021: Prediction
Record: 22-28-6, 50 points
Finish: 8th in the East Division