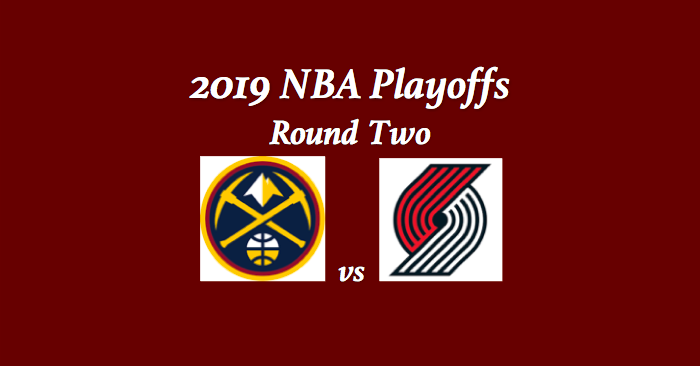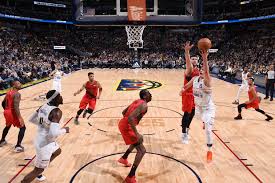 This Denver Nuggets vs Portland Trail Blazers pick features the NBA West's second and third seeds. With the Denver Nuggets playing Portland, we expect to see some very tight games. Along with being the second and third seeds, Denver and Portland finished first and second respectively in the Northwest Division. The Nuggets, with 54 wins, took the division by securing one more victory than the Trail Blazers. Our Denver Nuggets vs Portland Trail Blazers pick and preview does expect this series to include some very close games, and it could certainly go down to the wire.
The first two games of this series, which starts on April 29, 2019, will be played at the Pepsi Center in Denver. Tipoff for the first game is 10:30 pm ET. The second two games of this NBA Western Conference Semifinal matchup will be held in Portland. If needed, the final three games will alternate between Denver and Portland.
Denver Nuggets vs Portland Trail Blazers Pick – Stats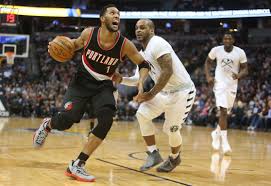 In the regular season, the Portland Trail Blazers averaged 114.7 PPG, which was 4.0 PPG better than the Nuggets. However, the Trail Blazers allowed 110.6 PPG. That was almost four points more per game than Denver, which gave up 106.7 PPG. The Nugget offense scored on average 110.7 PPG. Those stats make this series look like it will be a close one.
In the postseason, the Nuggets first met the San Antonio Spurs in a series that went seven games. Denver allowed 103.3 PPG in that series, while they scored on average 105.1. The Trail Blazers took their series against the Oklahoma City Thunder four games to one. Portland scored 111.0 PPG and held the Thunder to 105.2 PPG. Those stats offer an edge to the Trail Blazers who come into this series with a +5.8 PF/PA differential, which is more impressive that the Nuggets differential of +1.8.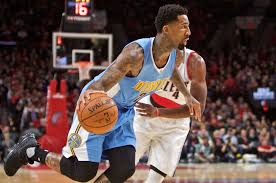 One thing that Denver has going for them is their ability to move the ball and find the right player at the right time. They are +9 over Portland in APG. And they are -5 in TOPG and -3 in PFPG. But the Trail Blazers are definitely more adept on D, posting solid stats on steals and blocks. When all is said and done, our Denver Nuggets vs Portland Trail Blazers pick and preview finds that Portland has the edge in statistics. But will that change in this series where the Nuggets bring a three games to one regular-season series winning record against the Blazers? One note, two of their wins against Portland were by three points or less.
Nuggets vs Trail Blazers – Players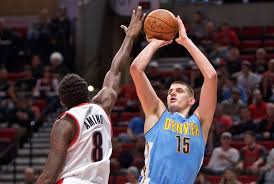 Denver will look to double-double specialist and center Nikola Jokic to control the paint and PG Jamal Murray to be the man in the backcourt. In the first round against the Spurs, Jokic averaged 23.1 PPG and 12.1 RPG, leading the team in both areas. Murray was second in points, with 19.0 per game, and first in assists with 4.1 per contest. SG Gary Harris put in 14.7 PPG, while PF Paul Millsap was good for 11.9 PPG. One thing that the Nuggets would like to see is more output from both its starters and bench.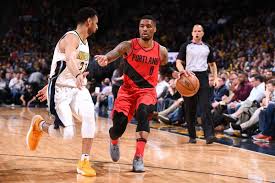 In round one against the Thunder, the Trail Blazers got outstanding output from their outside starters. PG Damian Lillard averaged 33.0 PPG and 6.0 APG, while point man CJ McCollum put in 24.4 PPG while making 4.0 APG. Center Enes Kanter, who is listed as day-to-day, was also especially productive. Kanter was good for 13.2 PPG and 10.2 RPG. Also, SF Maurice Harkless and PF Al-Farouq Aminu averaged 11.0 and 10.6 PPG and 7.0 and 6.8 RPG respectively. If, in the second round, this team plays as well as they did in the first, they will take down Denver.
Keys to the Denver vs Portland Series
Kanter's injury could be a huge factor
Denver comes to this series healthy
Can Portland continue to dominate from the outside?
Can the Nuggets produce in the manner they did in the regular season?
Portland has to slow down Denver and the Nuggets must get more from their outside game
Our Denver Nuggets vs Portland Trail Blazers Pick
Our Denver Nuggets vs Portland Trail Blazers pick and preview envisions a seven-game series. Enes Kanter's health is an issue for Portland. He is essential to their frontcourt game. If defense comes into play, then we like the Nuggets. But can they stop what has been an explosive first-round Trail Blazers team? In seven games, we are taking the Nuggets.
Summary Denver Nuggets vs Portland Trail Blazers Pick
Denver Nuggets in seven games