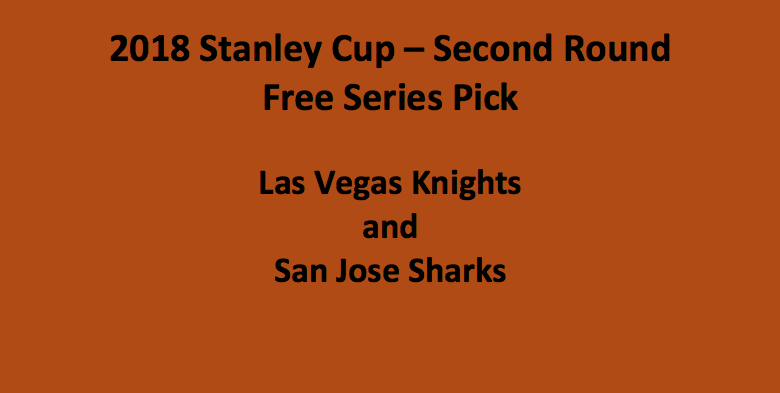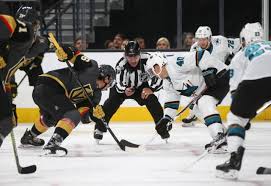 The Vegas Golden Knights and San Jose Sharks both dominated their first round opponents in the Stanley Cup Playoffs, sweeping the Los Angeles Kings and Anaheim Ducks respectively. Head-to-head this season, Vegas managed to get a point out of every contest against the Sharks with both teams taking a game in overtime, and the Golden Knights winning the other two matches in regulation. Our 2018 Vegas plays San Jose Stanley Cup round two pick expects this series between elite goaltenders to be tight.
Goaltending Duel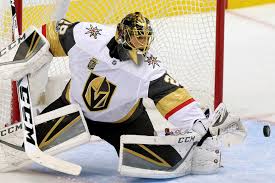 Much like Vegas' first series, this Pacific Division match up looks to be another duel between two hot netminders. Elite goaltenders Marc Andre-Fleury and Martin Jones are currently playing at the top of their games, both having the most impressive performances in the crease during round one. Fleury led all goaltenders in both save percentage and goals against average.
Fleury's .977 save percentage and 0.65 goals against average were much needed for the Knights to defeat the Kings, as Jonathan Quick's play likely would have stolen the series otherwise. Quick set an all time record for save percentage in a series where his team was swept, and lost in much part due to Fleury's play at the other end of the rink.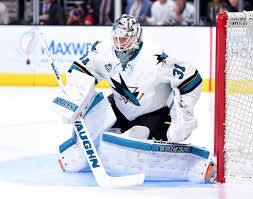 The Knights will need another impressive performance from Fleury in the second round, as Martin Jones was extremely stingy during his opening Stanley Cup playoff series against Anaheim. Jones finished the Sharks sweep of the Ducks with a .970 save percentage and a 1.00 goals against average, both of which trail only Fleury.
This series has the potential to offer the best goaltending matchup of any series this post-season. Top-notch tending is essential for Las Vegas to have a shot in this round.
First Round Offensive Differences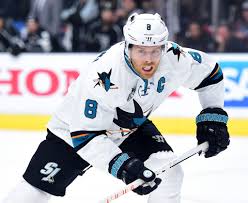 The biggest difference between the two first round sweeps by these teams was the offensive output by the winning teams. The Sharks averaged 4.00 goals per game in their sweep compared to just 1.75 for Vegas. This was partly due to Vegas meeting a hot goaltender. The Golden Knights averaged 30.08 scoring chances per 60 minutes against the Kings, which is very similar to the Sharks 30.28 mean against the Ducks.
The Sharks offense was paced by Joe Pavelski, (1-4-5) and Evander Kane (3-1-4) who led San Jose in points and goals respectively through round one. San Jose was far from being limited to the team's first line, as they got offense from players throughout its line up with five players on the team finishing the series with at least a point per game pace. Those players included Logan Couture (2-3-5), Tomas Hertl (3-1-4), and fourth liner, Marcus Sorensen (3-1-4).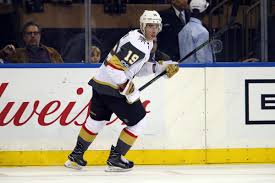 What little offensive success Vegas had against the Kings was generated in a rather spread out manner, with all of the team's goals coming off of the sticks of different players. Riley Smith led the Golden Knights in points with three assists while 13 of the 19 players who suited up against LA registered at least one point.
Home Ice Advantage Will Play a Factor
Another important factor for this series in particular will be Vegas's home ice advantage. The T-Mobile Arena is a tough building for opposing teams to play in due in much part to the Golden Knights energetic fan base. The home ice boost was seen dramatically in the first round, as evidenced by the Kings scoring chances in round one.
The Knights allowed an average of just 14.96 scoring-chances-against in T-Mobile arena versus an average of 31.56 per 60 minutes in the two games played in LA. As the playoffs go even deeper, the atmosphere in Vegas will likely get even harder for opposing teams to play in. It will likely be tough for San Jose to steal a road game from the Golden Knights in this series.
Vegas Plays San Jose Stanley Cup Round Two Pick: Series Outlook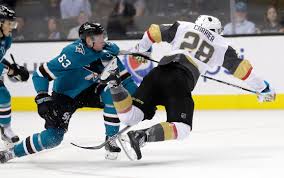 Our Vegas plays San Jose Round Stanley Cup round two pick sees this series being much closer than either team's first round matchup. Both the Sharks and Knights goaltenders are hot at the moment, and unlike most NHL series, home ice advantage will have an unusually large impact on the outcome of this series.
While San Jose has had more offensive success in the first round, Vegas' scorers had little trouble generating chances in their sweep of the Kings. They don't look to be as lacking in offensive facets of the game as the scoreboards from the first round would suggest. Here's our Vegas plays San Jose Stanley Cup round two pick.
Vegas Golden Knights Versus San Jose Sharks Round 2 Preview: Prediction Vegas Golden Knights (-130) over the San Jose Sharks (+110) in 7 games