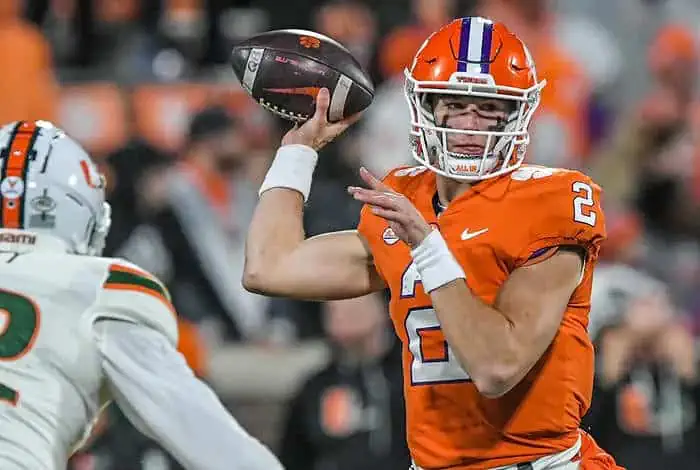 People have soured on "The U" and coach Mario Cristobal lately after two straight losses, and the last thing the Hurricanes need to see is Dabo Sweeney and his crew heading into the week 8 Clemson at Miami betting matchup. The Hurricanes have not just lost back to back games this season, but also four in a row to Clemson with the closest contest being the 42-17 Tigers win in 2020.
Clemson is a -3 point road favorite for Saturday night's game at Hard Rock Stadium (8:00 PM ET, ACC Network) with 59% of the betting public liking the visitors. The 'Canes are one of four teams winless in conference play, is Saturday night the time they get back on track?
Why Clemson Has Value at -3
There are worse bets to make on the Saturday night slate of college football's week 8 than Clemson giving a FG on the road at Miami. First off the Hurricanes essentially gave away a 23-20 defeat to Georgia Tech when they fumbled late instead of simply taking a knee and running out the clock and then followed that up with a 41-31 loss to North Carolina last weekend.
Besides the Hurricanes being in a bit of a rut, another reason to like the Tigers in the week 8 Clemson at Miami betting matchup is because of the recent history of this head to head series. Not only have the Tigers won the last four meetings, very few of them have been close with scores of 58-0, 38-3, 42-17, and 40-10 all in favor of Clemson – Dabo Swinney knows how to coach against the U.
The Tigers are also coming off their bye week, so should be fresh for Saturday night's road tilt. Clemson's only loss in the last month came 31-24 in OT in week 4 against the #4 ranked Florida State Seminoles so this is a squad on the right side of positive momentum.
Why Miami Has Value at +3
Home underdogs in a Saturday night conference matchup are never a bad play, and it's the perfect time for everybody to sell low on Miami. If the Hurricanes take a knee against Georgia Tech instead of fumbling with 26 seconds left and take advantage of 391 yards and 4 TD passes from Tyler Van Dyke against North Carolina we're looking at an undefeated and Top 10 team in Miami.
Van Dyke is a game time decision on Saturday (leg) and the fact that the Hurricanes are still "only" +3 point home underdogs suggests there could be something going on with this line and oddsmakers trying to bait people into a Clemson bet. The Tigers look like a solid play considering they've outscored the Hurricanes 178-30 over the last four meetings.
Miami has some issues, but Clemson is far from a sure thing considering they lost 28-7 at Duke in the season opener as -12 point favorites and had to hold on in Week 6 for a 17-12 victory over Wake Forest with a line of the Tigers -21 at home.
Free Week 8 Clemson at Miami Betting Pick
Neither team instills a ton of confidence in betting on them Saturday night, but when you consider a) Clemson coming off the bye, b) their dominance over Miami the last four meetings c) the fact that the Hurricanes faithful may have already lost trust in Cristobal and d) Van Dyke being banged up for Miami – then the play has to be on Swinney and the Tigers.
Free Pick: Clemson -3