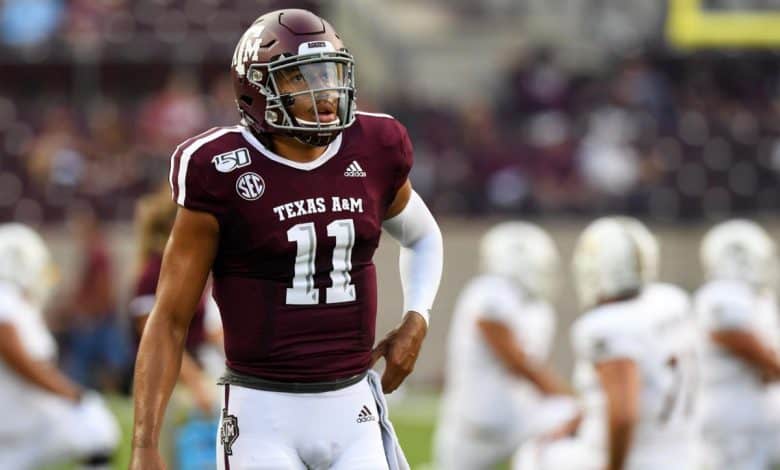 It's the proverbial letdown spot heading into the Texas A&M at Mississippi State betting matchup. The visiting Aggies are riding high after their 41-38 win over then #4 Florida in College Station as +6 point underdogs last week. Mississippi State has a win over a top 10 opponent too with their 44-34 win over then #6 LSU in the season opener, but that seems like a lifetime ago.
The Bulldogs didn't run the Air Raid offense last week, it was just Raid because there were a lot of bugs in the system in a 24-2 loss at Kentucky as +3 point road favorites. That's two stinkers in a row for Mississippi State after the LSU win, a big reason they are +4.5 home underdogs to #11 Texas A&M on Saturday afternoon (4:00 PM ET, ESPN). The betting total is 56.
A&M Just Needs to Keep Rolling
Texas A&M rolled through the Gators last week behind a versatile offensive attack. Kellen Mond's brilliant 25/36, 338 yard, 3TD/0 INT performance earned him SEC player-of-the-week honors.  Isaiah Spiller was pretty solid in his own right though, toting the rock 27 times for 174 yards and 2 TD.
Expect more of the same from the Aggies offense heading into Texas A&M at Mississippi State betting. Mond also threw for 318 to go with 3TD/1 INT in Texas A&M's 52-24 loss at Alabama two weeks ago as +18 underdogs. Spiller gained 117 yards on just 8 carries even though A&M struggled in a 17-12 win vs. Vanderbilt as -31.5 favorites in the season opener.
The A&M defense could also be vulnerable on Saturday afternoon. Even in the loss, Florida's Kyle Trask was great last week with 312 yards and 4 TD. Mac Jones threw for 435 and 4 TD two week's before that and Vanderbilt's QB Kenny Seals was a solid 20/29 in the season opener. The Mississippi State offense is in neutral, but maybe this matchup is what Mike Leach needs to get his Air Raid going. The betting total is 56.
Paging the Mississippi State Offense
It looked like Leach's Air Raid offense was going to take the SEC by storm after KJ Costello threw for a conference record 623 yards in the 44-34 win at LSU as +14.5 underdogs to start the season. It's been a tale of two offenses since then though.
Costello, just two weeks removed from a 600+ yard performance, was benched for a time last week against Kentucky. The Stanford transfer has thrown 1 TD against 7 INT last week and is getting flustered with the new strategy of opponents rushing 3 and dropping 8 players into coverage. In an example of how bad this offense has been, Kentucky won by 22 points last week despite running for just 84 yards and throwing for only 73.
Kentucky may go with Will Rogers more on Saturday, as he ran the Air Raid offense in high school. The only problem is that was last year for the true Freshman, who also tossed 2 INTs last week against UK. Mississippi State's defense needs some help from somebody on offense, as they haven't been as bad as the 1-2 record would indicate. The Bulldogs are top 10 in the country in yards allowed, and are 4th vs. the pass.
Texas A&M at Mississippi State Betting Free Pick
The turnaround game is coming at some point for Mississippi State, because they know that teams are going to continue dropping 8 players in coverage until Leach shows how to beat it. The Bulldogs have been brutal to bettors the last two weeks, and 62% of the public is on A&M. The spread has still dropped to Aggies -4.5 after opening at 6, which is a major red flag.
This game looks like a total play. Mississippi State may indeed get things together on offense, especially against the A&M defense. The Bulldogs also aren't going to stop Mond and Spiller though.
Texas A&M 34 – Mississippi State 31

Free Pick: Over 56