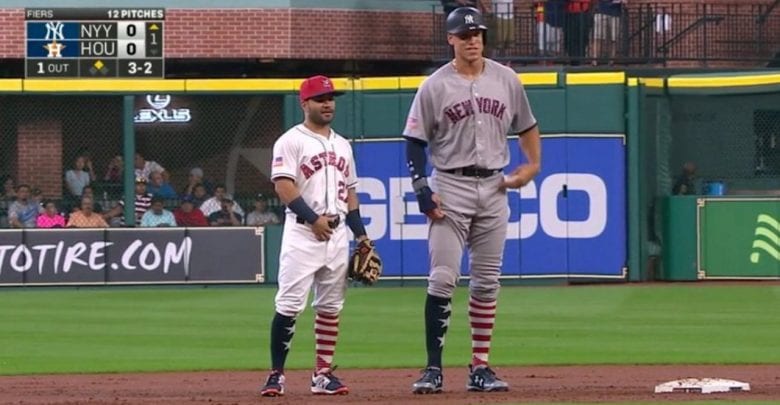 The Yankees certainly didn't figure to find themselves in the situation of heading to Houston for the ALCS – not with the uncertainty of a wild card game against Minnesota and definitely not after being 2-0 in the ALDS to the heavily favored Cleveland Indians. Nonetheless here the Bronx Bombers are, and it's not a stretch to say that in the 2017 ALCS Game One Prediction the Yankees just might be playing their best baseball of the year.
The Houston Astros have got to be sitting in the corner saying, "hey guys, don't forget about us over here." With all the hype about the Yankees being "Back", Houston is a 101 win team that has been sitting since Monday getting their rotation ready for the championship series. The Yankees wrapped up their emotional win over Cleveland just two nights ago, but in a way they could be dealing with momentum, instead of rust.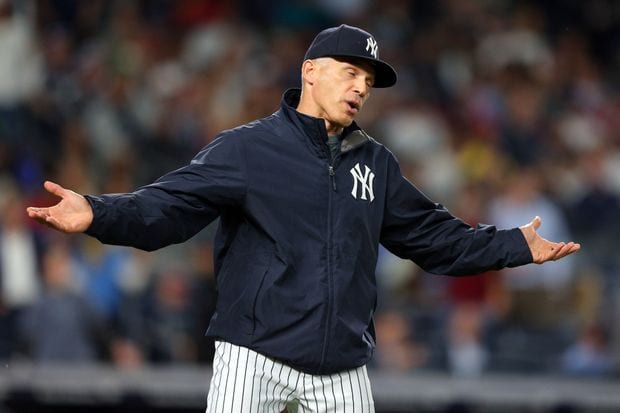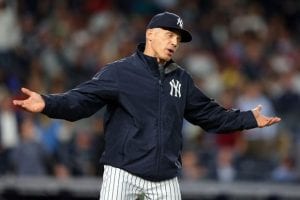 Girardi Goes With Tanaka in the 2017 ALCS Game One Prediction
Masahiro Tanaka takes the hill for New York on Friday. He has faced Houston one time in his career and it was an outing he'd rather forget earlier in the year. Tanaka was sent to the shower barely after he'd even broken a sweat as Houston's top run scoring offense rattled him for eight runs in just 1-2/3 IP. Tanaka says all good though (or すべての良いですin his native tongue) as he was quoted, "I feel I am a different pitcher from that particular game earlier in the series." It showed against the Indians too as Tanaka's 7.0 IP of scoreless ball fueled New York to a 1-0 win in game three that catapulted them to the series win.
Tanaka with the career 10.38 ERA vs Houston while kuechel career era vs Yankees is 1.41…..lets goooo easy win

— Spooky Tanaka ???? (@CT_KID860) October 13, 2017
Astros Got Their Man (Or One of Them) On The Mound Friday
Friday's starter Dallas Keuchel and game two's Justin Verlander could prove to be workhorses as ace pitchers seem to do in these long 7-game postseason series'. Keuchel shut out the Yankees in 6.0 IP in his only start against them earlier in the season and owns a 4-2 record with just a 1.41 ERA against them in his career. It's hard not to side with Keuchel in the 2017 ALCS game one predictions as he loves playing against the pinstripes saying, "…it's the Yankees you kind of get a little bit more amped and a little more jittery because it is..such a storied organization." This, of course means he'll probably go play in New York when his contract expires in 2019.
2017 ALCS Game One Prediction – Betting and Other Aspects
Aaron Judge has 15 strikeouts in this series. Tony Gwynn had 15 strikeouts in 535 at-bats during the 1995 season.

— Buster Olney (@Buster_ESPN) October 12, 2017
The line for the 2017 ALCS game one prediction isn't as high as you might think it would be as Houston is set at -163. The Yankees faced lines of over -200 in games against Trevor Bauer and Corey Kluber in the ALCS so maybe the oddsmakers got burned a bit on those lines. It's going to be an interesting series if you look at the two offensive stars of each team in the ALDS
Jose Altuve – .533 batting average (8 for 15), 3 HR, 4 RBI, .632 OBP
Aaron Judge – .050 (1 for 20), 0 HR, 16K's
Which one do you think is 6'7, 282 and which stands 5'6, 165? PS, Altuve is 4 for 11 (.363) with a HR lifetime vs. Tanaka. 67% of the public likes the Astros and although the Yankees do have momentum, it's very possible that Cleveland gave that series away instead of the Yankees taking it. We'll know more about how the ALCS is going to play out after tonight – but for now you have to ride the home team.
Pick: Houston -163