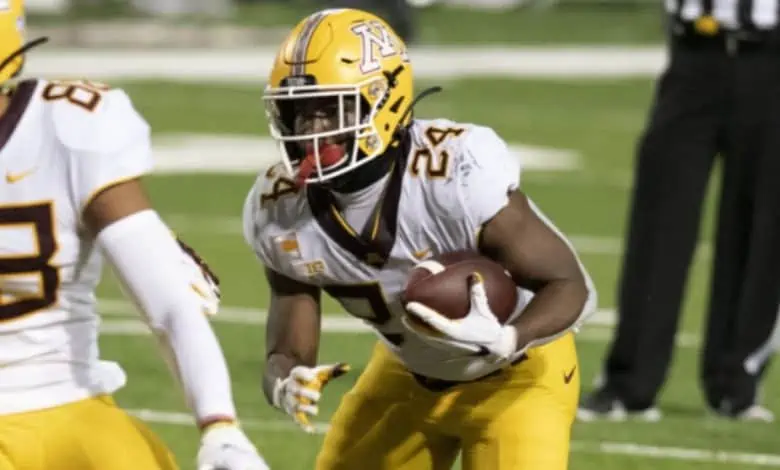 MSU is back home after a trip to the West Coast that resulted in a 39-28 loss at Washington as +3.5 underdogs. Things don't get any easier for the Spartans in week 4 Minnesota at Michigan State betting as the Golden Gophers come to East Lansing with a 3-0 record.
The real surprise would be if Minnesota wasn't undefeated coming into their Big Ten opener as they've been nearly a 4TD favorite in each of  their wins – which have all been played at home. P.J. Fleck's squad is still just a +3 point road underdog on Saturday afternoon with 58% of the betting public liking Sparty at home.
Ibrahim, Morgan Leading Minnesota
One of the most unfortunate incidents of the entire college football season in 2021 was Minnesota RB Mohamed Ibrahim tearing his Achilles in game one of his senior year. Ibrahim was off to a great start too with 30 carries for 163 yards and 2 TDs against Ohio State, but he's looking healthy now after the medical redshirt already amassing 464 yards and 7 TDs in three games.
While Ibrahim continues to improve his NFL draft stock, Minnesota QB Tanner Morgan looks back as well. He was brilliant as a sophomore completing 66% of his passes with 30TDs and 7 INTs, but completed less than 60% of his throws in his two upperclassmen years. The 5th year senior has hit on 71% of his passes in 2022 and now gets a Michigan State pass defense that is once again one of the worst in the nation.
The big question heading into the week 4 Minnesota at Michigan State betting matchup is if the Golden Gophers are indeed good or just a product of their opponent? Minnesota has covered the number in all three of their wins despite being at least a -28 point favorite in each, but their strength of schedule is currently the third easiest in the country.
Michigan State With Short Turnaround
The Spartans made the 2,000+ mile trek from Seattle to East Lansing on Sunday morning after the 39-28 loss to the Huskies last Saturday night. That loss dropped MSU from #11 in the nation to unranked, and Mel Tucker has some concerns over his defense while also facing a somewhat short turnaround.
Michigan State was at the bottom of the FBS last year giving up 337.7 ypg passing. Some of that was because teams couldn't run on the MSU defense (17th best) and because the 10-2 Spartans were usually winning, but Michael Penix, Jr. throwing for 397 yards and 4TDs for Washington last week has those issues from 2021 back at the forefront.
Does Michigan State have the offense to go blow for blow with Minnesota in a back and forth game? Spartans QB Payton Thorne hasn't really put together a complete game yet. He threw 4 TDs in the opener but was just 12/24, MSU beat Akron 52-0 in week two but Thorne had 2 INTs. Last week in Washington was Thorne's best game of the season where he completed 71% of his passes with 3 TDs, but he did throw yet another INT.
Free Week 4 Minnesota at Michigan State Betting Pick
Michigan State's secondary is struggling, something which will likely only continue as the Spartans use even more resources close to the line of scrimmage to try and contain Ibrahim. Morgan is the type of veteran QB that can pick the Spartans defense apart, and traveling from the West Coast last week certainly doesn't help Michigan State's chances any.
Free Pick: Minnesota +3