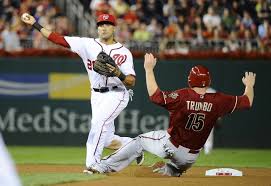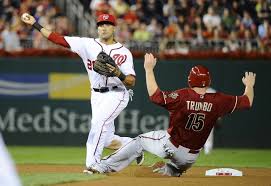 Our Arizona Diamondbacks and Washington Nationals MLB pick leans heavily towards the team from D.C. After losing their last two games to the San Francisco Giants, the Nationals arrived in Arizona hungry for wins. Since arriving the other day, they have gone 2-0 and look poised to sweep.
Pitching Favors nationals
For our Nationals MLB pick Max Sherzer (2.85 ERA, 11-5, 0.94 WHIP) takes the mound for the visitors. In his last ten starts, he's 5-2 with three no decisions. He's a consistent seven-inning starter with a solid bead on the K. Sherzer has 187 strikeouts in 148.2 IP.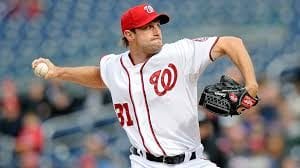 Zack Godley (5.63 ERA, 3-1, 1.50 WHIP) is 2-1 this month in four starts. He's normally a reliever who in July took on the role of starter. He's pitched well. But the question is how will he do against a team that has scored the fifth-most runs in the NL. Plus, Nationals' pitching has allowed the second-fewest runs in the NL. Don't expect him to get much support.
D.C. Can Score Too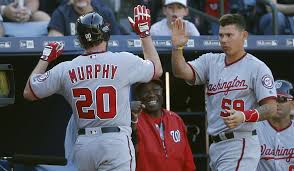 In creating our Diamondbacks and Nationals MLB pick, we'd be remiss if we didn't acknowledge that the team from Washington can hit and score runs. In two games, they've scored 24 runs to the Backs' 5. In a little over eight innings, Arizona relievers have given up 10 earned runs. The home team's bullpen is spent, but the D.C. hitters are not.
The Nationals have a whole roster of great hitters, including Daniel Murphy. He leads the club in batting average (.356), RBI (79), homeruns (20), OBP (.395) and hits (136). Wilson Ramos is also knocking the cover off the ball.
Nationals MLB Pick Today
With their ace on the mound, a rested bullpen, and hitters who are having a field day, the Washington Nationals look solid in this game. The game starts just after 3 p.m. today, so you want to get your bets in quickly. For best odds and payout, take them with the runline at -137 when they give up 1.5 runs.
Nationals MLB Pick: August 3, 2016 at -137 with the -1.5 runline