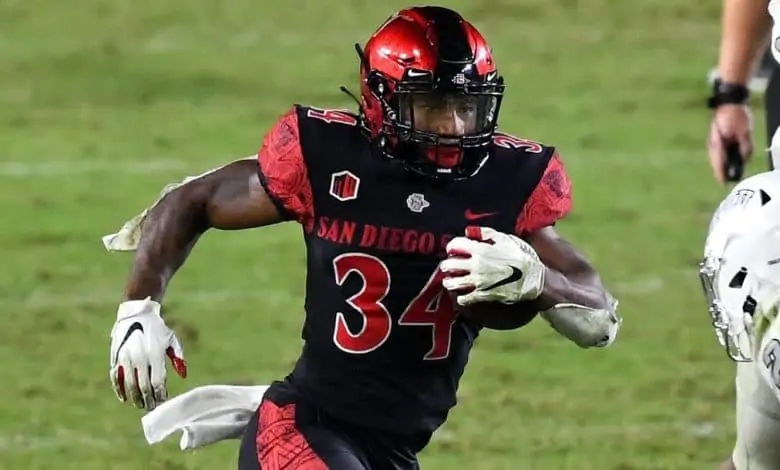 The line for the Week 2 San Diego State at Arizona matchup is an interesting one to break down. The Wildcats are -1.5 home favorites, but usually you look at that like how bad are the Wildcats that the number on their own field is that small. When you realize UA has also lost their last 13 games, this one shifts to why are the Aztecs not getting more love here – what's wrong with them?
Obviously the Wildcats lost last week, as they've done every game going back to the middle of 2019. Arizona fell 24-16 at home to BYU but that was expected as +13.5 underdogs. San Diego State started slow in their opener, but has momentum after outscoring New Mexico State 28-0 in the 2nd half to go to 1-0.
Aztecs Defense the Deciding Factor
There are worse sides to back than a defensive and run oriented team getting points against a program that has lost the last 13 times they've taken the field. Sure San Diego State looked flat in falling down in falling down 10-0 at the half against New Mexico State as -31 favorites. Brady Hoke made the adjustments he had too though going on a 28-0 run in the final two quarters.
San Diego State once again relied on their running game to get the win, with Greg Bell toting the rock 21 times for 161 yards and Jordan Byrd adding a 41-yard scamper in the 4th to officially put the game away. Jordon Brookshire was just 7/21 passing for 115 yards and did thrown an INT – the one thing he's asked to avoid.
San Diego State had the #4 rushing defense in the country last year, and they're well on their way to repeating that success after giving up just 48 yards on 26 carries against New Mexico State last week.
Can Wildcats Stop the Skid?
Arizona was 0-5 last season in the Pac-12 only schedule, and finished 2019 with 7 straight losses after beginning the year 5-1. The Wildcat defense got better in 2020, but not by much as they closed out the year with a 70-7 loss to in-state rival Arizona State.
Kevin Sumlin couldn't keep his job after such a horrid stretch, so the team has turned the reins over to Jedd Fisch and although there were bright spots, it was just another loss the AU faithful had to endure. A late field goal did pull Arizona to within 24-16, and a one score defeat is better than a lot of the blowouts Arizona has been in over the past couple years.
One huge bright spot for the Wildcats is that they may have found a QB with Gunner Cruz going 34/45 for 336 yards. Cruz is a redshirt freshman transfer who played just one game last year with Washington State. Having the big outing in basically his first college playing time is optimistic, as is the fact that he did it without a rushing game (35 carries 81 yards) – something that is very likely to happen again vs. San Diego State.
Week 3 San Diego State at Arizona pick
The Aztecs showed what they can do when they get serious, pulling away from New Mexico State with a 28-0 second half run last week. You can't overlook how impressive Cruz was last week, but now there's film not only on the freshman, but also on the type of offense Fisch wants to run. A veteran coach like Hoke should take advantage of that.
San Diego State 26 – Arizona 13 
Free Pick: San Diego State +1.5