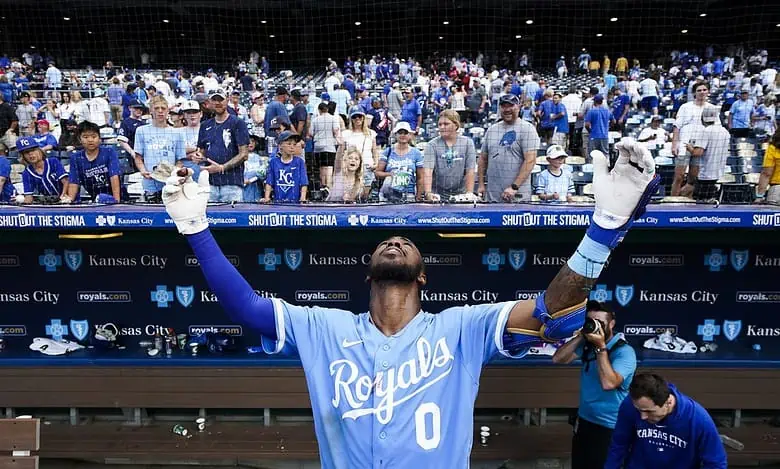 The Tampa Bay Rays (52-25, 32-8 home) welcome the Kansas City Royals (20-54, 10-26 away) to the Sunshine State to kickoff a four-game series beginning on Thursday. The Game 1 matchup will be the first time these two American League franchises have faced each other this season.
First pitch of the opener is at 6:40 p.m. EST inside Tropicana Field in St. Petersburg, Florida. Tampa is the betting favorite (-365 moneyline), and the over/under opened at 7.5 runs.
What to Know – Kansas City Royals
The Royals continue their road stand after dropping two of three in Detroit earlier in the week. Kansas City has the second-worst record in baseball and is 16.5 games back in the cellar of the AL Central.
Kansas City turns to right-hander Jose Cuas (3-0, 4.15 ERA, 1.45 WHIP) in Game 1. Cuas will make his first start of the season after making 32 appearances out of the bullpen this season. In 30.1 innings of work, Cuas has allowed 14 earned runs on 32 hits and 12 walks while striking out 39 batters.
The Royals offense ranks 23rd in the league hitting .233 as a team and scoring 3.7 runs per game. Kansas City's pitching staff is 28th amongst MLB teams with a 5.17 team earned run average.
Salvador Perez and Bobby Witt Jr. have led the Royals lineup, combining for 26 home runs and 73 runs batted in. Perez leads both categories with 14 home runs and 37 RBIs thanks to a .271 batting average. Witt Jr. is fourth in the majors with 22 stolen bases.
What to Know – Tampa Bay Rays
The team with the best record in baseball snapped a three-game losing streak with a victory on Wednesday in the series finale against the Baltimore Orioles. Tampa holds a five-game edge in the AL East over Baltimore heading into the series against KC.
Southpaw Shane McClanahan (11-1, 2.12 ERA, 1.10 WHIP) looks to improve on his league-leading win total. The 26-year-old has been phenomenal this year and has won all three of his starts this month. McClanahan has logged 89.1 on the mound, limiting opponents to 21 earned runs, 65 hits, 33 walks, with 97 strikeouts.
Offensively, the Rays are fifth in the league batting .263 collectively and averaging 5.6 runs per contest. The pitching staff for Tampa Bay is second in the majors featuring a 3.53 team ERA.
Tampa's lineup is consistent up and down the order, with six players already over double-digit home run totals and six players with 30 or more RBIs. Randy Arozarena is the leader, smacking 14 home runs and driving in 50 RBIs, tied for 12th in the MLB.
The Pick is In
The moneyline for this game is one of the highest we've seen this season. Tampa Bay has a distinct advantage in every facet of this one. McClanahan improves to 12-1 and the Rays take Game 1 comfortably for a stress-free winner.
The Pick: Tampa Bay Rays -1.5