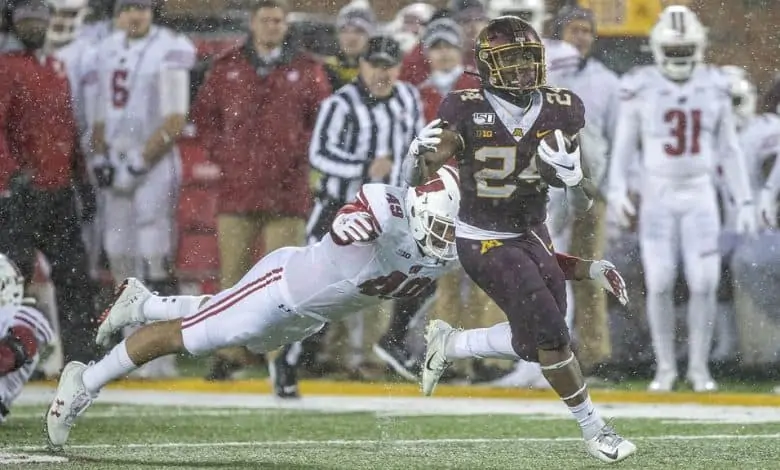 The wild ride comes to a halt for the Badgers heading into the Minnesota at Wisconsin pick. Paul Chryst's team looked like world beaters out of the gate with 38 point wins over both Illinois and Michigan, but have since lost three straight due largely in part to COVID postponements that have kept the team out of rhythm.
Wisconsin has failed to find motivation in three straight crucial games against Northwestern, Indiana, and Iowa – will the allure of taking Paul Bunyan's axe be enough to fire up the team against Minnesota? The Golden Gophers have plenty to play for besides the axe, with a projected berth in the Music City Bowl (if they accept) on the line with a win. The Badgers could make that Bowl as well, so the WIS -12 line isn't too far-fetched.
Can Minnesota Get Run Game Going?
The Golden Gophers have the Big Ten Running Back of the Year in Mohamed Ibrahim, and they'll be feeding him the rock in the Minnesota at Wisconsin pick as he only needs 75 yards to break 1,000 on the year. That's an impressive feat in the shortened 7-game season, but the Badgers have the #1 defense in the Big Ten, including tops against the run (83.2 ypg).
Wisconsin is going to focus on stopping Ibrahim, but Iowa was still able to gain 127 yards on the ground last week vs. the Badgers even though they have no passing game. Minnesota's offense loses some of their diversity with Rashod Bateman opting out to prep for the NFL, and it showed last week as Tanner Morgan was just 17/30 passing for 181 yards in the win over Nebraska.
Defense isn't exactly a strong point for Minnesota, as they are 4th worst in the Big Ten in yards/game allowed. Wisconsin is on life support on offense though, gaining less than 230 yards of offense last week vs. Iowa. The Badgers have 20 points total their last three games.
Will Badgers Offense Reappear Saturday?
Wisconsin has been a hard watch on offense in their last three games, averaging less than a TD scored in back-to-back-to-back losses. Badger fans were spoiled when the team averaged 47 ppg in their first two contests of the season.
There are a lot of reasons why Wisconsin has faltered on that side of the ball, but freshman QB Graham Mertz has to shoulder some of that blame. Mertz started the season about as good as you could expect going 20/21 with 5 TDs vs. Illinois, but he has just 3 TD to 5 INT since then.
The ineffictiveness of the Wisconsin passing game has seen unprecedented struggles in their usually elite ground attack. UW had just 56 yards on 33 carries vs. Iowa last week which is unheard of. That is a good Hawkeyes defense though, and Minnesota offers nowhere near that type of resistance.
Free Minnesota at Wisconsin Pick
This is a tough one to call because the Badgers have dropped three in a row – but also against some of the better teams in the Big Ten this year in Northwestern, Indiana, and Iowa. Minnesota's three wins have come against mediocre or worse teams in Illinois, Purdue, and Nebraska.
67% of the public still likes the Golden Gophers, and +12 is a lot of points vs. a Wisconsin team that has shown little to no offense lately. Wisconsin still has a great defense though, and the Gophers are much less explosive after the loss of Bateman.
Wisconsin 31 – Minnesota 17
Free Pick: Wisconsin -12