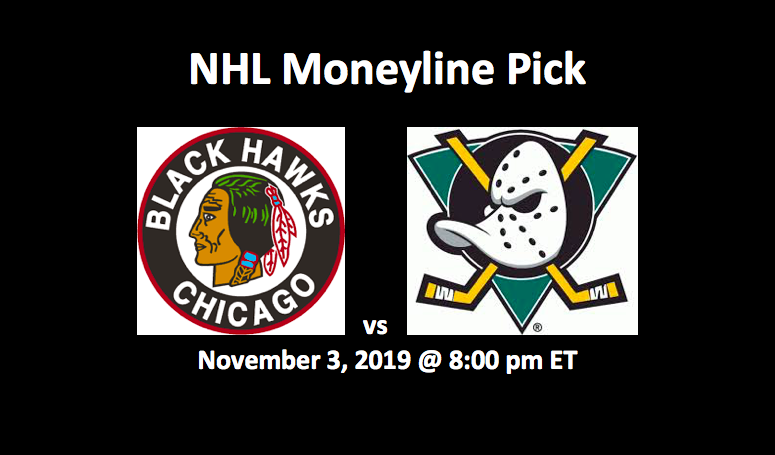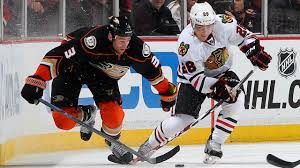 Our Blackhawks vs Ducks moneyline pick sees an intriguing betting opportunity. This Blackhawks vs Ducks moneyline pick notes that the puck drop between the two clubs is set for 8 pm ET on Sunday night in Anaheim.
The Anaheim Ducks are 5-5-0 in their last ten games but have won two in a row. Chicago is 3-4-3 in the same span. This Blackhawks vs Ducks pick sees the current slump of Patrick Kane along with Anaheim's stellar goaltending as being major factors in the outcome of this matchup.
Blackhawks vs Ducks Moneyline Pick – Starting Goaltenders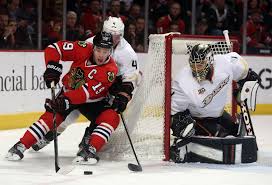 The Ducks give John Gibson his 13th start of the season. Gibson has been terrific thus far and has made a strong case to be a Vezina favorite to this point in the year. While Gibson is 6-6-0 on the season, he is a big reason why the Ducks have had success. He currently owns a 2.50 GAA and a .926 save percentage. The American-born goaltender has won his last two starts stopping a combined 75 of 80 shots faced. Gibson has been pretty consistent in this early season and should give the Ducks a good chance to win this game.
Lehner Probable Tonight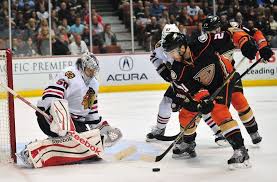 For Chicago, Robin Lehner has looked great this season despite having a single win in his last four starts. Lehner owns a .936 save percentage and a 2.29 GAA on the year. In his last showing, he suffered his second regulation loss of the season, although it was hardly his fault.
The Blackhawks were shutout by Nashville while allowing Lehner to face 51 shots. He only allowed three goals in the loss. Lehner should but together a solid showing, the outcome of this game will rely more upon whether his club gives him any goal support.
Ducks' Surprising Start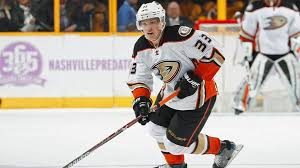 This Blackhawks vs Ducks moneyline pick observes that on paper Anaheim hardly has an impressive looking roster. They were unanimously picked to be among the NHL's worst teams prior to the start of the season. Despite this they have put together a strong first 15 games. They have gotten team wide contributions offensively and have not had to rely upon a single player to generate scoring chances.
On their current two-game winning streak, Anaheim has had eight players score at least two points. These players include Jakob Silfverberg and Ryan Getzlaf who currently lead their club in points. Silfverberg has 12 points in 15 games while Getzlaf has 10. While the Ducks are coming off a 2-1 win over Vancouver, they have had little trouble scoring over their past four games. They have averaged four goals in this span. The Blackhawks have allowed the fourth highest shots against this year and should yield some scoring opportunities to Anaheim.
Patrick Kane's Scoring Slump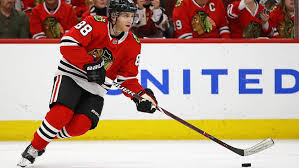 Chicago has scored just 10 goals in their last six games. This includes being shutout twice and being held to a single goal twice. While it feels unfair to place the lack of scoring on the shoulders of a single player, the Blackhawks rely on Patrick Kane to pace their offense. The star winger leads the team in points with 10 in 12 games but has been held off the score sheet in four of his last six games. Kane leads all Blackhawk forwards in ice time, averaging 20:56 minutes a night.
He may see less than this against the Ducks as the line of Dylan Strome and Alex DeBrincat have looked good lately. Both wingers have three points in their last three games. Despite this they don't have the talent or dynamic ability to adequately replace Kane during his current slump Simply put, if Kane is held off the score sheet again, Chicago will have a tough time winning this contest.
Our Blackhawks vs Ducks Moneyline Pick
The Ducks have gotten both very solid goaltending and scoring recently. They face a team that has allowed way too many shots this season and has had trouble putting pucks in the back of the net. The biggest factor in this game will likely be Patrick Kane. The Blackhawks will need him to break out of his slump to have any chance in this game. This will be tough though as he faces a very strong goaltender in Gibson . If Chicago is going to come out of Anaheim with a win, their goaltending will likely have to steal them the game. We like the Anaheim Ducks chances to extend their winning streak to three games on Sunday.
Blackhawks vs Bucks Moneyline Pick: Summary
Anaheim Ducks Moneyline (-155)