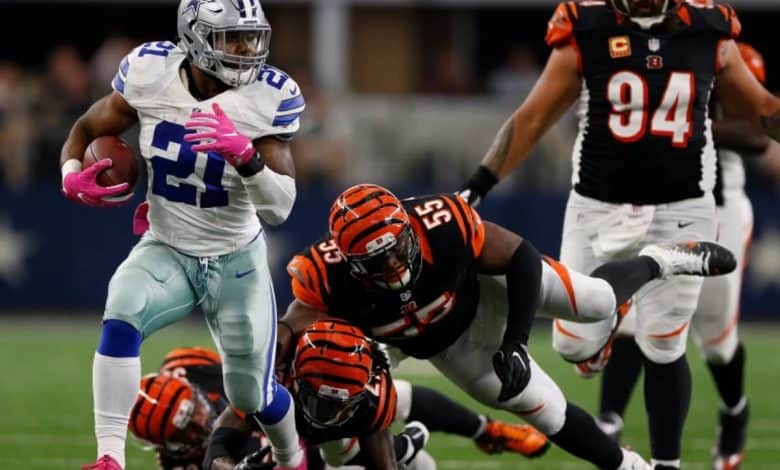 Fully healthy and in top form the Bengals at Cowboys betting matchup would seem to be an offensive showdown. With Dak Prescott getting hurt (thumb) in the 19-3 week one loss for Dallas and Joe Burrow running for his life in week one in a loss to the Steelers the oddsmakers may regret putting the O/U even at just 41.5.
All hope seems to be lost for Dallas with Prescott out indefinitely, and the fact the Cowboys are +7.5 home underdogs in week two is evidence of that. Cincinnati did not look like a team that should be a -7.5 road favorite last week though, but the betting public is not deterred with over 80% on the Bengals.
Cincinnati Must Avoid Turnovers
Even though they've started 0-1, the Bengals should be optimistic in knowing that they played basically an "F" graded game last week and still almost beat Pittsburgh. Burrow had a career high 4 INTs and also lost a fumble, but Cincinnati gets that win if not for a Minkah Fitzpatrick blocked extra point at the end of regulation. Eventually a 53-yarder by Chris Boswell in OT gave the Steelers a 23-20 win as +7.5 underdogs.
Perhaps more concerning for Cincinnati than Burrow's 5 turnovers is the fact he was sacked 7 times. Dallas only got to Tom Brady twice last week, but they also held him to just 212 yards passing. The Cowboys did give up a 127 yard rush day to Leonard Fournette, so maybe Joe Mixon can improve on his 27 carries for 82 yards in week one.
Cincinnati has to like facing Cooper Rush instead of Prescott, and their defense shouldn't feel as bad about last week's loss considering one of Pittsburgh's TDs was a Fitzpatrick INT return. The Steelers offense managed just one short TD and three FGs vs. the Bengals last week.
Rush Gets a Week to Prep
Losing Prescott is definitely a blow to the Cowboys after he had 4,449 yards with 37 TDs last season. To be honest Prescott wasn't off to a great start last Sunday night in Tampa Bay though, going 14/29 for 134 yards and an interception before getting injured in the 4th quarter.
Rush came in to go 7/13 for 64 yards last week and he did get one start with the Cowboys last season in week 7 going 24/40 for 325 yards with 2 TD and an INT in a 20-16 win in Minnesota. Rush filled in for Prescott (strained right calf) and led the Cowboys to a road win as +4 point underdogs.
Maybe Prescott's injury is a blessing in disguise as Mike McCarthy may finally give the running game more of a chance. Zeke Elliott had just 10 carries for 52 yards last week, but then again he toted the rock just 16 times when Rush got the start last season.
Free Bengals at Cowboys Betting Pick
Rush got a win last season when he wasn't supposed to on the road in Minnesota, so can he pull off an encore? The Bengals did not play like a -7.5 road favorite in week one and they should have some real concerns on the offensive line.
Free Pick: Cowboys +7.5