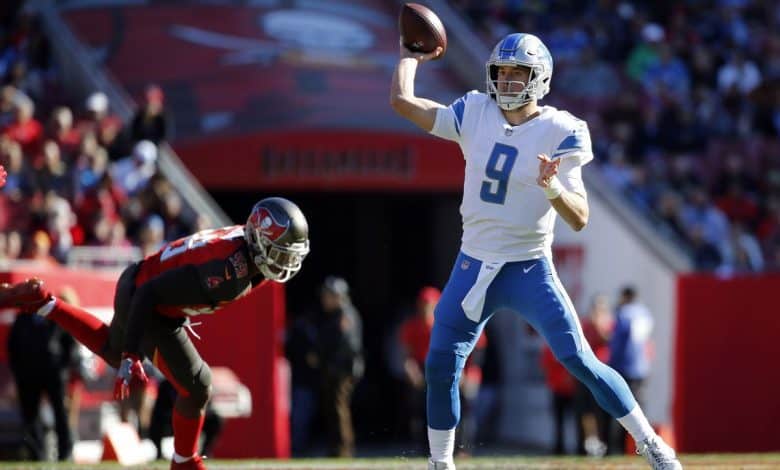 A win for Tampa Bay in the Buccaneers at Lions pick can check off one goal for the team with a trip to the playoffs. The Bucs haven't reached the postseason since 2007, but clinch a berth with a win over Detroit on Saturday afternoon (1:00 PM ET, NFLN). That seems like a foregone conclusion with TB being a -10.5 point road favorite here.
If not for a late Mitch Trubisky fumble inside his own 10-yard line, Detroit could be looking at a 5-game losing streak coming into Saturday's tilt. The Lions have still lost two in a row since beating the Bears, and got walloped 46-25 vs. Tennessee last week. Can the Lions keep this one within 10 points, something they've failed to do in three of their last four defeats?
Will Tampa Bay Keep Their Foot on the Gas?
The Bucs get two chances at a win that will clinch their playoff berth, this week against Detroit and hosting Atlanta next week. Tampa Bay also can get to the postseason with a loss or tie for the Bears against either Jacksonville or Green Bay, so making the playoffs seems like a formality at this point for Tom Brady and Co.
How will all of this effect play in the Buccaneers at Lions pick? Detroit is just 1-5 at Ford Field this season, while Tampa Bay has been a successful 5-2 on the road this season, which includes winning by 25 in Las Vegas and by 23 points at Carolina. The Bucs defense is ranked 6th in the NFL, including tops against the run which should make Detroit very one-dimensional considering they have the league's 3rd worst ground game.
Tampa Bay did fall down 17-0 at Atlanta last week, but 390 yards and 2 TD from Brady led to the 31-27 comeback win. Antonio Brown had his best day as a member of the Bucs with 5 catches for 93 yards and a TD, and it should be another huge day for the TB passing game. The Lions have allowed Aaron Rodgers and Ryan Tannehill to go a combined 47/60 (78%) with 6TD and 0 INT the last two weeks.
Detroit a Tough Bet on Saturday
The Lions currently sit in the #11 spot for next year's draft, but are within a game of moving all the way up to as high as #4 depending on a lot of different scenarios. Basically, there's no real incentive for the Lions to win, even as they've gone 1-2 with Darrell Bevell in as the interim head coach after firing Matt Patricia.
Detroit did play with heart in a 31-24 loss to Green Bay in their last home game, and were within 24-18 going into the 4th quarter at Tennessee last week before getting outscored 22-7 in the final frame.
Can the Lions stay in striking distance again this week? A couple of key injuries to the Bucs defense helps that cause as Antoine Winfield (shoulder) and Jason Pierre-Paul (knee) are in danger of missing this tilt.
Free Buccaneers at Lions Pick
The betting total is sky high for this matchup at 54.5, and Tampa Bay should be able to do whatever they want on offense vs. a really bad Detroit secondary. 68% of the public likes the Bucs, but Tampa Bay's defense is a bit banged up and didn't look very good against Atlanta last week. The Lions keep this one just close enough.
Tampa Bay 34 – Detroit 24
Free Pick: Lions +10.5