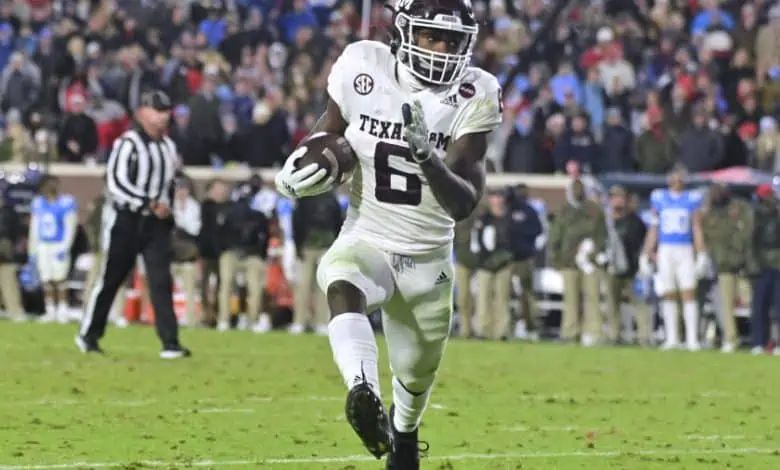 It's all about integrity heading into the Texas A&M at Auburn betting matchup on Saturday night considering both of these high hopes teams are mired in miserable 3-6 seasons. The Aggies have dropped five straight while playing virtually no defense while the Tigers have lost their last five while playing even worse defense than A&M.
Oddsmakers have a tough job setting the line in this matchup of two teams that have waved the white flag on the season but they're going with Auburn as the -1.5 home favorite. There might be a bit of a crowd boost as former Auburn star Cadillac Williams returns to Jordan-Hare Stadium as head coach for the first time, but even emotions can't make up for how bad this Tigers defense is.
Not the Year for the Aggies
Texas A&M is staring down their worst season since Mike Sherman was at the helm back in 2008. The Aggies have won at least 6 games for the last 13 seasons, but even that disappointing mark is out of reach as Texas A&M only has the visit to Auburn and a home game with #7 LSU left on their schedule.
Despite being in the midst of a five game losing streak and being on the road Saturday night, Texas A&M is just a +1.5 underdog so essentially you're saying there's a chance. The Aggies get a matchup with a horrible Auburn defense here, and QB Haynes King is playing in just his second home game since September, going 23/45 for 279 yards with a TD and 0 INT last weekend in a 41-24 loss to Florida in College Station as -1.5 favorites.
Too many more losses and A&M coach Jimbo Fisher could find himself on the chopping block, which is why he should do the smart thing and run the football on Saturday night. Devon Achane has 120+ rush yards in back to back games and Auburn has allowed 249 yards/game just on the ground over the last three.
Cadillac Coming Back
Carnell Williams could always get it done on the field as a former Auburn RB who went on to be a top 5 pick in the NFL draft, but now the question is if he can get things done on the sidelines. Williams has taken over for the failed Bryan Harsin experiment after his firing last week, with Auburn losing 39-33 in OT on the road last week against Mississippi State in Williams' coaching debut. The Tigers did cover the +12.5 spread against MSU which is a positive.
The 33 points put up by Auburn last week was a positive and it was powered by 256 yards on the ground which showed that Williams' presence is in effect. The Tigers went into OT with one of the best offenses in the SEC despite completing just 7 passes for 75 yards.
Expect a whole lot of running from the Tigers this Saturday night as the Aggies are the 5th worst team in the country against the run (228.9 yards/game).
Free Texas A&M at Auburn Betting Pick
Hard to go any way different than Auburn giving just the -1.5 here considering these two teams are basically the same. Neither plays defense – especially run defense – and neither can really throw the ball consistently. These two teams mirror each other – and this game is basically the same as Wisconsin at Iowa – so ultimately home field is the X-factor in this spot as well.
Free Pick: Auburn -1.5