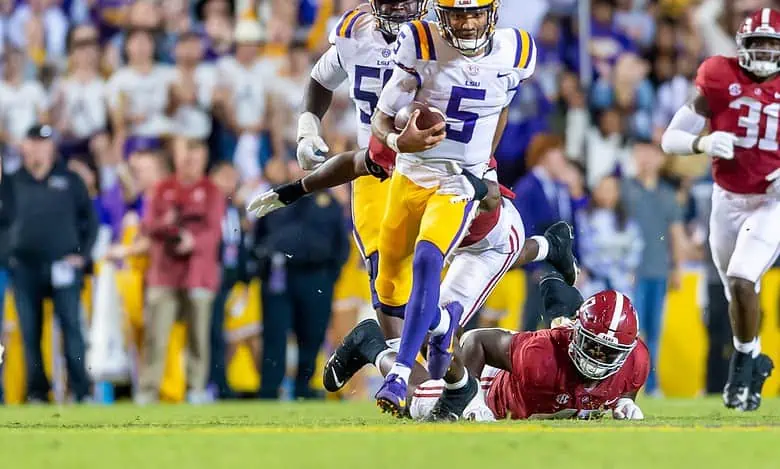 We may be in for quite a show on Saturday night for the LSU at Alabama betting matchup. Both teams are dialed in as the #14 Tigers have scored at least 40 points in five of their six wins since a season opening 45-24 loss to Florida State while the Crimson Tide have rattled off six wins in a row – plus both teams are coming off a bye last week.
The 6-2 Tigers meeting 7-1 Alabama is a game that seems like it could go either way, so the initial inkling is to look at LSU and the +3.5 points. The Tigers are also missing a lot of key players on defense though, which is why the 61.5 O/U actually seems on the low side. This should be must see TV (7:45 PM ET, CBS) either way so get the popcorn ready.
Why LSU Has Value at +3.5
The hook looms large in this one and taking a wager on LSU +3.5, even on the road, isn't bad considering they have the best player on the field in QB Jayden Daniels. It was right around this time of year in 2012 when Johnny Manziel basically locked up the Heisman with Texas A&M's win over Alabama, and the story book looks open for Daniels to rewrite with a solid showing on Saturday night.
The offensive numbers for LSU since their week 1 loss to FSU are Madden-like. Forget conference stats, this is a Tigers team that is tops in the entire nation in yards/game (553.0) and points scored (47.4) and ranked 3rd in passing yardage (340.1). Daniels has obviously been a huge part of that with 25 TDs to just 3 INTs this year as well as a 73.1% completion rate.
If LSU can get their offense going – which undoubtedly will be tough against another good Alabama defense – there doesn't seem like much the Crimson Tide can do to keep pace in a shootout. Alabama ranks 10th in the SEC in pass yards/game and is 8th in yards on the ground while LSU goes 1-2 in those two categories.
Why Alabama Has Value at -3.5
LSU has crazy offensive stats when you look at the numbers, but they're also boosted a bit in games like a 62-0 win over Army two weeks ago and a 72-10 victory over Grambling earlier in the season. That doesn't mean the Tigers aren't good – but maybe they aren't that good.
Another thing about Louisiana State's offensive numbers is that maybe they haven't really faced a defense the caliber of Alabama's. The Crimson Tide are stacked on that side of the ball again this season, ranking 17th in the nation in yards/game allowed (306.4) and points/game (16.5).
The big question for the LSU at Alabama betting matchup as in nearly every game this season is going to be the Crimson Tide defense, but you really have to look at the big picture in that regard. Alabama's offense doesn't need to be good – they just need to be not bad with that defense. LSU giving up nearly 395.0 yards/game should comply with a fairly solid offensive night for Nick Saban's crew.
Free Week 10 LSU at Alabama Betting Pick
The line for Saturday night's showdown has some interesting connotations to it, with some markets opening as high as Alabama +7 but down to +3.5 even though some numbers show over 70% of the betting public on the Crimson Tide. LSU is banged up with maybe three true freshman getting the start Saturday – but that just means more opportunity for Daniels and the LSU offense to shine – think Hendon Hooker and Tennessee against Alabama last year.
Free Pick: LSU +3.5