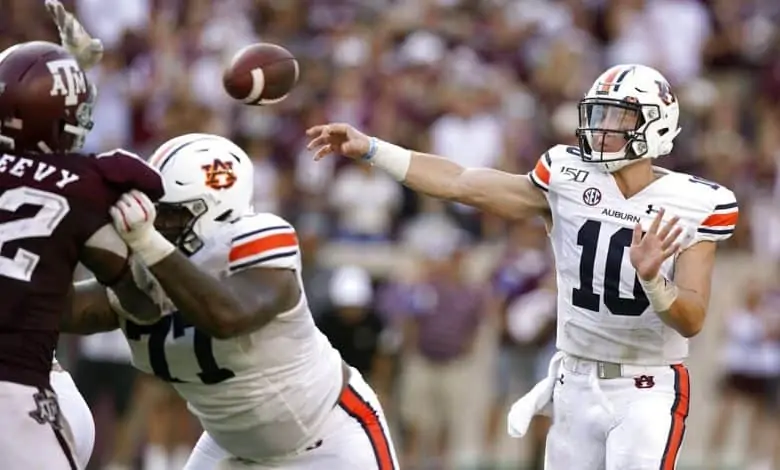 We've got a good one set to go down in the week 10 Auburn at Texas A&M matchup. The #13 Tigers are climbing back up the rankings following their loss to Georgia, beating Arkansas and Ole Miss in their last two games. The #14 Aggies are on a similar trajectory, winners of three straight including knocking off #1 Alabama over that span.
Texas A&M is a -4.5 home favorite for Saturday afternoon's matchup (3:30 ET, CBS). The Aggies won this matchup 31-20 in Auburn last season as -5 point favorites, but Texas A&M was #5 in the nation at the time. The Aggies also have the benefit of coming off an open date, having an extra week to rest up and game plan.
Big Opportunity for Nix
While Georgia and Alabama are the cream of the SEC crop, Auburn is right there in the discussion. Aggies coach Jimbo Fisher has said Auburn is playing "as good of football as anybody in the conference" lately as the Tigers have wins over then #17 Arkansas and then #10 Ole Miss in their last two games.
What makes the Tigers so appealing in the week 10 Auburn at Texas A&M matchup is that they can hurt you a number of ways. QB Bo Nix has completed 80.8 and 73.3 percent of his passes the last two weeks and is averaging 10 yards/attempt with 3 TD and 1 INT. Nix had a 23-yard TD run in the win over Arkansas and ran for 2 more scores in the victory against Ole Miss.
Nix isn't the only reason Auburn is running for nearly 200 yards/game this season, as Tank Bigsby (666 yards) and Jarquez Hunter (530 yards) are a pretty formidable duo in the back field. The Aggies have the 6th best run defense in the SEC, but still allow nearly 130 ypg on the ground.
A&M Just as Battle Tested
Auburn's two losses this season have come against then #2 Georgia (34-10) and at then #10 Penn State (28-20) so the Tigers have gone through the gauntlet this year, especially coming off consecutive wins over ranked teams. Texas A&M is right there with them with one of the biggest upsets in college football this season in the 41-38 win over Alabama in week 6 as +18.5 underdogs.
The Aggies have also lost 20-10 to Arkansas (at AT&T Stadium in Arlington, TX) when TAM was up to #7 in the rankings and 26-22 at home to an unranked Mississippi State squad as -7 favorites in week 5. Fisher would like to think that his team is a completely different squad from the one that had those early season struggles, mostly due to the development of freshman QB Zach Calzeda.
Calzeda came in for the injured Haynes King and helped Texas A&M to a 10-7 win over Colorado in Denver. He's got a pick in six straight games, but also has 7 TD passes over his last three. The Aggies can't beat Auburn on Calzeda's arm alone, but like the Tigers, A&M has a solid backfield duo as well. Isaiah Spiller has 100+ yards in three of the last four and Devon Achane has run for 120+ the last two. Together the combo has 1,369 yards with 10 TD on the season.
Week 10 Auburn at Texas A&M Pick
These two teams are evenly matched, and they have the same game plan of running the football and playing stout defense. Ultimately the x-factor in this matchup is Bo Nix. Calzeda proved he was fit for the big game by throwing for 3TDs vs. Alabama – but Texas A&M wasn't supposed to win that game. How will the freshman respond when the Aggies are favored. If you can get points and have the more experienced QB in a toss-up game you take it.
Auburn 28 – Texas A&M 24
Pick: Auburn +4.5