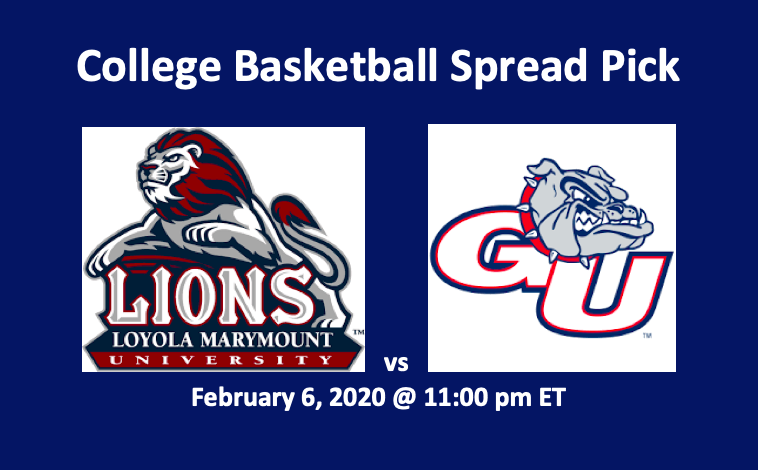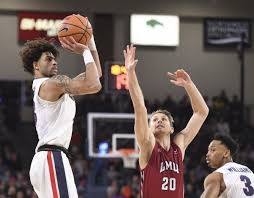 Our Loyola Marymount vs Gonzaga pick has the #2 Bulldogs at -25.0. This Loyola Marymount vs Gonzaga prediction notes that the Loyola Marymount Lions (8-15 Overall, 2-7 WCC) are eighth in the West Coast Conference. The #2 Gonzaga Bulldogs (9-0 Overall, 23-1 WCC) are first in the conference. They're seven games ahead of the Lions. Earlier this season, these two teams met on January 11. The Bulldogs beat the Lions 87-62. This game will be played on Thursday, February 6, 2020 at 11:00 pm ET. The two teams will meet on Gonzaga's home court, McCarthey Athletic Center in Spokane, WA.
Loyola Marymount vs Gonzaga Pick – Recent Performance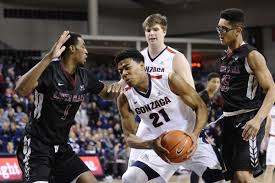 As noted, last month the Dogs beat the Lions by 25 points. Loyola Marymount has won two games in a row just once this season. All other wins have been singular. There last win was on January 23 when they beat Portland 55-65. The Lions have lost their last three games. They last played on February 1. In that game, Pepperdine beat the Lions in OT 68-67.
The Bulldogs' one loss was to Michigan on November 29. The Wolverines beat Gonzaga 82 64. The Zags are on a 15-game winning streak. They last played on February 1 beating San Francisco 83-79.
Lions at Bulldogs – Stats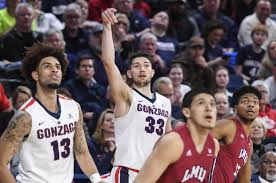 LMU is averaging 65.5 PPG and allowing opponents 67.8. Gonzaga is scoring 88.6 PPG while permitting opponents 67.2 PPG. Our Loyola Marymount vs Gonzaga pick notes that the Bulldogs are out-rebounding the Lions 41.4 to 29.8 RPG, producing five more assists per game, and making two more blocks per contest. Gonzaga is hitting 50.9% of their shots. Loyola Marymount is good on 46.7%. The Zags are also outperforming the Lions when shooting from downtown 38.9% to 31.8%.
Player and Roster Assessment
Junior guard Eli Scott tops the Lions in points per game (15.7), assists (4.7), and rebounds (6.7). In front, forwards Ivan Alipiev and Keli Leaupepe are averaging 9.3 and 6.9 points per game respectively. Leaupepe is hitting 57.4% of his field goals. He good on 43.2% of his threes.
Six Zags are averaging double-digits in scoring. The three top scorers play upfront, and the other three are in the backcourt. Forward Filip Petrusev leads the team with 17.0 PPG and 7.8 RPG. He good on 56.4% of his field goals. Also in front, Corey Kispert is recording 14.1 PPG and completing 43.5% of his threes. Guard Joel Ayayi, a 50% shooter, is averaging 11.2 PPG while grabbing 6.4 RPG. Ryan Woolridge, who recording 10.3 PPG, tops the team in assists with 4.5 PG.
Our Loyola Marymount vs Gonzaga Pick
Although it may appear to be tough for the Zags to repeat their prior performance against the Lions, we find that they have the depth and firepower to do so. In this game, the Zags could easily score 80 points and the Lions could go as low as 50. Our Loyola Marymount vs Gonzaga pick is the Bulldogs at -25.0.
Loyola Marymount Lions vs #2 Gonzaga Bulldogs Prediction – Summary
#2 Gonzaga Bulldogs at -25.0