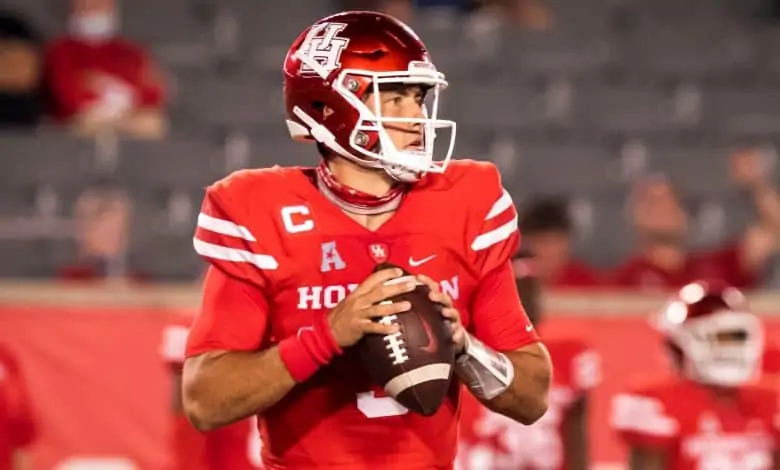 Oddsmakers are expecting some points to be scored in the Week 1 Texas Tech at Houston matchup, setting the O/U up in the stratosphere 64 points. The game itself also looks like a close on on paper with the Cougars just -2.5 favorites, which has dropped from a +2.5 open by the way.
It's a very important season opener for both Houston's Dana Holgorsen and TTU's Matt Wells. The Cougars are an unimpressive 4-8, and 3-5 in Holgorsen's two seasons on campus even though they went to the New Mexico Bowl last season. Wells is 4-8 and 4-6 in his two seasons in Lubbock, so the seat is getting hotter for both head coaches.
Tech Not Getting Much Love
This is not necessarily a road opener for Texas Tech, as Saturday night's game is being played at NRG Stadium in Houston in what is technically a neutral site contest. Nonetheless the line has shifted to the Red Raiders getting +2.5 points, even though they are an unknown with 20 transfers and 12 "super Seniors" (taking advantage of the extra COVID year) the most in the Big 12.
Sure it's going to take some time for these new faces to get comfortable in the system, but this is also a very experienced group that TTU is sending onto the field. The biggest name is Tyler Shough who started every game at QB for Oregon last year, completing 63.5% of his passes with 13 TD to 6 INT. Four starters are also back on the O-line, with the only newcomer being T.J. Storment who made the all-conference team at TCU last season.
The Texas Tech defense was pretty bad last year, but at the very least they'll be experienced with 11 of the top 13 tacklers returning thanks in part to the extra year of eligibility being granted. That includes three contributors in the secondary that were Seniors last season.
Oddsmakers Like Houston
A lot of fans in Houston are saying now is the time for Holgersen's system to either come into fruition or go down in a ball of flames. Holgerson has a QB with 15 games under his belt playing in the system, even though Clayton Tune has yet to complete 60% of his passes in three seasons.
Supposedly the big reason to like the Cougars in the week 1 Texas Tech vs Houston matchup is because they have an influx of new weapons. Talk about no chemistry though, as three of the top four receivers are gone, and the leading target coming back is Nathaniel Dell who had a whopping 23 catches and 2 TD last year.
All 11 defenders who started in the New Mexico Bowl are back for Houston, but Grant Stuard (Buccaneers) and Payton Turner (Saints) sat out that game to prep for the NFL. The losses of those two will be felt, but that's still a nice system that advanced two players to Sundays.
Week 1 Texas Tech vs. Houston
It's hard to tell what drove the line movement in this one, but how do you not like Texas Tech now getting points? Sure the Mike Leach and Kliff Kingsbury days are over with in Lubbock, but Slough may bring back some of that nostalgia coming over from Oregon with legit potential to be a 1st round NFL QB.
Texas Tech 34 – Houston 24
Free Pick: Texas Tech +2.5