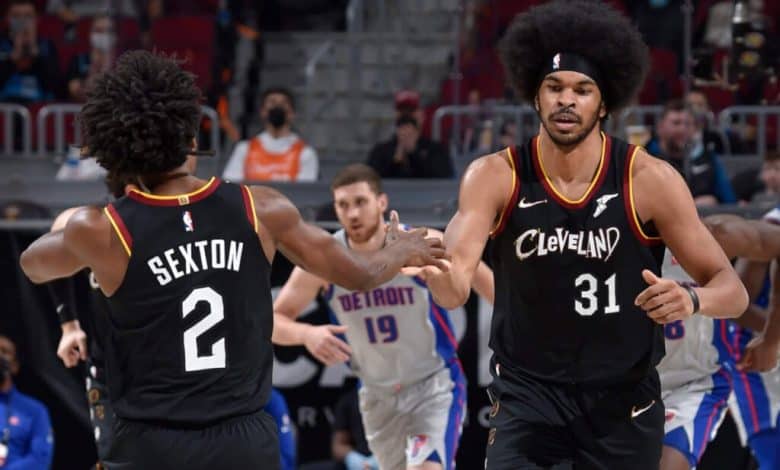 It's hard to blame Los Angeles for a little slide coming into the March 26th Cavaliers at Lakers matchup. L.A. has dropped four straight since the Lebron James ankle injury, and will be on the back-to-back after a 109-101 loss to Philadelphia on Thursday night.
Cleveland hasn't even been playing that bad lately, so it's kind of strange that they are +3.5 underdogs on Friday night. The Cavs have beaten Boston, Toronto, and the Bulls in the past week and also have a win over New Orleans since the all-star break. Is there a stigma surrounding Cleveland getting a win at the Staples Center, or is it a flat out example of the wrong team being favored here?
Cleveland Could Use Sexton Here
One of the most impressive things about the Cavs' 103-94 win over the Bulls on Wednesday wasn't the fact that they were on the road, or +7.5 underdogs – it's that they got the win even with Collin Sexton being a late scratch with a hamstring injury. Sexton had 29+ in three straight games before tweaking his hamstring vs. Sacramento – and the Cavs still won without him.
Sexton is questionable for the March 26th Cavaliers at Lakers pick, but you have to like Cleveland's chances even if he doesn't go. J.B. Bickerstaff has a couple legitimate post presences in Jarrett Allen and Larry Nance, Jr., who combined for 33 points and 23 rebounds vs. Chicago. The Bulls have a horrible post defense, but the Lakers have also been getting exploited on the blocks lately.
Philly's frontcourt starters had 45 points vs. the Lakers on Thursday. Zion Williamson and Brandon Ingram combined for 63 the game before, and John Collins/Clint Capela had 36 rebounds vs. L.A. last Sunday. Cleveland's frontcourt will dominate, and if Sexton plays that's a great inside-out attack.
Who Does L.A. Turn To?
Los Angeles has some great role players like Kyle Kuzma and Montrezl Harrell. They are more comfortable as back-up options though, and when those players have to lead the team L.A. loses a lot of depth – that's especially true when the Lakers are playing on 0 days rest.
L.A. has been held to 101 points or less in 3 of the 4 games since James got injured. The Lakers got 25 points from Kyle Kuzma on Thursday but also while playing 42 minutes. Dennis Schroder also had 20 points and 11 assists – but in 38 minutes. Even Montrezl Harrell logged 33 minutes off the bench on Thursday en route to his 20-point outing. How much do these Lakers players have left in the tank?
Luckily for the Lakers, Cleveland ranks 22nd in the NBA in defensive efficiency. The Cavs did hold the Bulls under 100 points last game though, and have the extra day of rest.
Free March 26th Cavaliers at Lakers Pick
There's just absolutely no way you can take Los Angeles here. Maybe they pull one out, but on the back-to-back against a Cleveland team with a strong interior presence it doesn't seem likely. The fact that the Cavs aren't favored is kind of dumbfounding, even though the line has dropped from a -5.5 LAL open down to -3.5. Still too many points for LA to give on 0 days rest.
Cleveland 114 – Los Angeles 105
Free Pick: Cleveland +3.5