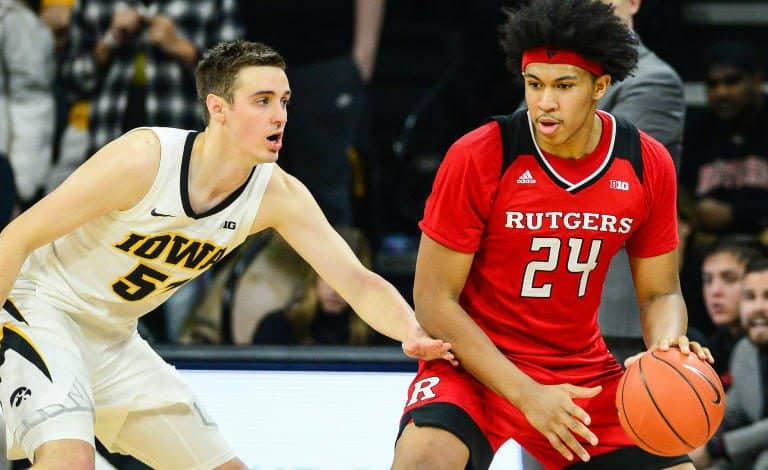 The January 19th Iowa at Rutgers betting matchup is one of those that would seem to have value on both sides. The Hawkeyes are just outside of the top 25 receiving 56 votes this week and have won six of their last seven overall which is justification for being a -3 point favorite on Wednesday night.
Rutgers is at home though, where they are 9-1 on the season. The Scarlet Knights have beaten Michigan for the first time in program history while playing at the RAC this season and have also toppled then #1 Purdue 70-68 in Piscataway. The Hawkeyes did pick up the series sweep last season, but also only beat Rutgers 77-75 on the road. A whopping 75% of public bettors are backing the Scarlet Knights getting points at home.
Can Murray(s) Lead the Road Win?
Iowa has started off Big Ten play 3-3, losing at Wisconsin (87-78), at Purdue (77-70), and home against Illinois (87-83) while also beating Minnesota (81-71), Indiana (83-74), and Maryland (80-75). The Hawkeyes picked up the big road win in the Twin Cities on Sunday – an impressive feat considering how hard it's been for teams to pick up victories in away games in the Big Ten this season.
Keegan Murray led the way per usual on Sunday with 25 points and 10 rebounds. Murray is the nation's leading scorer at 23.9 ppg and has gone for 25+ in four of the past five. When (Keegan) Murray has a rare off night, his brother Kris Murray has stepped up most notably with 29 points and 11 rebounds in the win over Indiana.
Iowa is tied with Purdue for the best offense in the Big Ten (86.2), and that mark is 5th best in the country. Rutgers has the third best defense in the conference allowing just 65.1 ppg. The betting totals were 160 and 151 in last year's two matchups with both games going under. Is that the trend in the January 19th Iowa at Rutgers betting matchup with an O/U of 150.5.
Rutgers Tough at Home
The Scarlet Knights' lone loss at the RAC this season was a hiccup, falling 53-51 against Lafayette as -19.5 favorites. Rutgers has bounced back from that late November game to record six straight wins at home and have also begun conference play with a 4-2 record.
Rutgers is back home after two straight road games. One good, a 70-59 victory at Maryland on Saturday – and one bad which was a 66-49 loss at Penn State as just +2 point underdogs. The Scarlet Knights face a tough test in trying to contain Iowa's Murray on Wednesday, but Ron Harper, Jr. has shown he can go blow-for-blow with 20+ in three of the last four. That stretch includes 31 points on Saturday at Maryland.
Free January 19th Iowa at Rutgers Betting Pick
It's not hard to see why the betting public likes the Scarlet Knights getting the points on Wednesday night, as Rutgers is great at home and Iowa only beat them by two last year even while having the National Player of the Year in Luka Garza. Murray has been a great scorer, but Harper, Jr. is also playing some elite basketball as his Senior season gets into the home stretch.
It's tough to win on the road in the Big Ten, and if Iowa gets the victory here give them a tip of the hat. Taking the points looks more appealing though.
Iowa 71 – Rutgers 73
Free Pick: Rutgers +3