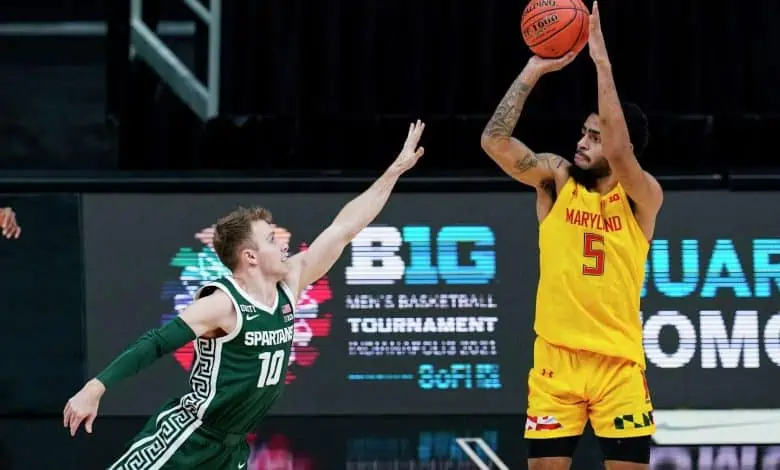 The Spartans should be heading to the NCAA Tournament, but they're not exactly roaring down the stretch. Tom Izzo's squad has dropped 7 of their last 9 heading into the March 6th Maryland at Michigan State betting contest, with Sunday being the final tune up before this week's Big Ten tournament.
At 15-15 Maryland only has a 5% chance of making the NCAAs, but a win in East Lansing and a deep conference tourney run will increase those odds a bit. Unlike MSU, the Terrapins are playing well to wind down the regular season with wins in four of their last five. The Spartans won by just 2 points in College Park on February 1st back when MSU was ranked #13 in the nation, but are -6 favorites back at home.
Maryland a Dangerous Team
The Terrapins come into Sunday's game getting +6 points despite winning four of their last five. Three of those victories did come as favorites, but a 75-60 win over #22 Ohio State on February 27th was impressive.
Maryland does have confidence coming into the regular season finale in East Lansing, with Eric Ayala saying "I wouldn't want to play us…the next few weeks." The Terrapins beat Minnesota 84-73 on Wednesday with five Maryland players scoring in double figures. That's impressive for the 5th worst scoring team in the Big Ten, but Michigan State has also only been middle-of-the-pack defensively this season.
Could the Terrapins catch Michigan State looking ahead to the Big Ten Tournament? It is Senior Night in East Lansing, but fans are also a bit disappointed after MSU has gone 2-7 over their last 9.
Spartans Try to Stop Skid
Michigan State was 17-4 at one point this season with a projection as high as a possible #2 seed, but their poor play over the past couple weeks has dropped them to 19-11 and looking at a potential #8 vs #9 matchup or perhaps worse.
The Spartans are 11-3 in East Lansing as they play their final home game of the season. The last time they played at the Breslin Center MSU pulled off a 68-65 win over #4 Purdue which looks very good on a tournament resume. Since then the Spartans have lost at Michigan (87-70) and Ohio State (80-69) – a couple of poor showings even though they were +5 point underdogs in both.
It is Senior night in the March 6th Maryland at Michigan State betting matchup, which should help the Spartans close out with a W at home. Seniors play an important part on this MSU squad as well, with Gabe Brown leading the team in scoring while Marcus Bingham, Jr. and Joey Hauser both play over 18 minutes per game and scored in double figures in the earlier win over Maryland. .
Free March 6th Maryland at Michigan State Betting Pick
Will the festivities of Senior night be enough to push Michigan State to a big win in their regular season finale? Maryland has played well down the stretch, but three of their four wins were at home and the other was at last place Nebraska. The Terps lost 74-64 at Indiana in their last road game, and a very similar result would not be unexpected on Sunday.
Michigan State 71 – Maryland 60
Free Pick: Michigan State -6