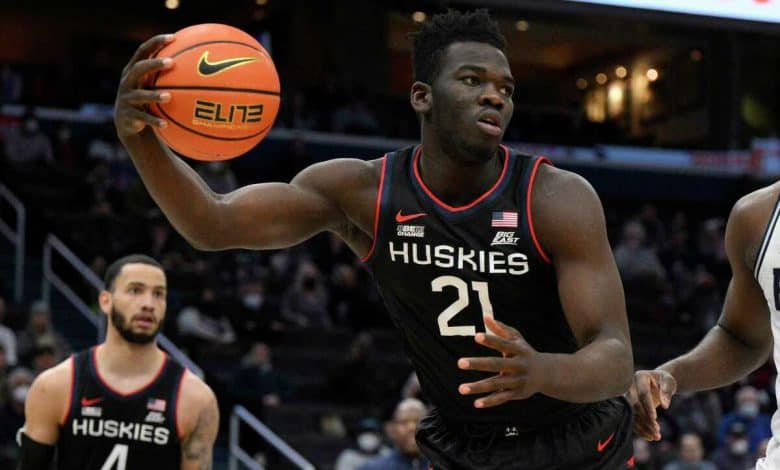 The Connecticut Huskies (15-2) are 4-2 in Big East play, but the last two times they've played ranked conference opponents on the road it has been an 83-73 loss to #12 Xavier and a 73-61 defeat at #19 Providence. With the Golden Eagles ranked #25 Wednesday's UConn at Marquette betting matchup could get interesting.
Marquette (13-4) is a +2.5 underdog in this spot despite being 9-1 at home on the season. That's an interesting line considering this offense is working at full throttle, scoring 83+ points in four of their last five and 95+ in three of those. UConn has a solid defense, but that's going to be tested in this matchup.
Huskies Starting to Unravel?
Connecticut was solid with a 22-8 mark last year during the regular season, so the fact that they've started off 15-2 is slightly – but not completely – unexpected. This is also a school that has been knocked out in the first round of the tournament the last two years as the higher seed in the #7/#10 and the #5/#12 matchup so many people were thinking it's only a matter of time before the Huskies start to fade a bit.
UConn has dropped two of their last three, but to be fair those were conference road games against ranked opponents. The only problem with that is the UConn at Marquette betting matchup on Wednesday is a conference road game against a ranked opponent.
Do we base the Huskies off their double digit losses to Xavier and Providence recently, or their win over #4 Alabama (82-67) earlier in the season at the Phil Knight Invitational? The losses to Xavier and Providence came when UConn was a -3 and a -5.5 favorite respectively and in fact their win over the Crimson Tide was the only time the Huskies were an underdog all season.
Marquette Will Fight You
The fact that Connecticut comes into Wednesday's game as a -2.5 favorite is borderline insulting. They've dropped their last two conference road games by a combined 23 points and have built their 15-2 record by being favorites in all but one of those games. To be fair the Huskies have played the nation's #3 hardest SOS.
Regardless of what the Huskies have done – or not done – to get to #6 in the nation, Marquette is ready for a fight Wednesday night on their own court. The 13-4 Golden Eagles have two OT losses on their resume (Wisconsin, at Providence) and have fallen to 12-3 Mississippi State (58-55) and former #1 team Purdue (75-70) in two other very close games.
Connecticut ranks 8th in adjusted offense and 5th in adjusted defensive efficiency, so the number support they are a good team – whereas Marquette is 6th offensively but take a huge dip with a defense giving up 71.0 ppg. Is the Golden Eagles defense the X-factor angle to attack in this meeting?
Free UConn at Marquette Betting Pick
The Huskies have an absolute force on the interior in 6'9″, 240 pound Adamo Sanogo who leads the team with 17.9 ppg. He's coming off 26/9 in a win over Creighton last time out, but was held to 14.5/6.5 in the losses to Creighton and Xavier.
Marquette will run you as they score 83.1 ppg, and UConn lost by 10 points on the road against an Xavier team that has the #19 pace in the country. The Huskies would probably get this one at home, but not on the road.
Free Pick: Marquette +2.5