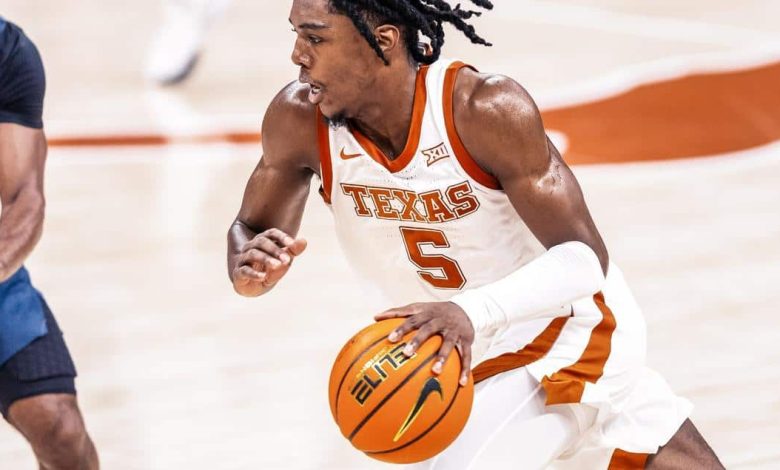 With the TCU Horned Frogs football team getting absolutely mauled 65-7 by Georgia in one of the most boring National Championship games of all time, it's time for the focus to shift to the basketball team, who has done surprisingly well at 13-2. The program aims for a morale boosting win in Wednesday's TCU at Texas betting matchup.
The #10 Longhorns (13-2) are in the midst of an identity crisis, losing to Kansas State 116-103 last Tuesday in a game where defense was optional but then following that up with a low scoring 56-46 win on the road at Oklahoma State on Saturday. Oddsmakers are still showing love to UT, making them -6.5 favorites for what should be a great Big 12 matchup.
TCU Basketball to Be the Hero
Some people on the campus at Ft. Worth might be surprised to learn that their basketball team is 13-2 and up to #17 in the country. Sure Max Duggan's Heisman runner-up and the great season from the football squad cannot be underestimated, but it's time for Horned Frogs fans to start backing the hoops team now that the National Championship is in the books.
Texas Christian has a great team to support as their two losses have come in a 69-67 defeat to #14 Iowa State on Saturday and a dumbfounding 64-63 upending at home against Northwestern St. on November 14th as -21.5 favorites. If TCU could have taken care of business (as they should have) against Northwestern State and not fallen to a 3-pointer with 1.3 seconds left against the Cyclones we're probably looking at the #1 team in the country right now.
So what has been the key to TCU's success? It starts with the very consistent Mike Miles, Jr. who leads the team with 19.8 ppg and dropped 33 last Wednesday in an 88-87 win at Baylor. Emanuel Miller (13.5) and Damion Baugh (12.7) both add a dozen points per game but TCU is still 7th in the Big 12 in scoring at 68.5 ppg.
Who is Texas?
We've seen two very different Longhorns teams the last two games. The 116-103 loss (at home) to Kansas State set the record for the most points given up in regulation for a top 10 team at home against an unranked school. KSU went from being unranked to #11 thanks in part to that win, but you have to give Texas credit they went from allowing K-State to shoot 60% from the field to holding Oklahoma State to 17-54 (31%) in last Saturday's road win.
There's not a ton of great things to take away from the OSU win last time out, as Marcus Carr led Texas with just 12 points – shy of his 17.7 season average. At the same time Carr had 27, Tyrese Hunter 29, and Sir'Jabari Rice 16 off the bench against Kansas State but that was a loss.
Free TCU at Texas Betting Matchup
The Longhorns are 9-1 at home this season, with the big loss to K-State happening in their last game in Austin. TCU has only played two road games this season, winning at Utah and at Baylor both as underdogs. It's astonishing that the Horned Frogs are just 3 points away from being undefeated this season, and you have to give that some respect in a game where the spread should probably be Texas -2.5 or -3.5.
Free Pick: TCU +6.5