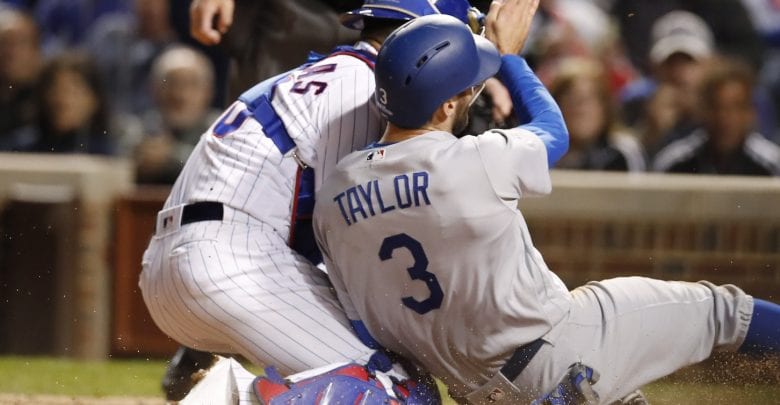 The reigning World Series champs are a beaten and battered bunch right now. They can't hit, their bullpen is mush, and even the home fans are turning against them. Why is it then that there's still an optimism roaming through the Cubs clubhouse? They've got Jake Arrieta on the mound to salvage their season against the Dodgers in the 2017 NLCS Game 4 Free Pick. After all, when the Cubs win World Series', they do it in pairs – but then again Henry Rowengartner ain't coming out of that clubhouse.
Just kidding, Chicago is on the ropes and there's a prize fighter in Clayton Kershaw ready to deliver the knockout punch. The perennial Cy Young candidate won't get his chance yet though as the Dodgers send Alex Wood to the mound. Can Chicago find a holy grail of offense and relief pitching overnight – or does Los Angeles stop prolonging the inevitable and bring the tears back to Wrigleyville?
Dear Dodgers,

Please, close out the Cubs tonight.
In their house, on their field. pic.twitter.com/51LiuR6jK0

— Bob Hamilton (@rhamilton636) October 18, 2017
Wood Finally Gets His Chance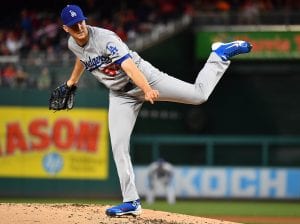 Alex Wood takes the mound in his first ever postseason start and his first time on the hill since September 26th. That's a long time to be waiting in the wing if you're a creature of habit like MLB starters are. Wood's layoff may have delayed his momentum too, he allowed just 4ER total through his last three starts of the season. The left-hander who relies on a bevy of curveballs and sinkers has faced the Cubs twice this year, allowing only 2 hits on May 26th and 3 hits April 2nd.
Cubs batters are hitting just .222 against Wood in their careers but have been historically bad this postseason. Chicago's batting average of .172 is the worst in club history and they've struck out 30% of their at-bats this postseason.
Alex wood has no pressure tonight

— Vince Saiz (@vincesaiz1) October 18, 2017
Can Arrieta Be a One Man Band?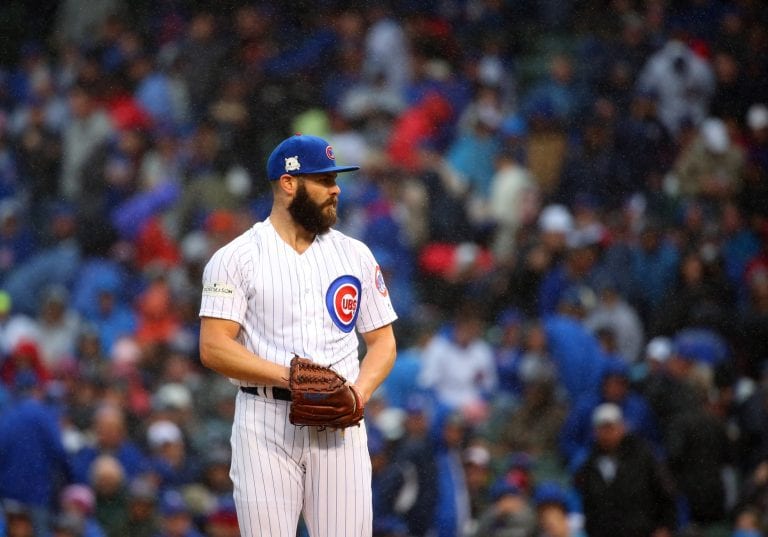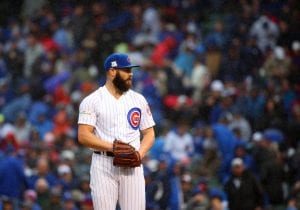 Arrieta is going to have to go deep tonight in what could be his last start with the Cubs. He threw a no-hitter against the Dodgers a couple years ago and has held the current roster to a .170 batting average over 88 plate appearances. Arrieta had some down time just like his counterpart across the diamond in the 2017 NLCS Game 4 Free Pick, The Cubs' pitcher's layoff was due to health however as he pitched just 10.1 innings over three starts in September. Arrieta had good numbers against Washington in the NLDS, but a high pitch count forced him out in the 4th after allowing just 1ER on 2 hits.
Levine: Jake Arrieta Could Be Making Final Start In Cubs Uniform https://t.co/nlYytscFXY pic.twitter.com/DWC2nHA2A5

— Zesty MLB News (@zesty_mlb) October 18, 2017
2017 NLCS Game 4 Free Pick
Arrieta may be great tonight, but where is the offense going to come from? There is a chance that the Cubs bats awaken against a starstruck Alex Wood, but this late into the postseason is the confidence of Kris Bryant, Anthony Rizzo, Javier Baez, and co. simply shot? Millions of Cubs fans for 106 years just said "give me one World Series before I die." Last night they were booing the pitcher who was on the mound for the 3rd out that broke the 108 year championship. Fickle fans, bad bats, and a team that has played a lot of extra baseball the last three seasons means LA gets to host their first World Series game since 1988 – on full rest.
Pick: Los Angeles Dodgers -102