Free Expert Sports Picks
NCAAB Wednesday December 14th #16 UCLA at #20 Maryland Betting Preview
Matchup of Top 20 Teams in College Park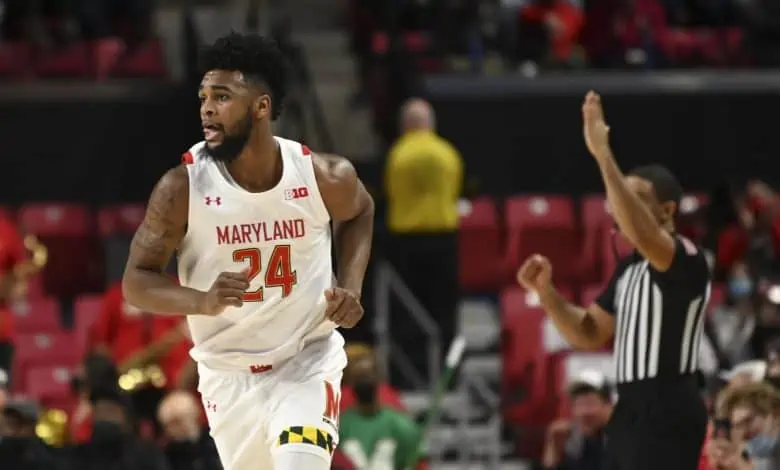 Wednesday's UCLA at Maryland betting matchup is a preview of things to come in the future when the Bruins join the Big Ten in 2024. This game will be a nice teaser, as UCLA is on a five game win streak and up to #16 in the nation while the Terrapins remain at #20 despite consecutive losses.
Maryland is a -1.5 favorite on Wednesday night as they try to defend their 5-0 home record. UCLA has only played one true road game this season, getting their first conference win at the same time with an 80-66 victory over Stanford on December 1st as -6 point favorites. Public bettors are split nearly right down the middle on this contest.
Tough Spot for UCLA
The Bruins have only one true road game this season and their 14-point win over Stanford was against a Cardinal team that is 3-6 on the season. The Terps' have yet to lose at home this year, with their most notable win at the Xfinity Center coming 71-66 against #16 Illinois – the same Fighting Illini team that beat UCLA 79-70 in Las Vegas.
Both of UCLA's losses this season came at the Continental Tire Classic, where they also fell 80-75 to then #5 Baylor. Since then the Bruins have won five in a row, but they could also be caught looking ahead in UCLA at Maryland betting with #13 Kentucky coming up on Saturday at Madison Square Garden.
UCLA is a very good shooting team (49.9%) which will be put to the test on Wednesday in a hostile environment against a Maryland squad allowing just 60.8 ppg. The Bruins have broken the 80-points scored barrier four times during their win streak with Jaime Jaquez, Jr. averaging 21 ppg over his last four.
Maryland Testing Themselves
The Terrapins have suffered their first two losses of the season the last two games after an 8-0 start. Those defeats can be taken with a grain of salt though, as they came at Wisconsin (64-59) who has climbed into the top 25 (#22) as well as against #6 Tennessee 56-53 at the Hall of Fame Invitational.
Counting the win over Illinois, Wednesday's clash with UCLA is the fourth straight game that Maryland will be squaring up against a ranked opponent. The Terps' also have a win over #25 Miami (10-1) 88-70 to win the Basketball Hall of Fame Tip-Off Championship so this is a battle tested team that has played a top 25 strength of schedule.
Wednesday's meeting with UCLA is a true test to see if this Maryland defense is legitimate. Coppin State is the only team to score over 70 points against the Terrapins this season, and that's mostly because the game was out of reach in a 95-79 Maryland win.
Free UCLA at Maryland Betting Pick
One thing to note in Wednesday night's matchup is that although UCLA has a decent defense, Maryland just played the #1 adjusted defense in the country Tennessee, and the #14 ranked unit in Madison over the Terps' last two games. Squaring up against the Bruins might actually be a bit of a breather for Maryland.
UCLA also has the intangibles working against them. They rely on the #17 field goal percentage in the country, but are also playing in just their second true road game of the season and really the first road test. The Bruins are also looking towards Madison Square Garden and Kentucky on Saturday and could find themselves on the wrong end of this one.
Free Pick: Maryland -1.5