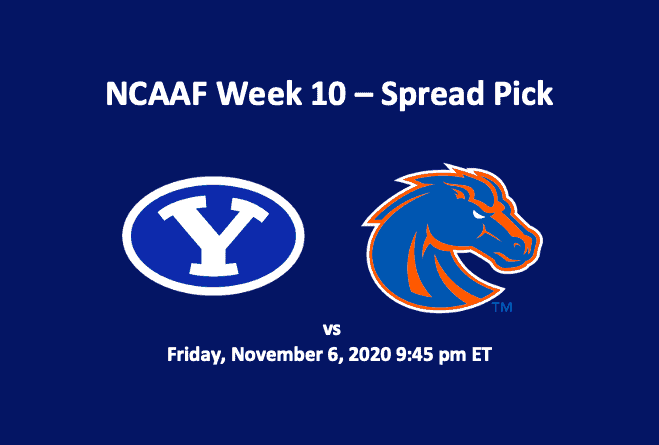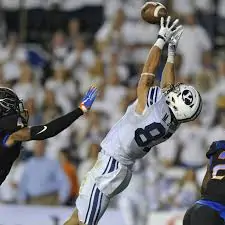 Our BYU vs Boise State pick has the Cougars favored. The best spread for BYU comes in at -3.0 (-115), while the best line for the Broncos is +3.5 (-108). The #9 BYU Cougars come to this game sporting a 7-0 record. Last week, BYU played Western Kentucky, beating them easily 41-10. Note, the Cougars are one of a handful of Independents in college football.
The #21 Boise State Broncos also come to this game with a perfect record. However, thus far this Mountain West team has only played two games. On October 24, the Broncos took down Utah State 42-13. The following week, they defeated the Air Force Academy 49-30. BSU is tied with three other teams for the top spot in the MWC.
This contest will kick off at 9:45 pm ET on Friday, November 6, 2020. The game will be played on the brightly blue turf of BSU's home field, Albertsons Stadium in Boise, ID. Note, we've also got the over/under pick for BYU vs BSU.
BYU vs Boise State Pick – Stats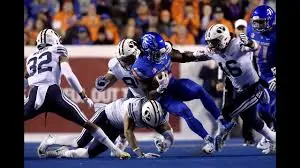 Thus far this season, the Cougars have been dominant, averaging 44.4 PPG and 527.7 offensive yards per game. Included in those total yards are 337.7 passing and 190 rushing yards. Additionally, the Cougars are solid on the other side of the ball. They are holding opponents to 13.4 PPG and 281.3 YPG. Of those defensive yards allowed, just 183.4 are passing.
The Broncos are averaging a hefty 45.3 PPG. Their offensive yards per game total 454.5 with 279.5 YPG passing and 175.0 YPG rushing. Although BSU's stats look solid on offense, their defensive statistics are not quite as impressive. Boise State is allowing opponents 21.5 PPG and 343.5 YPG. Although thus far this season they have given up just 80.5 YPG in the air, that impressive number is more a product of who they played, rushing teams, rather than how they played them. Rushing defense for the Broncos is high at 263.0 YPG.
Cougars vs Broncos Spread Pick – Key Players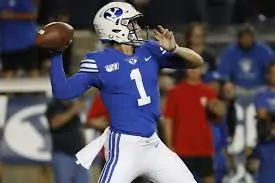 Our BYU vs Boise State pick observes that Cougar QB Zach Wilson has been sound all season, completing 74.6% of his passes and throwing 19 TD strikes and just two picks. Additionally, Wilson has rushed for seven scores. RB Tyler Allgeier has also run for seven TDs while accumulating 587 yards on 91 attempts. BYU has a fine stable of receivers, which includes WR Dax Milne. Milne has caught 42 passes for 706 yards and six scores. The BYU D has accumulated 18 sacks, 21 PD, and five INTs. LB Isaiah Kaufusi comes to this game with 46 tackles, three sacks, and one pick. He's also forced three fumbles.
For BSU, QB Jack Sears will most likely get the nod tonight. However, Hank Bachmeier could also see action in that spot. This season, each has thrown three TD passes and neither has tossed a pick. Sears is completing 82.6% of his throws, while Bachmeier has been good on 71.4% of his pass attempts. There are three receivers, WRs Khalil Shakir and CT Thomas and TE John Bates, who Sears will focus on tonight. RBs George Holani and Andrew Van Buren will handle most of the rushing chores. Van Buren has run for three scores, while Holani is averaging 6.6 YPA. The Bronco D comes to this game with three sacks, five PD, and one pick. LB Riley Whimpey is this team's leading tackler with 14.
BYU vs Boise State Pick – Final Word
In this game, our BYU vs Boise State pick likes the Cougars. We find that BYU has a superior defense. As a result, we expect them to curb the Bronco offense tonight. Plus, BYU comes to this game with sound depth on both sides of the ball, and they have been tested throughout the season. Consequently, we find that they do have the upper hand in this matchup.
BYU Cougars vs Boise State Broncos Summary
BYU Cougars -3.0 (-115)