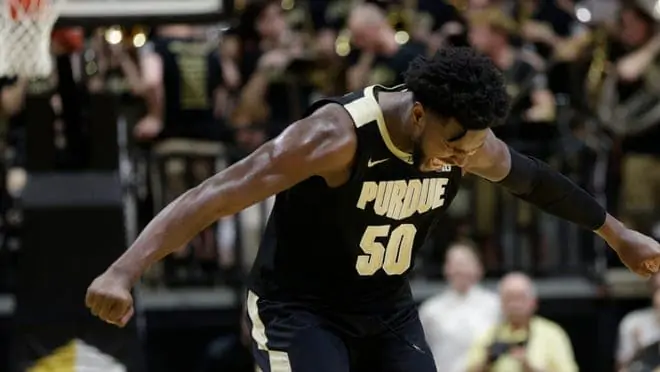 The Nittany Lions may be a bit rusty coming into the NCAAB Penn State at Purdue pick as they'll be taking the court for the first time since December 30th. Four straight PSU games have been cancelled due to COVID concerns in the program, with the team losing a lot of practice time over that span as well.
Still the line is just Purdue -5.5, which seems way too low considering the Boilermakers are 5-0 at Mackey Arena on the season. Matt Painter's team is arguably playing their best ball of the season right now too, hanging close in two road games at Rutgers and #14 Illinois, and winning their last two against Michigan State and Indiana. Is this a trap game?
Penn State Facing Uphill Battle
There's a lot working against the Nittany Lions in the NCAAB Penn State at Purdue pick. It's an early game in West Lafayette (11:00 CST), the first time PSU has played in 18 days, and the team had dropped three straight before the long layoff anyways.
Purdue also has a dominant big man in 6'10", 265 pound Trevion Williams. Penn State doesn't list a true center on their roster, and will go to battle with 6'9″ John Harrar, who gives up 25 pounds to Williams. Penn State's four other starters are 6'6″ or shorter. Aside from Williams, Painter also brings in 7'3″ Zach Edey for about 14 minutes per game.
Penn State's 7 games are also half as many as Purdue has under their belt. It takes a team some time to work out their kinks as the Boilermakers are showing with strong play lately. Penn State hasn't had that opportunity, and may also be forced to use some younger players as coach Jim Ferry has been mum about who is still in quarantine in the program.
Slip-Up Game Coming for Boilermakers?
Purdue has played well lately with back-to-back wins, but they need to be aware of getting complacent in this one. Penn State is at the very least well-rested, and we could see a lot of energy from a team that has had four straight games postponed. Purdue also needs to avoid looking ahead to Tuesday's meeting at #23 Ohio State.
What's solid for Purdue is that they have a demoralizing presence in Williams. The big man is averaging 24 points and 9.5 boards over his last two games, and has scored in double figures in nine straight. Purdue has the 3rd best rebounding margin in the Big Ten – Penn State the 4th worst.
Williams didn't get a ton of help in the win over Michigan State as Eric Hunter, Jr. was the next leading scorer with 7 points. Four players tallied 11+ in the win over Indiana, but PSU also has four players averaging over a dozen points per game on the year.
Free Penn State at Purdue Pick
There's just something off about this line, as it seems like Purdue should be a 10-point favorite at home vs. a rusty Nittany Lions squad. Only 57% of the public like the Boilermakers, but this goes contrarian all the way. Penn State somehow keeps this close.
Purdue 70 – Penn State 68
Free Pick: Penn State +5.5