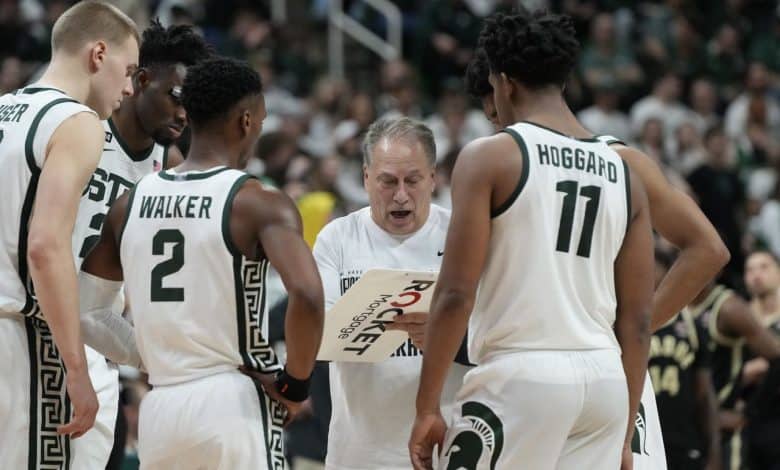 Thursday's Rutgers at Michigan State betting matchup for two teams in the top half of the Big Ten. The Scarlet Knights (13-5, 5-2) have been somewhat of a surprise this season, and they've won seven of their last eight including a 65-64 win on the road at then #1 Purdue.
Michigan State had put together a 7-game win streak but have since dropped two in a row, 75-66 at Illinois and then 64-63 at home against Purdue on Monday which did cover the +4 point spread. Despite the 2-game mini skid, the Spartans are a -3 point favorite with 69% of the betting public giving the points.
Rutgers Defense Gives Them a Chance
The Scarlet Knights have a lockdown defense this season, holding opponents to 56.9 ppg on 37.1% shooting from the field which are both in the top 5 in the entire country. Rutgers ranks 3rd in the KenPom adjusted defensive efficiency, and Thursday night's betting total is just 126.5.
Rutgers has scored 65 points or less in four straight games and they've gone 4-1 over that span. Michigan State hasn't broken the 70 point barrier in their last four games (2-2) with one of their wins over that span being an ugly 59-53 over rival Michigan on January 7th.
Even though they have a great defense, it's not like Rutgers cannot score. Cam Spencer has actually dropped 21+ points in consecutive games and Clifford Omoruyi is coming off 14 points and 11 rebounds in Sunday's OT win against Ohio State.
Points Going to Be Hard to Come By for MSU
Michigan State is smack dab in the middle of the pack in the Big 10 at 4-3 in conference play. Illinois is making a run back towards the Top 25 and Purdue is #3 so those aren't bad losses, but the Spartans' 70-63 home loss to Northwestern in early December was an interesting one.
The big question ahead of the Rutgers at Michigan State betting matchup is where the points are going to come from for the Spartans? Tyson Walker did erupt for 30 points in the loss to Purdue, but that's almost half of what MSU scored in the 64-63 loss.
A.J. Hoggard had 14 points vs. the Boilermakers and Joey Hauser added 10 but the rest of the Spartans combined for just a total of 9 points. Michigan State is 10th in the Big Ten in scoring (69.7) and Rutgers 9th (70.9) so these two teams are very evenly matched – at least on the offensive end.
Rutgers at Michigan State Betting Trends
Scarlet Knights are 7-1 ATS in their last 8 games overall
Scarlet Knights are 4-1 ATS in their last 5 road games
Spartans are 4-0 ATS in their last 4 home games
Spartans are 5-1 ATS in their last 6 games overall
Rutgers at Michigan State Betting Pick
The side looks like a coin flip, because Michigan State is tough at home (aside from the Northwestern loss) but that Rutgers defense is a nightmare. The best angle to take here looks like a contrarian play, with everybody thinking defense, defense, defense we might get surprised with a 69-65 type game – or even OT the way these schools match up.
Free Pick: Over 126.5