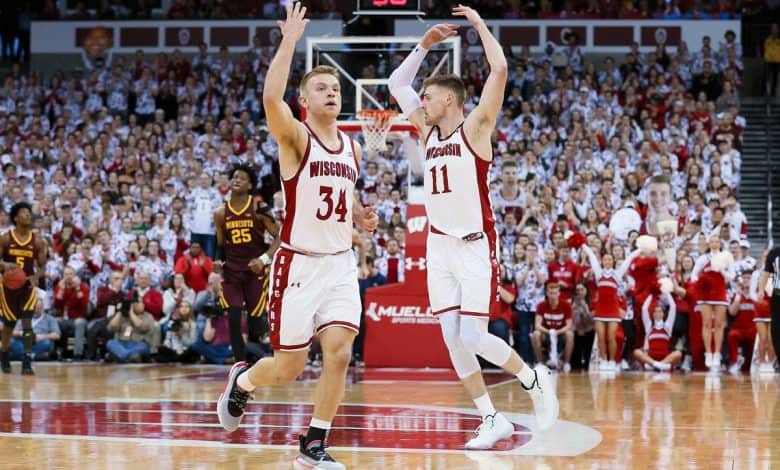 The Badgers look to continue their recent mastery of the Golden Gophers when the two Big Ten foes meet up in the January 30th Minnesota at Wisconsin betting contest. UW has won 9 of the last 10 against Minnesota at the Kohl Center, and have taken 13 of 15 overall from their neighbors to the North.
Minnesota comes into Sunday's game struggling a bit having lost five of their last six. They are also on the road for the first time since a 71-69 loss to Michigan State back on January 12th. The Badgers have won 8 of their last 9 but did fall 86-74 to Michigan State in their last home game as -3 point favorites. Wisconsin is listed at a whopping -11.5 for Sunday's tilt.
Another Tough Task for Golden Gophers
Nearly every game in the Big 10 is a challenge, but Minnesota has really ran the gauntlet as of late. The Golden Gophers are just 1-5 in January but suffering losses to #24 Illinois, #10 Michigan State, #16 Ohio State, against 14-6 Iowa and at Indiana. All but the 2-point loss to the Spartans were by double digits.
Things don't get any easier for Ben Johnson's team in the January 30th Minnesota at Wisconsin betting matchup, heading to the Kohl Center where the Badgers are 8-2 this year. This is also the first road game for the Golden Gophers in over two weeks which doesn't help matters at all.
The Golden Gophers would get a boost on Sunday if leading rebounder Eric Curry (6.8 ppg) can return from an ankle injury that has cost him the last three games. Ohio State doubled up Minnesota 44-22 in rebounds on Thursday in the Buckeyes 75-64 win. Wisconsin has the third worst rebounding margin in the Big Ten, but they also have a couple 7-footers in the rotation in Chris Vogt and Eagan, Minnesota native Steven Crowl.
Badgers Looking Past This Game?
Wisconsin could be in a prime position for a letdown spot considering the Gophers have had a hard time picking up wins in the head to head series dropping 13 of the last 15. Not only that Wisconsin, who is 7-2 in Big Ten play, has a matchup with league leading Illinois (8-2) on Wednesday in Champaign. The Badgers could find themselves looking ahead a bit.
Another reason why Wisconsin is no sure thing in Sunday's matchup is that they have two home losses already this season when this team is usually dominant at the Kohl Center. Sure those defeats came against #17 Providence (63-58) and #10 Michigan State (86-74) but anything that gives the Golden Gophers some confidence in this game is important.
Of course the Badgers could easily run away with this game too, especially if Minnesota captain Curry sits again with his ankle injury. The Golden Gophers can still score with Jamison Battle (17.8 ppg) and Payton Willis (16.1 ppg) both capable of big outings, but Wisconsin has the #2 scorer in the Big Ten in Johnny Davis (21.7 ppg) as well as the experienced Brad Davison (15.7 ppg).
Free January 30th Minnesota at Wisconsin Betting Pick
The Golden Gophers need to have Curry back in this game because Wisconsin just got Tyler Wahl back from injury and he had a double-digit rebound game in his return. That being said, the Badgers may very easily be looking ahead towards the Illinois game and although the Golden Gophers are going to struggle to get the win they should be able to keep this contest in single digits.
Minnesota 65 – Wisconsin 71
Free Pick: Minnesota +11.5