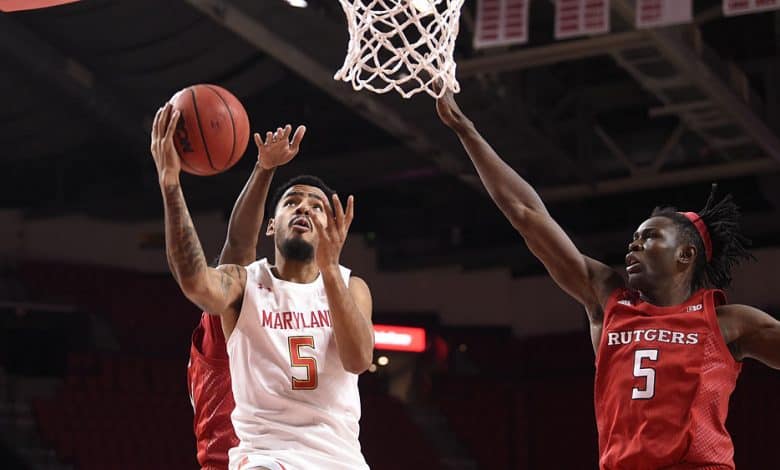 A couple of streaking teams get together on Sunday in the February 21st Maryland at Rutgers matchup. Both teams have strung a nice little run together, with the Scarlet Knights winning 5 of the last 7 and the Terrapins coming in on a three game win streak. Rutgers does get an edge being at the RAC, where they are 9-3 on the year despite the lack of fans in attendance.
As expected, Rutgers is a favorite, listed at -4.5. These one seems like it could go either way so there's value in Mark Turgeon's team getting points. Then again, a lot of the Terps' success came from back to back games with Nebraska and hosting a slumping Golden Gophers squad. Rutgers did pick up a 74-60 win in Maryland back in December as +2.5 'dogs. Time to return the favor for the Terrapins?
Maryland a Benefactor of Bad Competition?
It looks like the Terrapins are on a roll coming into the February 21st Maryland at Rutgers pick. Then again playing 5-15 Nebraska on consecutive nights as well as beating a Minnesota team that is winless on the road this season will make a lot of teams look good.
Wins are wins, and the Terrapins do have momentum. Eric Ayala came alive with 24 points on Wednesday vs. Nebraska – but then again it's Nebraska. Maryland's leading scorer had been held to 14 points or less in three straight prior. Aaron Wiggins has been the Terps biggest contributor down the stretch, going for 17+ points in 6 of the last 7.
Once again, we really don't know just how hot Maryland is right now because of the competition. Nebraska has the 4th worst defense in the Big Ten, and Minnesota the second worst. Maryland did lose by 8 hosting Ohio State on February 8th and stayed competitive in a 55-50 loss at Penn State on February 5th. Sunday's matchup seems to be headed towards being fairly close.
Rutgers Cementing Their Postseason Chances
Rutgers is 12-8 on the season, Maryland 13-10. You don't have to be great to make the NCAA tournament in this absolutely stacked Big Ten this season, and both teams are knocking on the door. KenPom has Rutgers at #26 in the country and Maryland at #33.
Obviously Sunday's matchup is huge. Rutgers recent success is largely due to preying on conference bottom feeders much like Maryland has. The Scarlet Knights thumped Michigan State by 30, handed Minnesota another road loss and has two wins over Northwestern for their 4-2 record over the last six. They've also lost at Iowa (79-66) as +7 underdogs and just got beat by #3 Michigan 71-64 on Thursday as +9 road 'dogs.
Rutgers does have the 74-60 win at Maryland earlier this year under their belts. The Scarlet Knights shot 48% from the field and 49% from three in that game against Maryland's 3rd best defense in the Big Ten. Ron Harper, Jr. had 27 in that game to pace Rutgers who is just 3-5 on the road this year.
Free February 21st Maryland at Rutgers Pick
Does Maryland even the season series or do they get swept? The Terrapins have feasted on the basement of the Big Ten with two wins over Nebraska and beating a Minnesota team that is horrible team on the road. Rutgers has done the same though, and this one really could come down to the last possession.
Maryland 70 – Rutgers 69
Free Pick: Maryland +4.5