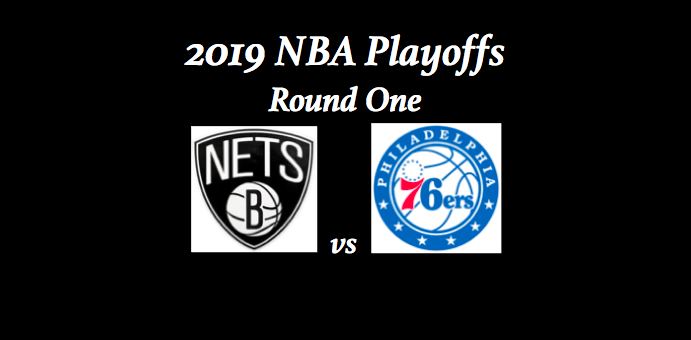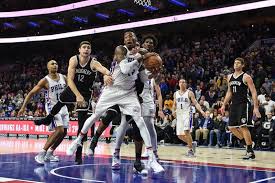 Our 2019 Nets vs 76ers playoff preview finds that Brooklyn comes in with a three-game winning streak. Also, our Nets vs 76ers preview notes that these 76ers are a bit hobbled going into the postseason, as they have five players listed day-to-day. The Brooklyn Nets (42-20) finished sixth in the East and fourth in the Atlantic Division. The Philadelphia 76ers (51-31) were second in the Atlantic and third on the conference. The two teams split their season series at two games apiece. The series tips off at 2:30 pm ET on Saturday, April 13. The first two games will be played in Philly at the Wells Fargo Center, and the second two in Brooklyn.
Nets vs 76ers Playoff Preview Stats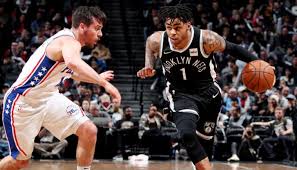 When it comes to points allowed, our Nets vs 76ers playoff preview finds that these teams are in a virtual tie, as the Sixers are allowing 112.5 PPG and Brooklyn is giving up 112.3 PPG. Philly is averaging 115.2 PPG, which is three points more than the Nets' 112.2 PPG. That puts the higher-seed 76ers at an overall +2.8. That's not much of a margin.
Philadelphia is a bit better overall on just about every statistic, including rebounding (47.8-46.6), assists (26.9-23.8) and shooting percentage (47.1% -44.9%). The Sixers are also better at twos (52.9% – 51.3%) and frees (77.1% – 74.5%). The two teams are close on three-point shots with Brooklyn hitting 35.3% and Philly 35.9%.
Brooklyn Nets vs Philadelphia 76ers – Players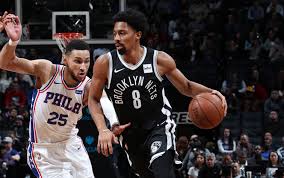 The Nets bring a strong backcourt to this game, which includes point guards D'Angelo Russell (21.1 PPG, 7.0 APG, 43.4 FG%) and Spencer Dinwiddie (16.8 PPG, 4.6 APG, 44.2 FG%). Also in the backcourt is SG Caris LeVert (13.7 PPG, 3.9 APG, 42.9 FG%). The Brooklyn guards offers solid ball movement and all are shooting 31% or better from the arc. In front are SF Joe Harris (13.7 PPG, 3.8 RPG, 50.0 FG%) and center Jarrett Allen (10.9 PPG, 8.4 RPG, 59.0 FG%). Harris is hitting 47.4% of his shots from downtown, while Allen is capable of a double-double. If healthy, DeMarre Carroll (11.1 PPG, 5.2 RPG, 39.5 FG%) is solid off the bench.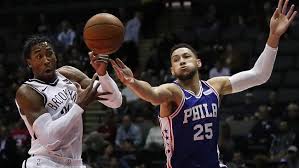 Philadelphia has a very fine offense. However, as noted, many players are listed as being day to day. In the paint, center Joel Embiid (27.5 PPG, 13.6 RPG, 48.4 FG%) is a massive force on both ends of the court. Along with being a tenacious rebounder and habitual double-double performer, Embiid is tough on D. He's averaging 1.9 BPG. Small Forward Tobias Harris (18.2 PPG, 7.9 RPG, 46.9 FG%) can deliver on offense. Other important players in the frontcourt, include center Greg Monroe (13.7 PPG, 4.3 RPG, 65.2 FG%) and SF Robert Covington (11.3 PPG, 5.2 RPG, 42.7 FG%). The Philly backcourt includes SGs Jimmy Butler (18.2 PPG, 4.0 APG, 46.1 FG%) and JJ Redick (18.1 PPG, 5.2 RPG, 44.0 FG%). Butler is making 1.8 SPG and grabbing 5.3 RPG. Ben Simmons (16.9 PPG, 8.8 APG, 7.7 RPG) is a fine setup man.
Keys to the Nets vs Sixers Series
Health is a big factor, as the 76ers have a bunch of walking wounded
Philly front men are commanding
Brooklyn guards are sharpshooters
Sixer guards can rival the Net-men
Brooklyn playing well as of late
Nets vs 76ers Playoff Preview – Our Pick
Our Nets vs 76ers playoff preview sees this series as being fairly close. We doubt that the Sixers will sweep, and we certainly don't think that Brooklyn will. We do think that in terms of depth and overall talent, that Philly is superior. Our Nets vs 76ers playoff preview and pick is Philadelphia in six games.
Summary – Brooklyn Nets vs Philadelphia 76ers Playoff Pick
Philadelphia 76ers in 6 games