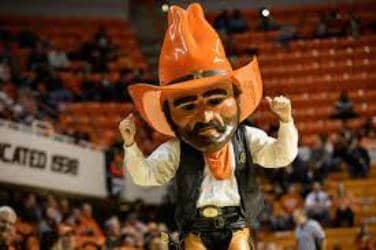 Chris Beard has his team climbing the rankings heading into the January 8th Texas at Oklahoma State betting matchup. The Longhorns (12-2) are up to #14 in the nation as they visit Stillwater to face OSU (7-5). The Cowboys are just 4-4 at home on the season, even though Gallagher-Iba Arena is supposed to have one of the best home court advantages in the country.
Texas is just a -2.5 favorite in this matchup, a number that's actually down from a -3.5 open. That seems to have trap written all over it but 69% of the betting public like the Longhorns' run to continue rather comfortably.
Can Texas Avoid the Trap?
Do the Longhorns actually pull out an easy win in this matchup? Texas is on a six game win streak with the closest game over that span being a 60-53 win over Stanford at the Pac-12 Coast to Coast Challenge in Las Vegas. The Longhorns have started off 2-0 in Big 12 play beating West Virginia 74-59 as -11.5 favorites and topping Kansas State 70-57 to cover the -8.
This will be Beard's inaugural Texas – OSU game, but he's very familiar with the Sooners after spending the last six seasons at the helm of Texas Tech. The January 8th Texas at Oklahoma State betting contest has an O/U of 128, which seems low considering this is a meeting of OSU's #3 scoring offense in the Big 12 (76.6 ppg) and the #5 unit of the Longhorns (74.4).
Beard has revamped the Texas roster so last year's 75-67 loss in Stillwater is moot, especially because the Cowboys had eventual #1 NBA draft pick Cade Cunningham back then. Beard likes to use a lot of adaptability in his lineups, as six players score between 8.5 and 12.0 ppg. Timmy Allen (12.0 ppg) leads that bunch and is coming off a 17 point, 14 rebound performance in the win over Kansas State.
Oklahoma State Tries to Turn Things Around
The Sooners are still looking for somebody to step up in the absence of Cunningham. Avery Anderson III has tried to fill that role and had 28 and 29 points in back to back games in early December. Bryce Williams has upside too with 17+ points in two of the last three.
Despite OSU's scoring potential, they have still dropped four of their last five which is why it's somewhat perplexing as to why Texas is only a -2.5 favorite and that line has actually dropped a point. Oklahoma State dropped their first conference game 74-63 at home against Kansas on Tuesday as +6.5 underdogs. To be fair that was their first game since December 18th due to the holiday break and COVID postponements.
What's really strange is that Oklahoma State is playing so bad at home. They've gone 1-3 their last four at Gallagher-IBA Arena with the lone win being a 98-93 OT win against Cleveland State as -12.5 favorites. Not only that, students don't return to campus until mid-January so the Cowboys do lose a bit of any home court advantage.
Free January 8th Texas at Oklahoma State Pick
This all comes down to if the game is a trap play or if that is overthinking? Texas just looks too easy in this spot but are still worth a roll of the dice, especially with how bad OSU has been at home.
Texas 75 – Oklahoma State 70
Free Pick: Texas -2.5
Free Pick: Over 128