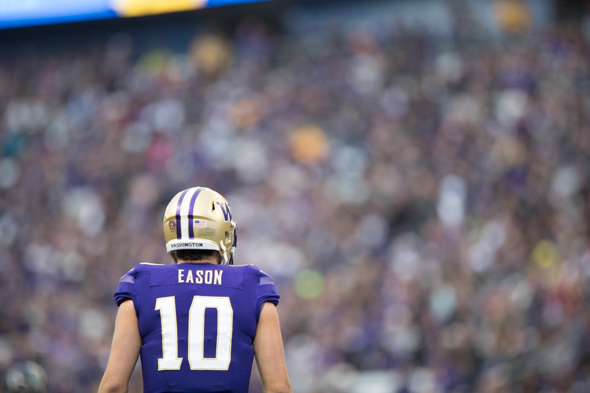 The Apple Cup goes down in the NCAA week 14 Washington State at Washington free pick. It's a rivalry between these two in terms of location, but overall the Huskies have been in control of the series with 6 straight W's and wins in 9 of 10. That doesn't mean the WSU offense isn't explosive enough to pull off the upset however, and if the passing game is clicking they can definitely keep this one within the 7.5 point spread.
Washington State Going to Throw, and Then Throw Some More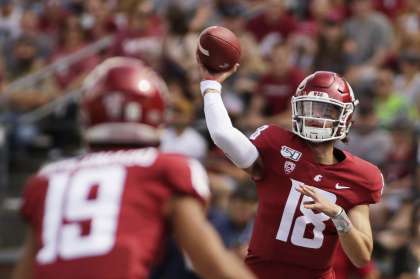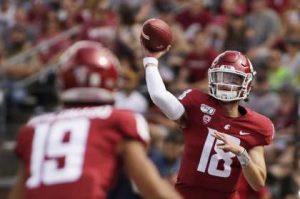 There's no secret what the m.o. is for Mike Leach and Washington State today and that's get the passing game going. The Huskies have back-to-back wins over Stanford and Oregon State and it's been because the offense has been clicking. QB Anthony Gordon will break the 5000 yard passing mark in the NCAA week 14 Washington State at Washington free pick barring injury. He has 606 and 520 yards passing the last two weeks with 11 TD passes.
Washington State being able to score the football was never going to be the question in this year's version of the Apple Bowl. it's what their defense will do. Lost in Gordon's big day last week was the fact that Oregon State racked up 53 points and over 600 yards of offense. Washington State has one of the worst pass defenses in the country, and the Huskies want to send their veteran QB out in style in the last regular season game of the year.
The Huskies will go bowling with a 6-5 record on the year, but they've seemingly fell short in every challenge they've faced on the season. Washington State has lost all 4 of their road games on the season and all 6 of their wins have come as at least 9 point favorites. Washington State even lost a 61-67 home game to UCLA earlier in the year and as -18 favorites.
Eason Time for Washington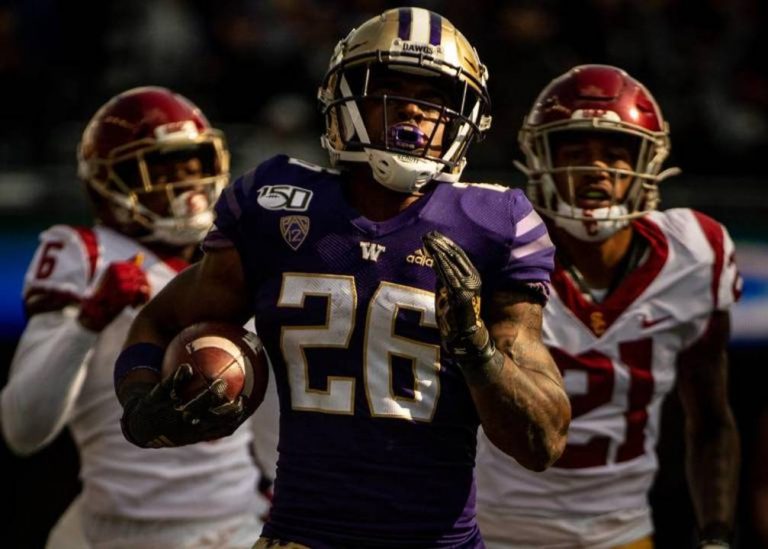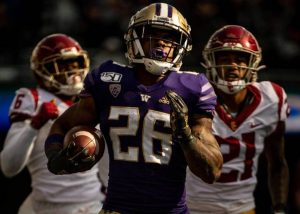 It's been a disappointing 6-5 season by most standards in the Washington football program this season. A 7th straight win in the Apple Cup would be a nice parting gift for Washington QB Jacob Eason however as he likely heads to the NFL Draft. 
Actually, Eason probably needs a big game on Friday afternoon to improve his NFL stock because he has struggled as of late. The Washington offense is averaging just 16.5 points per game the last two with Eason throwing for a total of 381 yards with 1 TD and 3 INT. Of course there's no better team to get right against than the Huskies, who allowed an unprecedented 500 yard passing game to Stanford two weeks ago. Washington has the advantage of turning to a solid running back in Salvon Ahmed, but he had just 13 carries for 29 yards as Washington lost at Colorado last week as -14 point favorites.
Washington is 6-0 on the season when running for 187 yards or more and the Cougars have allowed that number in six games – giving up an average of 176 on the ground per game. The Washington defense has also buckled down a bit, holding Colorado and Oregon State to a combined 27 points the last two weeks. Obviously WSU is a different animal, but it's good to have momentum coming into this one.
NCAA Week 14 Washington State at Washington Free Pick
The 'hook' looms large in this one with UW being a 7.5 favorite. The Huskies offense has been struggling, but how do they not get it going against the defense optional approach of Washington State? For all the gaudy numbers that Gordon has put up – he also threw 3 picks at home last week against Oregon State. Turnovers will kill in a rowdy environment Friday.
Pick: Washington -7.5