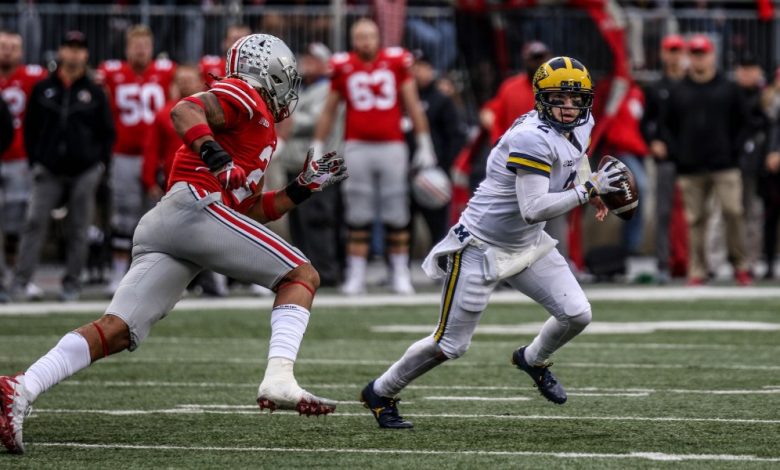 Tensions are running high in the NCAA week 14 Ohio State at Michigan free pick as the Wolverines try to get the first win over their rival since 2011. The Buckeyes are the #1 team in the country and absolutely destroyed Michigan 62-39 in this meeting last season. Oddsmakers have made the Wolverines 9 point underdogs on Saturday morning, is that too many points in a rivalry game – or not enough against this OSU juggernaut?
Ohio State Doing What They Want This Season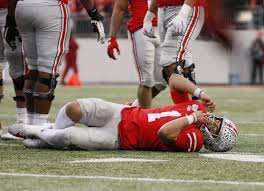 The Buckeyes have answered the bell in pretty much every challenge they've faced this season. Ohio State is 11-0 on the year and also covered the spread in every game from September 7th to November 9th. That includes a dominating 38-7 home win vs. Wisconsin and a 28-17 win against Penn State last week.
Is there any reason to doubt Ohio State in this one? The NCAA week 14 Ohio State at Michigan free pick will be the first time OSU has been favored by less than 2 TDs on the season. Is that a mark of poor competition or an elite team? The game being in Ann Arbor shouldn't effect the Buckeyes either as they've won 31-20, 42-13, and 42-41 the last three trips there.
The only real edge Michigan would have on Saturday is if Ohio State QB Justin Fields is indeed hampered by an ankle injury suffered last week against Penn State. Fields jogged off after that though and should be fine for Saturday. the Buckeyes QB has thrown for 33 TD to just 1 INT on the season. Michigan has a top 5 defense, but they'll also have to contend with J.K. Dobbins on the ground. Dobbins has 2 TD runs in each of the last four games and ran for 157 vs. PSU.
Does Michigan Have Momentum?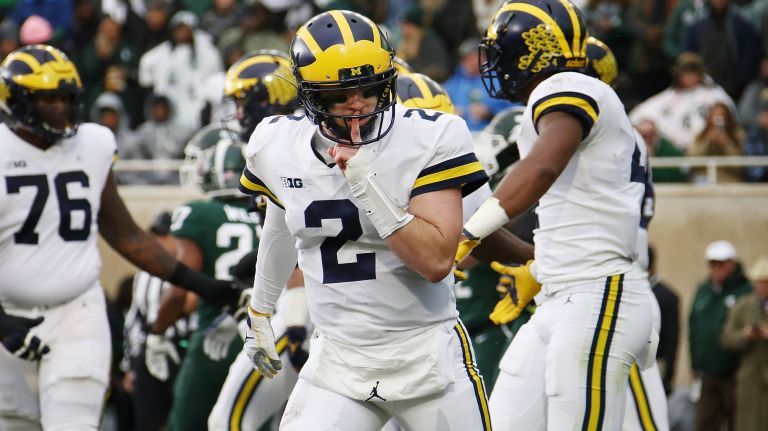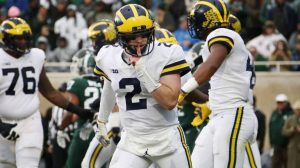 The Wolverines have looked like a different team over the past month following their 21-28 loss at Penn State. Jim Harbaugh's team comes into the NCAA week 14 Ohio State at Michigan free pick having won four in a row. UM has scored 38 points in each of those while holding each of the opponents to 14 points or less. Harbaugh tries to avoid becoming the first coach in Michigan history to start 0-5 against the Buckeyes.
Shea Patterson has been a huge key to Michigan's success down the stretch. The oft-embattled QB 21 TDs to just 5 INT on the year and has posted back-to-back 360+ yard games with 9 TD and 1 pick the last two. Of course, he'll have his hands full trying to fend off Ohio State's Chase Young who leads the nation in sacks despite sitting out two games. Young had 3 sacks, 94 tackles for loss, and a FF last week vs. Penn State. Patterson has found a nice connection with Nico Collins (165 yards, 3 TD last week) but the Buckeyes rank 1st in the country in fewest points allowed, total defense, and passing yards allowed.
NCAA Week 14 Ohio State at Michigan Free Pick
Quite frankly, there's not a number you can put on OSU that would seem too high. They don't rebuild, they reload and this year's squad could be better than the one that beat UM by 23 last season. These games also tend to be high scoring and both offenses are clicking coming into the rivalry battle. Ohio State and the points looks good – but the total looks great.
Pick: Ohio State / Michigan *Over* 52