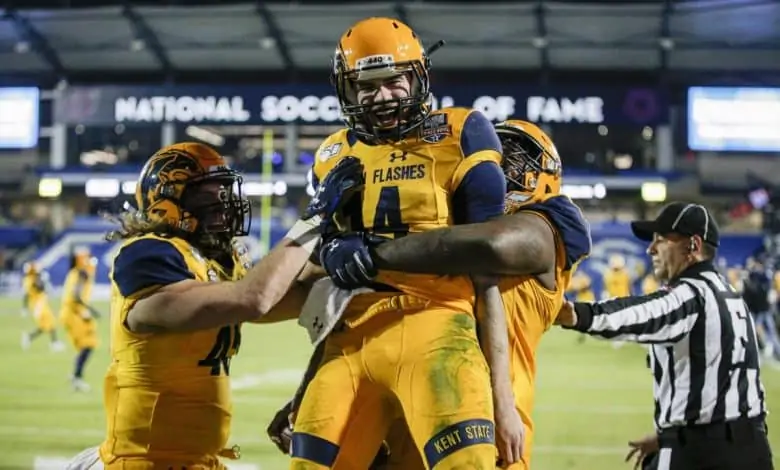 Tuesday night's Mac-tion slate may be a bit underwhelming as the two games both feature favorites of 25 points or more. The Akron at Kent State pick is looking like it's going the Golden Flashes way, as oddsmakers have them as -25.5 favorites. Any way Akron keeps this one close?
Both squads have two games under their belt, and each one has been mixed. Kent State for example had to squeak out a 27-23 win at home over Eastern Michigan to start the year, but dominated Bowling Green 62-24 last week. Akron was blown out of the water 58-13 to kick off their season, but held relatively tough in a 24-10 loss at Ohio last week as +27.5 underdogs.
Can Zips Stay In the Game?
Akron was 0-12 last season, so the fact that they've been +19.5 and +27.5 underdogs to start the season is no surprise. The big question is which Zips team we're going to see show up in the Akron at Kent State pick.
Akron was walloped in the season opener, allowing 218 yards rushing to Western Michigan as well as a 12/16, 3 TD day to Broncos QB Kaleb Eleby. It's an understandable loss though, as WMU had the #2 offense in the MAC last season. The Zips looked much better last week though, still a two TD loss but a competitive one as Ohio had just 185 yards rushing and 122 through the air.
Akron had the worst offense in the MAC last season, but there are signs of improvements through two games in 2020, especially in the running game. Teon Dollard scampered for 165 yards on 22 carries vs. Ohio, and the combination of Dollard and Jeremiah Knight went for 141 on 29 carries in the season opener. Kent State actually had the worst rushing defense in the conference in 2019.
Kent State Offense Too Much Here?
Just like Akron has posted one good and one poor game to start the season, we don't know which Kent State squad shows up despite their 2-0 start. The Golden Flashes went back and forth with Eastern Michigan to start the season, before ultimately pulling off the 27-23 win at home. The line was only Kent State -4.5, but EMU was last in the MAC West last season.
Last week's showing is what has Kent State backers optimistic on Tuesday. Bowling Green hung tight at 10-10 after the 1st quarter, but the Golden Flashes went off after that, scoring the next 38 points unanswered en route to a 62-24 win.
Make no mistake, Bowling Green isn't exactly elite competition but the nearly 300 yards rushing and another 372 through the air is an impressive showing for Kent State. Dustin Crum is the real deal for Kent State, going 18/27 with 4 TD vs. the Falcons after a 21/29 day vs. Eastern Michigan.
Free Akron at Kent State Pick
Oddsmakers are expecting some points on Tuesday night, with a betting total of 59. Only one of the last 10 meetings between these two has hit that number however. Kent State won 26-3 a season ago, but Akron had won three straight prior. Bettors are going to love the Golden Flashes after the 62 point output last week, but Kent State is also still only a year removed from having the MAC's second worst defense in 2019.
Kent State 26 – Akron 24
Free Pick: Akron +25.5