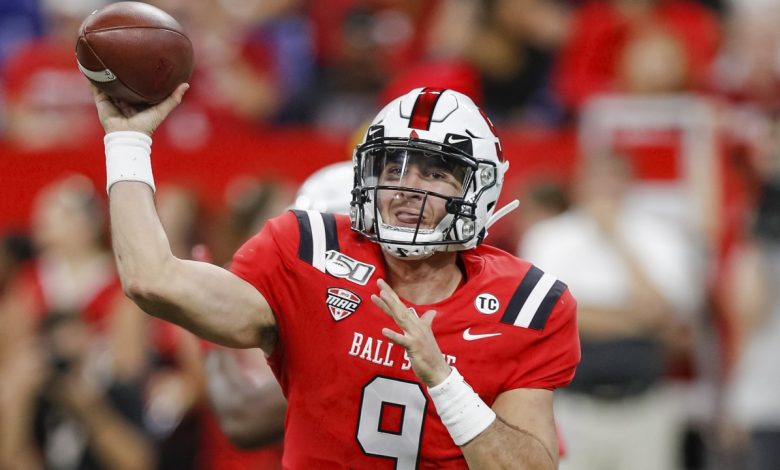 Tuesday night MAC-tion gets underway in the NCAA week 11 Ball State at Western Michigan free pick. The Broncos are a -6.5 favorite which is significant, but not as high as you might expect considering WMU is 5-0 at home on the year. Both teams come into this matchup with extra rest, but is Western Michigan a TD better than the Cardinals?
Ball State With Another Upset Brewing?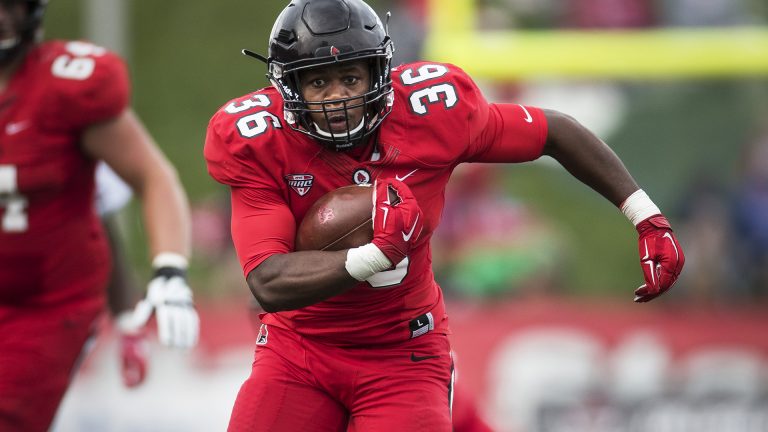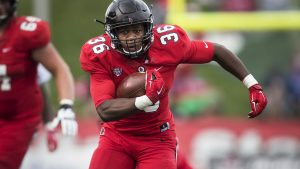 Even though they are on the road in the NCAA week 11 Ball State at Western Michigan free pick, the visiting Cardinals can be optimistic. This is mostly because Ball State was a 42-41 winner as a +10 underdog in last year's meeting. Drew Pitt was 21/26 with 3 TD for Ball State in that game and returns this year with 17 TDs and 6 INT on the season.
Pitt will be back under center for Ball State on Tuesday but it's who may not be in the lineup that could be bigger news. Cardinals RB Caleb Huntley left the October 26th game vs. Ohio after tweaking his ankle after just 6 carries.Having last weekend off helped the healing for Huntley as he's listed as probable vs. Western Michigan. That's a big addition as Huntley rushed for 157, 152, and 119 yards in the 3 games prior to being injured last week.
Can Ball State's defense answer the bell of the Western Michigan running attack that ranks 30th in the country in yardage? Western Michigan has scored 30+ in 6 of 9 games on the year to be a top 25 team in scoring.
Western Michigan Seeks Revenge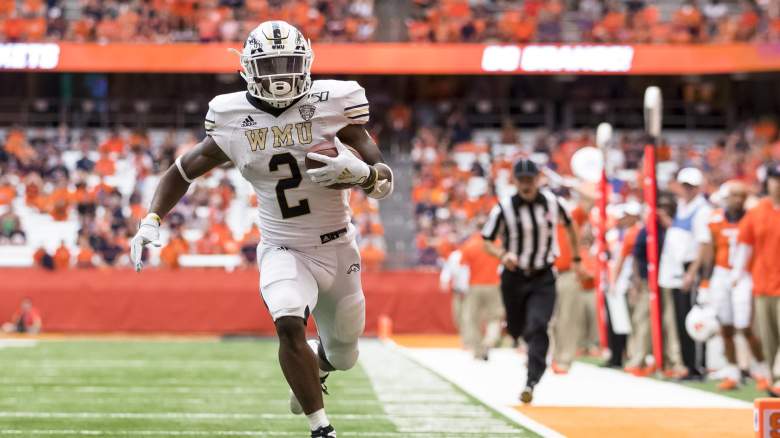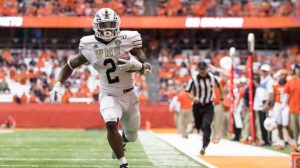 The Broncos did fall 41-42 to Ball State last November, but it was a loss that was in scoreboard only. Western Michigan actually dominated on the road as -10 favorites, outgaining the Cardinals 548 to 353. That includes the Broncos having 67 carries for 361 yards on the ground. WMU held a 42:00 to 18:00 T.O.P. advantage in that game, were +1 in turnovers, and had just 1 more penalty yard and still couldn't get the win.
What more do the Broncos have to do to get the win in the 2019 Ball State at Western Michigan game? They will definitely pound the ball again as LeVante Bellamy is one of the nation's premier RBs. The Senior had 178 yards and 4 TD in the last game, his 7th TD in the last two. Bellamy toted the rock 35 times for 213 last season vs. Ball State and the Broncos still had enough carries for Jamauri Bogan to get 25 in that game.
The Broncos defense did allow Ball State to put up 42 last year albeit it was a road contest for Western Michigan. WMU has buckled down this year, posting a 5-0 record in Kalamazoo. Western Michigan has been at least a 9 point favorite in all their home games this year though. Will Ball State present a tougher challenge as they sit atop the MAC West with a 3-1 record?
NCAA Week 11 Ball State at Western Michigan Free Pick
It's a good spot for the Broncos as they still don't know how they let last year's game vs. Ball State slip away. Western Michigan held every major statistical advantage in that one except final score. The Cardinals had no answer for the WMU run game then, and they won't on Tuesday either.
Pick: Western Michigan Broncos -6.5