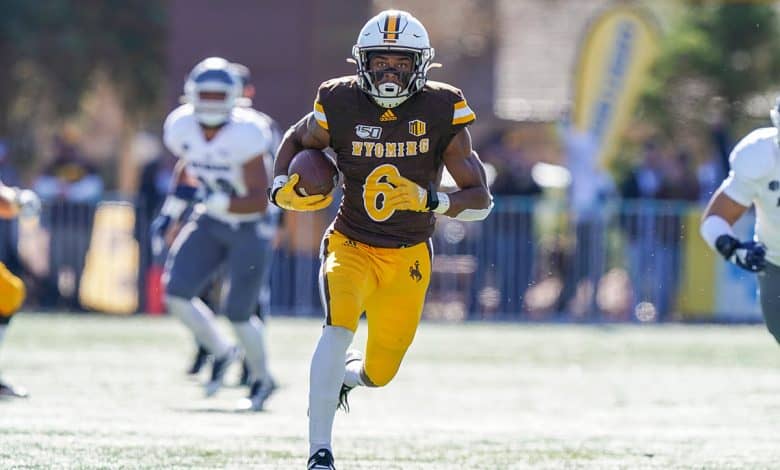 Thursday night's Wyoming at Colorado State pick still has a lot of unknowns as the teams enter just their third and second games of the season respectively. The Rams are at home, hoping for better results than the 38-17 loss at Fresno State in their opener as -2.5 road favorites last week.
Wyoming has two games under their belts, and faced their share of struggles in an OT loss at Nevada to open the season. The Cowboys looked better last week, dominating Hawaii 31-7 in Laramie. Colorado State is hoping they'll find similar success at home, and after shaking the rust out last week. Wyoming is still a -3.5 road favorite though, and has won four straight in the series.
Wyoming Stringing Things Together?
The Cowboys have started their season 1-1, but the 37-34 OT loss at Nevada in the opener is somewhat excusable. Wyoming was a -3 point favorite but the game was on the road, in the season opener, and against the nation's #2 passing offense.
Make no mistake, Carson Strong shredded Wyoming for 420 yards and 4 TD last week, but that's going to be the norm for Wolf Pack opponents this season. The Cowboys defense had a nice bounce back last week in the 31-7 win over Hawaii, as that was a Rainbow Warriors team that had 323 yards rushing and 229 through the air in their opener vs. Fresno State. Hawaii had less than 235 yards of total offense last week.
The Cowboys defense looks like the side to ride in the Wyoming at Colorado State pick. CSU had a decent offensive week in their opener with 223 yards passing and 149 on the ground, but that was against the same Fresno State team that was absolutely ripped apart by the Hawaii offense in the opener.
Who Goes at QB For Colorado State?
Much like Wyoming, Colorado State's loss in the opener can be excused despite the fact they were a road favorite. The Rams were adjusting to new coach Steve Addazio's system on the road against a Fresno State team that had already played a game. Plus CSU was missing a bevy of players due in part to COVID restrictions.
The absences last week contributed to Addazio opting for Tony Centeio as his starting QB over last year's starter Patrick O'Brien. Centeio is a more mobile back, and did lead Colorado State with 80 yards rushing on 13 carries. O'Brien did play, and looked good going 7/10 for 82 yards and a TD. Centeio was 10/23 for 141 yards. Is this a good problem to have – or if you have two QBs do you actually have none?
Addazio is going to try to run the ball Thursday night, just like he did at Boston College. Wyoming has been pretty stout in their rush defense, allowing less than 100 yards/game. CSU's defense might also be vulnerable against the pass as Fresno State QB Jake Haener threw for 300+ yards and 3 TD last week. Wyoming has averaged 200 yards/game on the ground though.
Free Wyoming at Colorado State Pick
It just looks like Wyoming is the more put together team on Thursday night. The Cowboys can run the ball, and had nearly 200 in last year's 17-7 win in Laramie led by 154 from Xazavian Valladay, who had 163 on the ground last week vs. Hawaii.
Wyoming 27 Colorado State 13
Free Pick: Wyoming -3.5