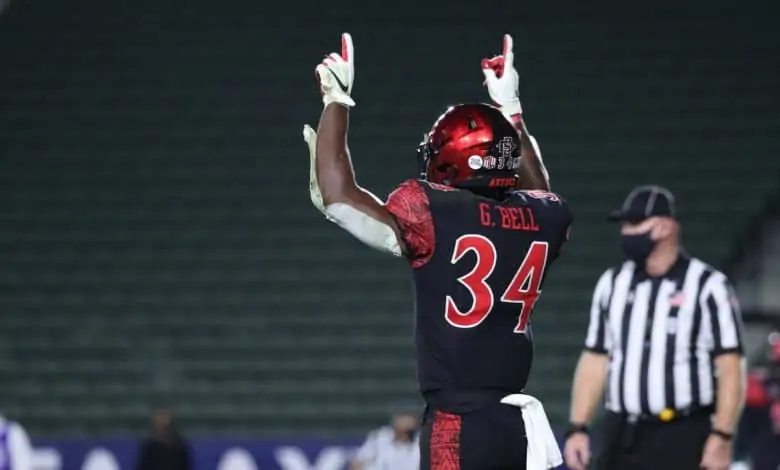 A couple of 2-0 teams meet up Friday night in the San Jose State at San Diego State pick. The Aztecs' undefeated start has definitely stood out, as they've outscored opponents 72-13 while amassing the nation's #1 rushing offense and #1 total defense. San Jose State has held their own too though, and against arguably better competition.
There's values on the Aztecs at -9.5 on Friday night because of their two blowout wins this season. San Jose State and the points looks tempting too though as they've lost by 10 and 3 points the last two head to head meetings. Is there another romp in store for the Aztecs, or is San Jose State eyeing the upset?
Can San Jose State Offense Hold Their Own?
San Diego State is averaging 36.0 ppg through their first two wins of the season, so San Jose State is going to need their offense on Friday night. The Spartans did just enough in a 17-6 win over Air Force to start the season with a win as +7.5 home underdogs. SJSU looked much better last week, toppling New Mexico 38-21 as -13.5 favorites.
The Spartans will be going on the road for the first time in the San Jose State at San Diego State pick, making the 7-hour trip South to SDCCU Stadium. The biggest question ahead of Friday night's tilt is if the SJSU offense can build on their momentum of scoring 38 point last week? Was that output just a fluke though against a Lobos team playing their first game of the season?
Make no mistake, QB Nick Starkell was great last week going 34/47 for 467 yards and 5 TD. Interestingly enough it's probably the Spartans first game of the season against Air Force that has them best prepared to face the Aztecs. The Falcons pounded the ball 49 times for 206 yards, but San Jose State still came away with the 17-6 win.
San Diego State Too Much?
The Aztecs have been very impressive in their 2-0 start to the season, dominating UNLV 34-6 in the season opener and rolling Utah State 38-7 last week. That's a great way to begin the year, but those opponents are also a combined 0-5 on the season.
San Diego State can only play who has been put in front of them, and they've done their jobs in amassing 287 yards on the ground vs. UNLV and 407 rushing yards vs. the Aggies last week. For what it's worth, Utah State did keep things close as they were down just 10-7 at the half, something that bodes well for San Jose State on Friday night.
Greg Bell has been a beast for the Aztecs with 111 and 157 yards rushing in two games. San Jose State held their own against the Air Force rushing attack, meaning Aztecs QB Carson Baker could be the X-factor in this game. Baker is completing less than 60% of his passes this season, but has thrown 3 TDs to 0 INT.
Free San Jose State at San Diego State Pick
San Diego State has been dominant this year, but they also haven't played anybody. San Jose State is a tough play in their first road game of the year, but 9.5 is a lot of points for two teams who have played each other close the last two years.
San Diego State 31 – San Jose State 27
Free Pick: San Jose State +9.5