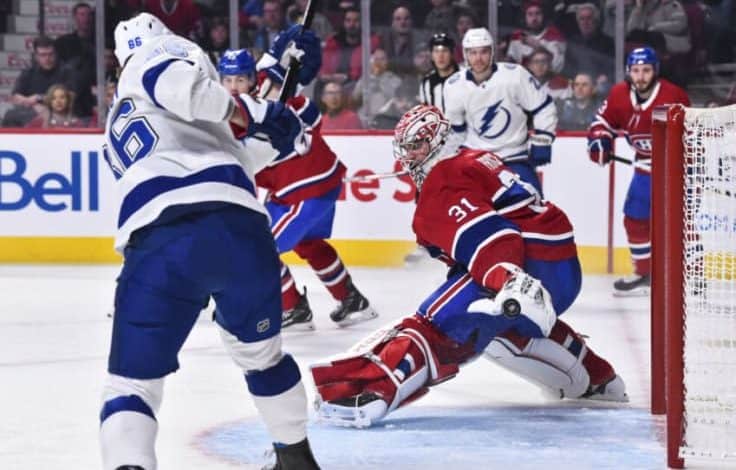 The Canadiens at Lightning game 2 matchup sees Tampa Bay as another huge favorite (-200). That's understandable, TB is at home and they're coming off a 5-1 victory on Monday with a -195 price tag. The Lightning are now 5-1 in their last 6 Stanley Cup Finals contests.
Montreal is still pretty dangerous on Tuesday night, as they have become BFFs with adversity. The Canadiens put themselves in a 3-1 hole against first place Toronto in round 1 and also dropped game 1 in Las Vegas 4-1 playing in front of full capacity fans for the first time. Montreal came back to beat the Golden Knights in six games, and now have worked out the kinks and pressure of playing in their first Stanley Cup since 1993. The Habs are +175 underdogs.
Will Habs Be More Poised?
One thing the Canadiens have prided themselves on this postseason is staring adversity directly in the face. They didn't blink having to beat Toronto three straight times, didn't suffer an emotional letdown in sweeping the Jets next series, and didn't let falling 4-1 to Vegas in game 1 destroy their confidence.
Montreal did look a little skittish in Monday's loss, with the first three of the Tampa Bay goals coming on Canadiens turnovers. That put Carey Price in some tough situations, and the Canadiens goaltender had his worst outing of the season allowing 5 scores on just 27 shots. Price allowed 4 goals to Vegas on 30 shots in game 1 last round, and rebounded to stop 29 of 31 in front of nearly 18,000 rabid Golden Knights fans.
Suppose Price does bounce back in the Canadiens at Lightning game 2 pick, Montreal still has to score themselves. Montreal scored 3+ in four of the final five games against Vegas, but slipped in just one of their measly 19 SOG in game 1 vs. Tampa Bay. The Habs get a slight boost if Joel Armia is allowed to return from COVID protocols which caused him to miss Monday's tilt.
Tampa Bay Seems Comfortable
The Lightning are treating the Stanley Cup Finals like they've been here before, which they have in bringing home the Cup last season. TB fans were robbed of seeing their team in person during their championship run last season due to tournament being held in the Canadian bubble, but the Lightning are making things worth the wait as they are three wins away from a repeat.
Nikita Kucherov answered any questions about a back injury suffered in game 6 vs. the Islanders last round by tallying a couple goals in the 3rd period to put the game out of reach. Kucherov had 3 points altogether in game 1, adding an assist to Steven Stamkos at 18:50 in the 3rd to push the game 'over' the total of 5.
Some people say Price is due for a bounce back in game 2 after he had held opponents to 2 goals or less in 8 of 9 starts prior to Monday's contest. Even if the Canadiens goaltender is a bit better on Wednesday, it may not matter as Andrei Vasilevskiy was superb again in game 1, stopping 18 of 19 shots. That was the first goal Vasilevskiy has allowed in his last three playoff starts at Amalie Arena.
Free Canadiens at Lightning Game 2 Pick
Tampa Bay looked great in game 1, but that -200 price tag is just too much against a Montreal team that has shown the ability to bounce back from adversity this postseason. Even though Tampa Bay has five of the top six points scorers this postseason, Montreal's defense should be much better on Wednesday – and Vasilevskiy will be his usual great self.
Canadiens 1 – Lightning 3
Free Pick: Under 5