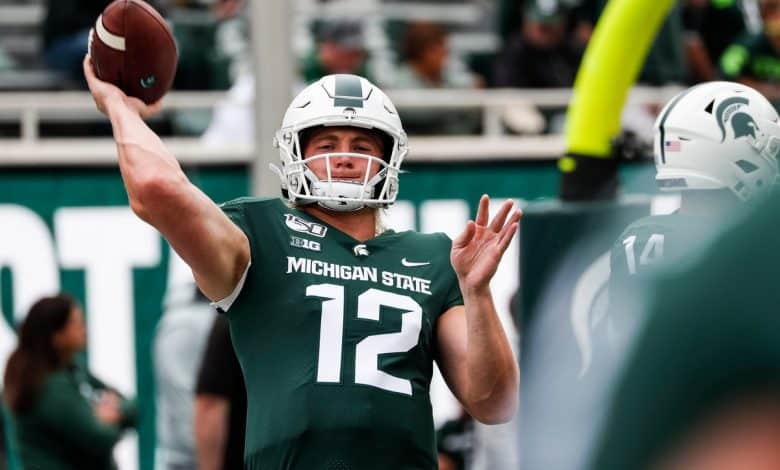 The odds have narrowed a bit heading into the Michigan State at Iowa pick. Last week MSU saw themselves as +21.5 point underdogs prior to their 27-24 win over in-state rival Michigan. The Spartans visit Kinnick Stadium as +5.5 on Saturday, down from a +7.5 open.
The Hawkeyes are hoping to catch Michigan State in a letdown game after the Spartans big upset win a week ago. Iowa needs a win after falling 24-20 at Purdue in the opener as -3 road favorites, and losing again to Northwestern 21-20 last week as +1 home underdogs. Saturday's betting total is just 46.5.
Michigan State Eyes Consistency
MSU needed the win over Michigan last week after dropping their season opener 38-27 at home to lowly Rutgers as -9.5 favorites. The Spartans outgained Rutgers, but were doomed by five lost fumbles and another two INTs.
MSU QB Rocky Lombardi did throw for 300+ yards and 3 TDs vs. the Scarlet Knights, and added 323 with 3 TD (and 0 INT) last week vs. the Wolverines. Jordon Simmons has struggled getting the running game going for the Spartans however, with just a high mark of 55 yards in two games. Northwestern ran the ball 60 times last week vs. Iowa, but for just 143 yards.
MSU scored the big win last week, and they did so with the 'bend don't break' strategy on defense. Michigan was able to run up 152 yards on the ground, and another 300+ through the air, but still couldn't get the win. Even the Wolverines TD that brought them within 27-24 came with 0:37 in the 4th, so it was a solid performance from the Spartans.
Can Iowa -5.5 Be Trusted
Things were looking good for the Hawkeyes last week as they jumped out to a 17-0 lead over Northwestern as +1 point favorites. The Wildcats kept chipping away though, and had already narrowed the gap to 20-14 going into the half. The Hawkeyes did not score in the 2nd half, showing a real lack of offensive creativity heading into the Michigan State at Iowa pick.
Iowa also had a 17-14 lead at half over Purdue in their season opener, but ended up falling 24-20. The Hawkeyes have now scored three points in the second half in two games. Iowa managed 195 yards on the ground vs. the Boilermakers, but were bottled up for 77 yards on 23 carries vs. Northwestern.
There will be some yardage available for the Hawkeyes on Saturday, but can they finish? QB Spencer Petras is completing just 53% of his passes on the season, and had three devastating INTs against Northwestern. Michigan State definitely has the QB edge as Lombardi has thrown for 300+ in both Spartans tilts.
Free Michigan State at Iowa Pick
If not for a 7 turnover debacle in the season opener, Michigan State could be 2-0 heading into Saturday's tilt and possibly as favorites. The Spartans have shown cracks on defense, but also a great passing offense. The Hawkeyes have went into their shells in the 2nd half the last two games, and have a lot of adjustments to make before game three.
The Spartans have won three straight in this series, including 17-10 last year in East Lansing. MSU won the two games prior in Iowa City, 16-13 and 26-14. That trend should continue on Saturday.
Michigan State 27 – Iowa 21
Free Pick: Michigan State +5.5