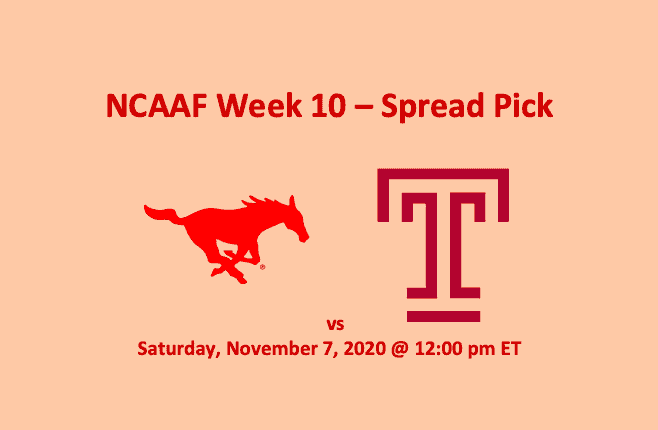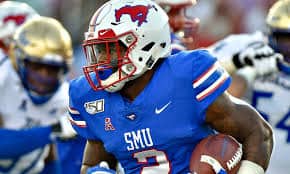 Our SMU vs Temple pick has the Mustangs favored by -17.5 (-108). Conversely, the underdog Owls are at +18.0 (-110). This season, the #18 SMU Mustangs are 6-1. They're third in the American Athletic Conference and 4-1 for their last five games. The Mustangs last lost to #9 Cincinnati 42-13 on October 24. Their last win was on October 31 when they beat Navy 51-37.
The unranked Temple Owls come to this game with one win and three losses. The Owls, who are eighth in the AAC, last won on October 17 when they beat USF 39-37. Since then, Temple has lost two straight games. The Memphis Tigers took down the Owls 41-29 on October 24. Then, on October 31, the Tulane Green Wave annihilated Temple 38-3.
This AAC contest will be played November 7, 2020 at 12 pm ET.  Sunny skies are expected and the temperature is projected to be 74 degrees. This AAC contest will take place in Philadelphia, PA at Lincoln Financial Field.  Also, please see our totals pick for Clemson vs Notre Dame.
SMU vs Temple Pick – Stats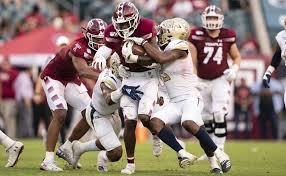 If you're looking for two teams that have contrasting stats, then this SMU vs Temple matchup is for you. The Mustangs are averaging 39.6 PPG, while the Owls' D is allowing 36.8 PPG. On the other end of the spectrum, Temple is scoring 25.0 PPG, while SMU is giving up 29.4 PPG.
The Mustangs are averaging a hefty 523.0 offensive YPG. At the same time, Temple is accumulating 386.3 offensive yards per contest. SMU is rushing for more than 190 YPG and passing for an additional 330.1 YPG. On the other hand, Temple has been good for 260.8 YPG in passing and 125.5 in rushing. The Mustangs hold an edge on offense.
On defense, Temple is especially vulnerable to the rush. They're allowing 213.5 ground yards per game. Passing yards are minimal, coming in at 190.5 YPG. The Mustangs are giving up 193.7 YPG on the ground and 221.4 YPG in the air.
Mustangs vs Owls Spread Pick – Key Players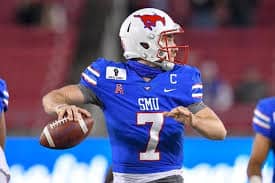 This SMU vs Temple pick notes that senior QB Shane Buechele offers this team solid play. He's thrown 16 TD passes and just three INTs while being sacked 14 times. Buechele brings a 66.3% completion rate into this game. He has a fine group of wideouts that includes Rashee Rice (34 REC, 4 TDs), Reggie Roberson Jr (24 REC, 5 TDs), and Danny Gray (23 REC, 4 TDs). RB Ulysses Bentley IV is exceptional. He's made 115 carries for 695 yards and 10 scores. On defense, LBs Delano Robinson and Richard McBryde have 53 and 37 tackles respectively. They each have three TD catches.
For Temple, senior QB Anthony Russo has thrown nine TD passes and six INTs. Russo has also scored two rushing TDs. RB Re'Mahn Davis comes to this game with 308 total yards on 78 carries and one TD run. WRs Randle Jones (29 REC , 284 YDs, 1 TD), Jadan Blue (31 REC, 266 YDs, 5 TDs), and Branden Mack (19 REC, 227 YDs, 3 TDs) are solid.
SMU vs Temple Pick – Final Word
Our SMU vs Temple pick finds that the Mustangs will have a tough time versus the Owls. Still, we expect Temple to play solid football and put up some points. Eventually, we see SMU riding roughshod over the Owls. Take the Mustangs at -17.5.
SMU Mustangs vs Temple Owls Summary
SMU Mustangs at -17.5 at (-105)