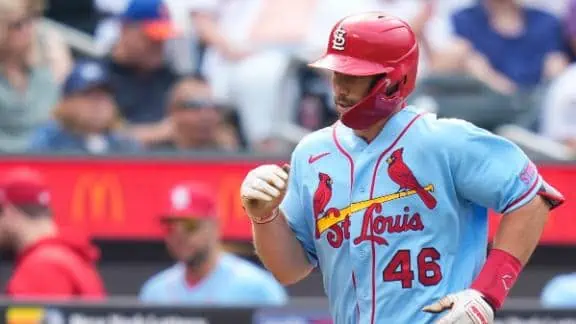 It was a long time coming for St. Louis, was their first in over a week snapping a six game skid. New York let one get away in that 5-3 defeat as -145 favorites, but will look to still claim the series with a win in the Sunday June 18th Cardinals at Mets betting matchup.
For St. Louis to take two of three at Citi Field would be rare, as they haven't won a series since taking three of four from the Dodgers a month ago. That definitely gives a lean towards the Mets here, especially with a reasonable -125 price tag at home.
Why the Cardinals Have Value on Sunday
St. Louis looked like the contrarian play on Friday night, listed at -117 on the road even though they had lost 10 of their previous 12. As it turns out, the Mets dominated 6-1 to cash at +108, but it still seems like New York should be higher than -125 on Sunday even after the Redbirds took game two, so maybe the oddsmakers are getting back for losing the series opener.
One huge bright spot for St. Louis on Saturday was Paul Goldschmidt hitting a 2-run HR as part of his fourth 2-hit game in his last seven contests. It's always a good sign for the Cardinals if he can get hot, and he's 3-6 in his career vs. Mets pitcher Carlos Carrasco. Nolan Arenado has reached base all three times he's faced the New York starter as well.
The Cardinals are slight +105 underdogs behind Matthew Liberatore (1-2, 5.14 ERA) on the mound. You'd like to see that number a little higher considering St. Louis has lost three straight starts from the left-hander and he has an 8.00 ERA on the road (and 18.00 in day games) but the fact that it's not could be bait set on the Mets.
Why the Mets Have Value on Sunday
New York looked like a trap on Friday night and they cruised to an easy 6-1 win as +108 underdogs. That was the first time the Mets won consecutive games since the beginning of the month, so it's no surprise that they lost on Saturday. That also clears the chute for a series win in the June 18th Cardinals at Mets betting matchup.
Maybe we don't have to look at what the Mets can do on Sunday, just what their opponent cannot do. The Cardinals put up absolutely atrocious numbers prior to the win in game two as they had lost six in a row, and are now a mere 3-11 in June.
Despite St. Louis' struggles this month, they've still scored 3+ runs in 11 of their 14 games so Carrasco (2-3, 5.71 ERA) will have to be sharp and get some help from his offense. The right-hander has allowed 2 ER or less in three of his last four so maybe New York is the play here.
Free June 18th Cardinals at Mets Betting Pick
Both sides have value especially in a lower priced game but neither can really be trusted based on the pitching matchups. Liberatore is horrible on the road and during the day while Carrasco has better road splits (4.97) than at home (6.89) and has been hit to the tune of a 7.38 ERA in four day starts this season. Have to give the offenses the edge in this spot.
Free Pick: Over 9.5