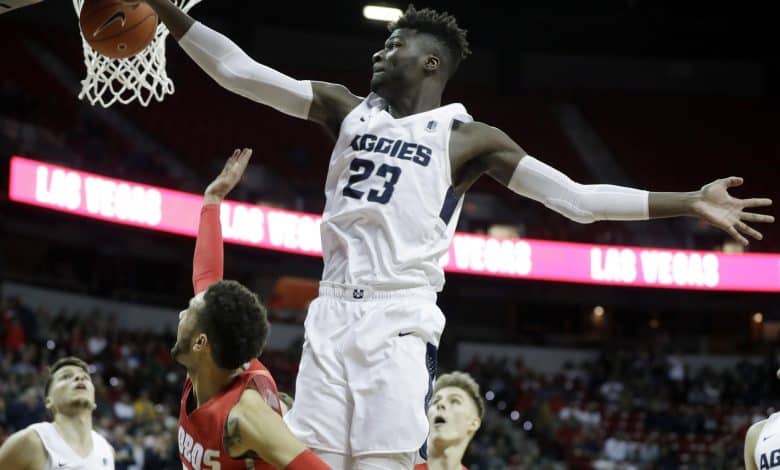 One of the expected closer games on Friday's March Madness docket is the NCAA tournament Utah State vs Texas Tech matchup. The Aggies got an at-large bid at 18-7 coming out of the Mountain West. TTU plays in the rough and tugged Big 12, but are still just -4 point favorites in this one.
You've got to like the Red Raiders come tournament time, as Chris Beard has taken this team to the Elite 8 and the national championship game in his last two postseason appearances. USU did make the tournament as a #8 seed in 2019, but suffered a 61-78 loss to #9 Washington. The 2020 tournament was of course cancelled due to the pandemic.
Aggies Are Big
The Aggies like their chances coming into the NCAA tournament Utah State vs Texas meeting. That's mostly because they are a huge team, powered by 7-footer Neemias Queta who has gone for 18+ in three straight games and has grabbed double digit rebounds in 17 of 25 games this season.
6'7″ Justin Bean is also pretty lengthy for a guard, and he's grabbed double digit boards in 5 of the last 7 contests. Queta and Bean combined for 29.7 points and 18.3 rebounds in their three MWC tournament games. Utah State was the 3rd best rebounding team in the country this year, and Texas Tech was 97th. That looks like a lot of one-and-done's for the Red Raiders as well as second chance opportunities for USU.
One big question in this meeting is quality of opponents with Utah State playing in the Mountain West which sent two teams to the tournament while the Big 12 sent 7 squads to March. Utah State did lose to tournament team VCU 69-85 in their season opener and also lost by just 3 to #6 seed BYU. The Aggies also swept both games with conference champ San Diego State before falling in the tournament.
Texas Tech the More Tested
Utah State had the 96th toughest schedule in the country this year, while Texas Tech was 16th. The Red Raiders played a tournament quality team practically every other night, which makes them very battle tested for the pressure that is a postseason game.
TTU was also playing pretty well down the stretch, beating #3 seed Texas by 9, thumping Big 12 bottom feeders TCU and Iowa State by 20+ and then losing to #1 seed Baylor by 15 to close out the regular season. The Red Raiders only got one game in the conference tournament, falling 66-67 to Texas after two Longhorns free throws with 1.8 seconds left.
Texas Tech did have the best defense in the Big 12 this year, and will be playing a Utah State team that ranked 113th this season in offensive efficiency. Utah State may have a rebounding edge, but that's a moot point if guys like Mac McClung (16.1ppg) can get hot. 6'6″ Terrence Shannon has some pretty solid height at guard as well.
Free NCAA Tournament Utah State vs Texas Tech Pick
Utah State is a trendy pick in this tournament opener, but Texas Tech can put the clamps on a team on defense. Topping the Big 12 in points allowed/game is a pretty special feat, against opponents with much better offensive efficiency than the Aggies. Don't underestimate Beard in the postseason either.
Texas Tech 72 – Utah State 59
Free Pick: Texas Tech -4