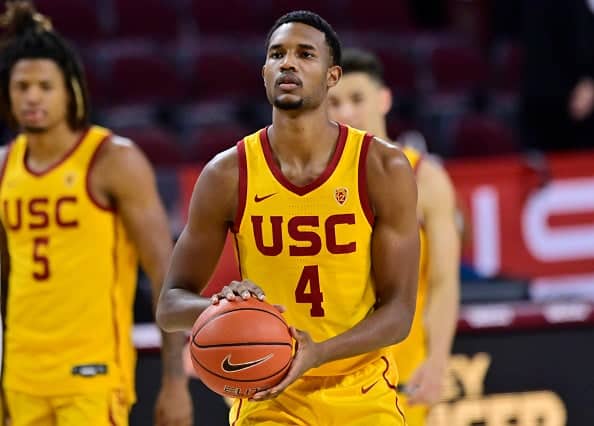 People look at playing in the First Four as a bad thing, but in actuality it can give the winning team an edge as they already have a tournament victory under their belt. That's the situation in the NCAA tournament Drake vs USC game, as the Bulldogs were able to shake out the rust and anxiety in notching a 53-52 win over Wichita State on Thursday.
USC is waiting in the wings as -6.5 favorites for Saturday's contest however. The Trojans played in a Pac-12 conference that sent five teams to the NCAA tournament, and had a top 50 strength of schedule while Drake ranked 121st. Are the Bulldogs ready to go on a run, or is it back to reality against a power 5 school?
Survive and Advance for Drake
It wasn't exactly a walk in the park, but Drake was able to get a low scoring 53-52 win over Wichita State for the school's first tournament win in 50 years. If you can win despite a 10-minute scoring drought and a 12-point deficit at one time that's a very good game to have gotten out of the way.
Some early struggles were expected from the Bulldogs, who hadn't played in 11 days prior to the win over the Shockers. Drake was also trying to work leading scorer ShanqQuan Hemphill back into the lineup as he's been out since February 10th with a broken foot. Hemphill had just 3 points in 10 minutes, but could see a slightly bigger role in the NCAA tournament Drake vs USC matchup.
You have to take competition into consideration a bit, but Drake's defense is for real after holding Wichita State to just 52 points. The Shockers shot 34% from the field, and were 3-18 from three point range (17%). The Bulldogs had a top 40 defense during the regular season (64.1 ppg) but that's also the exact same amount USC gave up and against tougher opponents. The betting total is 135 for this one.
USC Set to Dominate?
Drake's win over Wichita State was impressive considering Hemphill was limited and the team is also without another starter after Roman Penn (11.2) was lost for the year with a foot injury at the end of February. Things get ramped up on Saturday against USC however.
The Trojans are a very risky -6.5 favorite though. They went just 3-3 over the last six games of the regular season and won one and lost one in the Pac-12 tournament. USC played Colorado well in the conference tournament, falling 70-72 vs. a Buffaloes team that could make some noise in the NCAAs.
There's still a lot of people overlooking the Trojans in this tournament. USC was 22-7 on the year, and come into the tournament ranking 11th in KenPom and 15th in adjusted defensive efficiency. The Trojans can shut down this Drake offense, but can score as well led by Evan Mobley who had a couple 26 point games in the Pac-12 tournament. Mobley has great chemistry with his brother Isaiah, who averaged 9.2 on the season.
Free NCAA Tournament Drake vs USC Pick
USC can be a dangerous team in this postseason. They have an elite scorer and a top notch defense, and the quality of competition that Drake has faced is going to catch up with them on Saturday.
USC 74 – Drake 60
Pick: USC -6.5