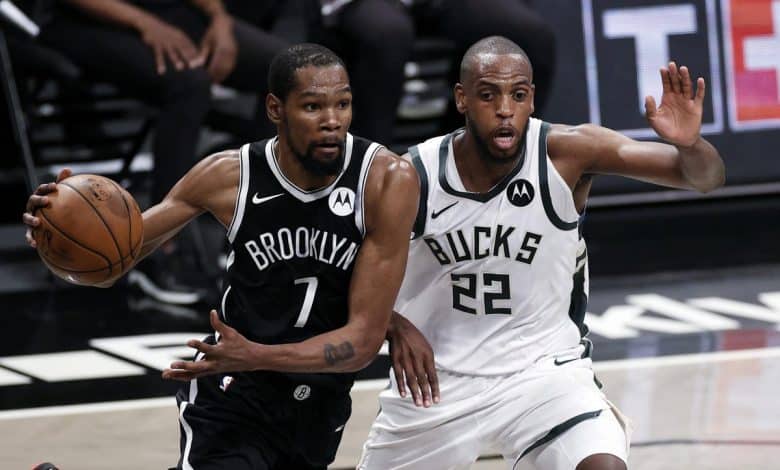 With the new year in full swing, we are now creeping closer to the halfway point of the NBA season.
As things currently stand, the Brooklyn Nets (+250) currently have the best odds to win the NBA championship, followed by Golden State Warriors (+550), Milwaukee Bucks (+700), and Phoenix Suns (+850).
It's hard to envision a scenario where one of those four teams don't end up in the Finals, but there are two additional teams in the Western Conference that could be dark horses, which are the Utah Jazz (+1100) and Los Angeles Lakers (+1200).
If the Lakers hope to get to the Finals, however, they're going to need to get more from Anthony Davis and Russell Westbrook in addition to what LeBron James already gives them.
Brooklyn Nets
The Nets are far and away the best team in the Eastern Conference when they're at full strength.
Kevin Durant is putting up averages of 30 points, eight rebounds, and six assists per game, coming up just decimal points away in all categories from reaching that insane stat line. He's doing all of that while shooting about 52 percent from the field.
James Harden is finally coming around as well, as he has averaged 29.8 points, 10.3 assists, and 8.8 rebounds per game since Christmas Day at the time of this writing, which is a six-game span.
Brooklyn has also finally gotten Kyrie Irving back, as his presence, even just for road games, will allow Durant and Harden to take on a lesser load and rest up their bodies. Irving is the type of player that can essentially come in whenever and create his own offense without disrupting the flow of the offense. If there is anyone who is capable of fitting in as a part-time player, it's him.
If Irving becomes available as a full-time participant, whether it be him finally getting vaccinated against COVID-19 or New York City lifting their mandates, then that'll obviously be huge for the Nets.
Either way, having Irving around in any capacity will give this team a significant boost in a 7-game series.
Golden State Warriors
The Warriors are back to being one of the best teams in the league after a two-year hiatus from the playoffs, as Stephen Curry is back to playing some of the best basketball of his career, averaging nearly 27 points to go along with 6.1 assists and 5.3 rebounds per game.
Draymond Green is getting back to being the all-around force on both sides of the ball, Andrew Wiggins has finally found his niche in the league, and Jordan Poole is enjoying a career year, averaging nearly 18 points a game.
Klay Thompson is expected to return very soon, so the Warriors will become even deadlier as a 3-point shooting team.
Add in the fact that they're ranked as the best defensive team in the league, where Thompson also thrives.
Milwaukee Bucks
The Bucks are your defending champions, as Giannis Antetokounmpo is enjoying yet another MVP caliber season.
The core of Khris Middleton and Jrue Holiday is still intact, as both present themselves as great secondary scorers next to Antetokounnpo and provide excellent defense next to him.
However, in order for the Bucks to thrive come postseason time, they'll need Brook Lopez back, as he can help stretch the floor with his 3-point shooting and use his 7-foot frame to protect the rim, profiling very well next to Antetokounmpo on both sides of the floor.
Even with the loss of PJ Tucker, they're still ranked the eighth-best defensive team in the league.
With plenty of time left to go in the season, they still have a ton of chances to improve even further on that side of the floor.
Antetokounmpo finally proved last season that he can get it done in the playoffs. With that confidence now there for him, that will make this team scary once again this postseason.
Phoenix Suns
The reigning Western Conference champs are right back in the mix as one of the better teams in the league.
Devin Booker continues his rise as one of the best young players in the league, Chris Paul continues to age gracefully, and Deandre Ayton is establishing himself as one of the best interior scoring big men in the league.
CP3 is hungry to get a ring, as he has shown a willingness to do whatever it takes for him to be an effective scorer at this point of his career while still being arguably the best playmaker in the game today. He'll bring the best out of each and every one of his teammates.
Booker is also proving to be unguardable, as he can beat you in the mid-range, on the drive, or behind the arc.
Mikal Bridges also continues to be a great fit for this team on both ends, especially on defense.
Ranked as the second-best defensive team and top 10 offensive team in the league, they're easily a threat to get back to the Finals.