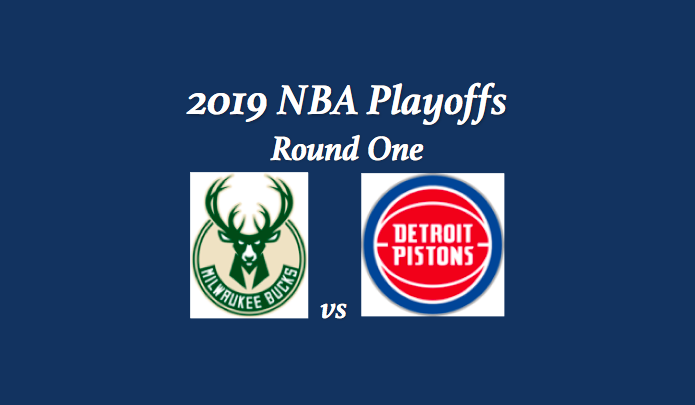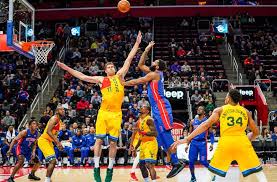 Our 2019 Milwaukee Bucks vs Detroit Pistons preview finds the Bucks are 4-0 versus Detroit this year. This Milwaukee Bucks vs Detroit Pistons pick notes that the first-seed in the East Bucks have a good shot at sweeping the Motor City club. The Milwaukee Bucks (60-22) finished first in the first in the Central Division and 19 games ahead of the third-place Pistons. The Detroit Pistons (41-41) captured the final playoff spot in the East by two games, leaving behind the Charlotte Hornets and Miami Heat.
In their last 10 games, the Bucks are 7-3. Over that same span, the Pistons went 4-6. The series will start in Milwaukee at 7:00 pm ET on Sunday, April 14. The series will tip off at the Fiserv Forum in Milwaukee, WI. After two games, the first-round series will love to the home court of the Pistons, Little Caesars Arena in Detroit, MI.
Bucks vs Pistons Playoff Preview – Stats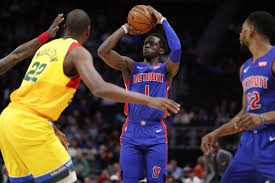 There is no team in the NBA with a larger PGG/OPPG differential than the Bucks. Milwaukee is averaging 118.1 PPG and allowing 109.3, leaving them +8.9. On the other hand, Detroit is scoring 107.0 PPG and giving up 107.3 PPG. They're differential is -0.3 PPG/OPPG. Overall, in point differential, Milwaukee is +9.2 over the Pistons.
The Milwaukee Bucks lead in just about every statistical category, including rebounding (49.7-45.0), assists (26.0-22.5) and shooting percentage (47.6% -44.0%). The Bucks are also better at twos (56.5% – 50.0%), frees (77.3% – 74.7%) and threes (35.8%- 34.4%).
Milwaukee vs Detroit – Players
Our Milwaukee Bucks vs Detroit Pistons preview notes that the top-seed team is loaded. That's a fact even though they are without PF Nikola Mirotic (11.6 PPG, 5.4 RPG, 41.5 FG%). PF Giannis Antetokounmpo (27.7 PPG, 12.5 RPG, FG%) is a major force. Along with stellar scoring and rebounding stats, he averaging 5.9 APG, 1.5 BPG, and 1.3 STPG. SF Khris Middleton (18.3 PPG, 6.0 RPG, FG%) is a solid playmaker, averaging 4.6 APG. Center Brook Lopez (12.5 PPG, 4.9 RPG, FG%) is a top defender, averaging 2.2 BPG. The backcourt features two top scorers. Eric Bledsoe (15.9 PPG, 5.5 APG, FG%) and Malcolm Brogdon (15.6 PPG, 3.2 APG, FG%) are top-notch anchors. Together, they are combining for a total of 9.1 RPG.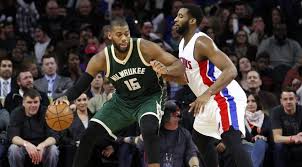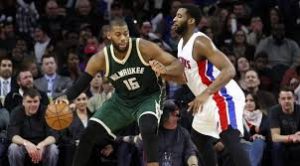 PF Blake Griffin (24.5 PPG, 7.5 RPG, 46.2 FG%) is the top scorer for the Pistons, while center Andre Drummond (17.3 PPG, 15.6 RPG, 53.3 FG%) is the team's leading rebounder. However, Griffin, who is also averaging 5.4 APG, is listed as day-to-day. Drummond is tough on defense, averaging 1.7 STPG as well as 1.7 BPG. Look for Thon Maker (5.5 PPG, 3.7 RPG, 37.3 FG%) to see some playing time in the paint. In the backcourt, Reggie Jackson (15.2 PPG, 4.2 APG, 42.1 FG%) plays point. shooting guard Wayne Ellington (12.0 PPG, 1.5 RPG, 42.1 FG%) is his primary counterpart. Both are good on about 47% of their threes.
Keys to the Bucks vs Pistons Series
This season, Milwaukee has not lost to Detroit
Who wins Drummond vs Antetokounmpo battle?
Bucks dominate in just about all stats
Milwaukee is deep in all areas
Griffin needs to play and play well for Pistons to have a shot
Milwaukee Bucks vs Detroit Pistons Preview – Our Pick
Our Milwaukee Bucks vs Detroit Pistons preview sees the top-seed as commanding this series. Despite the fact that the Pistons have some solid talent, we see Milwaukee making short-work of them. We are definitely taking the Bucks in this one. We think, however, that the Pistons will capture one game. We're taking the Milwaukee Bucks in five games.
Summary – Milwaukee Bucks vs Detroit Pistons Pick
Milwaukee Bucks in 5 games