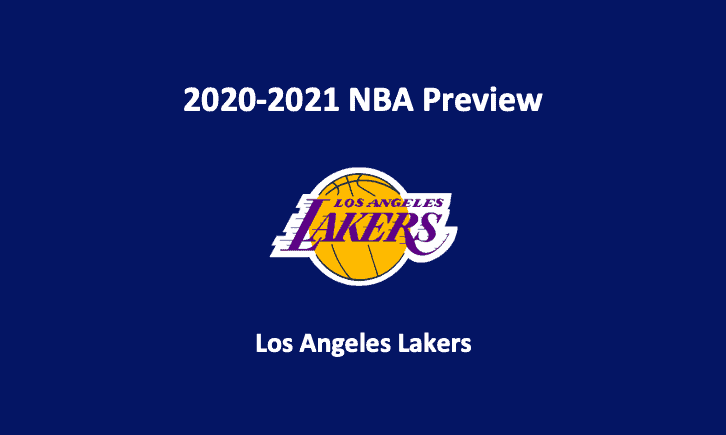 Our Los Angeles Lakers preview 2020 – 2021 finds that this team is certainly back. Last season, the Lakers topped the Pacific Division and the Western Conference with a 52 and 19 mark. After a six-year playoff drought, Los Angeles got back to the postseason. In the playoffs, they beat the Trail Blazers, Rockets, and Nuggets in each of their series four games to one. The Lakers met the Miami Heat in the NBA Finals taking them down four games to two. It all happened in head coach Frank Vogel's first season at the helm. It was quite an accomplishment.
Los Angeles Lakers Preview 2020 – 2021 – Stats
The Lakers were 11th in point production, averaging 113.4 PPG. They topped the NBA in shooting percentage (48.0%) and were ninth in rebounding (45.7 RPG). Los Angeles dished off 25.4 APG (10th) while posting 8.6 SPG (5th) and making 6.6 BPG (1st). Despite these positive stats, the Lakers struggled in other areas. Subsequently, those areas include the team's 34.9 3PT% (21st), 72.9 FT% (28th), and 14.7 TO (26th).
Overall, the Laker D was solid, as they allowed opponents just 107.6 PPG (4th), which gave them a point differential of +5.8. Opponents were good on 44.8% of their field goals, ranking LA 8th. The Lakers were seventh in three-pointers, hitting 34.9% of their attempts. They held opponents to 42.3 RPG (2nd). Consequently, Los Angeles ranked third in rebounding differential.
Los Angeles Roster
The Laker roster has some of the best offensive players in the league. LeBron James, Anthony Davis, and Marc Gasol are the foundation and star players. There have been numerous additions to this team, including high output shooting guard Dennis Schroder. We like the depth coming off the bench especially at the guard and center positions.
Los Angeles Lakers Preview – Backcourt
After 17 NBA seasons, LeBron James shows no signs of slowing down. In his second season with the Lakers, James helped to bring a championship to Los Angeles. Last year, he averaged 25.3 PPG, 10.2 APG, and 7.8 RPG. He shot 49.3% from the floor and 34.8% from downtown. James also made 1.2 steals per game. Veteran shooting guard Dennis Schroder comes to the Lakers from Oklahoma City. Last year, he averaged 18.9 PPG, 4.0 APG, and 3.6 RPG. Schroder, a top-notch shooter, posted a 46.9 FG%, 38.5 3PT%, and 83.9 FT%.
Lakers Preview – Frontcourt
Formerly from the Detroit Pistons, Kentavious Caldwell-Pope has spent the last three seasons with LA. Last year, the small forward shot 46.7% from the floor and 38.5% from the arc. He was good for 9.3 PPG. In the power position, Anthony Davis, who'd played seven years with New Orleans, came to the Lakers last season. He ended up averaging 26.1 PPG, 9.3 RPG, and 3.2 APG. Plus, Davis recorded 2.3 BPG and 1.5 SPG. Center Marc Gasol, who played last season with Toronto, saw his stats diminish. Our Los Angeles Lakers preview 2020 – 2021 observes that last year he averaged just 26.4 MPG, which was seven minutes fewer than his career average. He's capable of averaging 15 points and eight rebounds per game.
Lakers Bench
Starting shooting guard Dennis Schroder steps in to back up James at the point, as does Alex Caruso (Day-to-Day). This is Caruso's fourth NBA season. Last year, he averaged 18.4 MPG, recording 5.5 PPG, 1.9 APG, and 1.1 SPG. He's a solid shooter. Kentavious Caldwell-Pope, who starts at small forward, comes in at shooting guard. Also rotating in to relieve is Wesley Matthews. Matthews, who starts his 12th season and his first with the Lakers, has career averages of 13.1 PPG, 3.0 RPG, and 1.0 SPG. He's a 42.3% shooter who converts threes at the rate of 38.1% and frees at 82.4%. Matthews can also swing over to the small forward position.
Kyle Kuzma subs at the small and power forward spots. Markieff Morris also comes in at the power position. Now in his fourth season with LA, Kuzma has proven to be a reliable and productive frontcourt player, averaging 12.8 PPG and 4.5 RPG. Morris is an accurate shooter who's capable of offering the Lakers 20-plus minutes of play and 11-plus points per game. Starting forward Anthony Davis swings into the center spot, while Montrezl Harrell also comes in to backup center. Harrell, a five-year vet who spent his last two seasons with the Clippers, has a career field-goal average of 61.4%. Last season, he was good for 18.6 PPG, 7.1 RPG, and 1.1 BPG.
Los Angeles Lakers Preview 2020 – 2021 – Coaching
Our Los Angeles Lakers preview 2020 – 2021 notes that Frank Vogel started his coaching career as an assistant with the Boston Celtics in 2001. After stints as an assistant with Philadelphia and Indiana, he became the Pacers head coach in 2011. Then, in 2016, he coached the Orlando Magic. As noted, he came to the Lakers last season. In six of his nine seasons as a head coach, his teams have gone to the playoffs. Last year marked his first NBA title.
Vogel is less an authoritarian and more so a collaborator. Although overall a defensively-minded coach, with the Lakers possessing so many offensive weapons, he managed to put together a team that could sometimes score at will. He manages to put players, assistants, and everyone else at ease with his affable nature, humor, and ability to listen to others. He readily absorbs information and puts suggestions into practice. Along with being highly collaborative, Vogel is always prepared.
Los Angeles – Pluses and Minuses
They can score
Sound on steals and blocks
LeBron James
Shooting percentages an issue
Too many turnovers
Is a repeat possible?
Los Angeles Lakers Preview 2020 – 2021 – Final Word
Our Los Angeles Lakers preview 2020 – 2021 does see this very talented team topping the Western Conference for a second-straight season. The Lakers are very good. Along with putting one of the best starting-five on the court, the team possesses some solid backups. Plus, coach Vogel has proven that he can guide this high-profile team in a basketball-loving town to the Promised Land. Watch out, the Lakers are back!
Los Angeles Lakers Projection – 52-20 First-Place, Pacific Division