NBA Picks
NBA Pick: Cleveland Cavaliers at Oklahoma City Thunder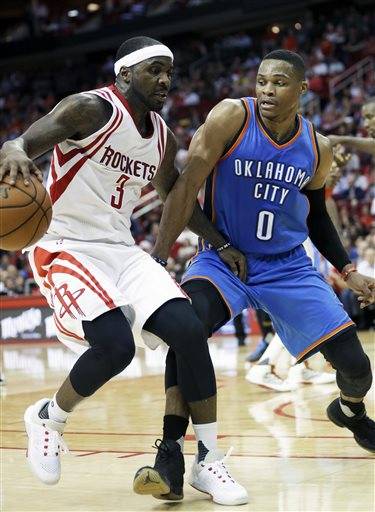 Fans get a real treat on Sunday afternoon, as the Cleveland Cavaliers and Oklahoma City Thunder battle it out at Chesapeake Energy Arena. The game showcases two elite positional battles with Kyrie Irving and Russell Westbrook dueling and LeBron James and Kevin Durant squaring off. Can Kevin Love prove to be the star that makes the difference and lead the Cavs to their 40th win of the year? Or will OKC stand firm at home and inch closer to the second best record in the league?
It's all about the matchups in today's #NBAonABC showcase.#CavsThunder KEYS: https://t.co/Fvo2q1XU1Q pic.twitter.com/H5IoMk5QEB

— Cleveland Cavaliers (@cavs) February 21, 2016
Matchup History
Despite hailing in separate conferences, the Thunder and Cavs have some history, facing each other 106 times during the regular season (Thunder lead, 61-45). Cleveland does have the most recent win in a 104-100 home victory at Quicken Loans Arena back in December, but that only makes sense with the Cavs being a blistering 23-4 at home this year. OKC, meanwhile, is just 15-9 on the road. Neither team is a spare away from home, but that is clearly where they're most vulnerable. That's proven to be the case in this series lately, too, with the home team winning each of the last three contests. Cleveland comes in winners of two straight, but in the last four meetings, the two sides are split, 2-2.
Cavaliers Preview (+2.5)
Cleveland has been quite good this year and getting healthy bodies like Irving and Love back in the fold have been a huge reason why. The Cavs have struggled against the top teams in the league, however, so their second battle with OKC could be another opportunity to display their growth. This one will be on the road, however, where the Cavs are just 16-10 on the year. Cleveland has been a much more focused team ever since the firing of head coach David Blatt, while new coach Tyronn Lue has gotten the most out of Irving and Love. It will be interesting to see if that can extend to a tough road game against one of the best teams in the league. If so, Cleveland could be looking at their fifth consecutive victory and 9 wins in their last 11 games.
Thunder Preview (-2.5)
OKC defends their home court against a very good Cavs team that managed to win a tight shootout against them earlier this year. We could be in for a very similar contest, as the Thunder have one of the deadliest offenses in the league (109 points per game) and are also a staggering 25-6 this year on their home floor. Kevin Durant and Russell Westbrook have largely been in a groove lately, as they're a strong 7-3 in their last 10 contests. OKC's only glaring weakness has been their defense and they still have difficulty finding a balance between Enes Kanter's offensive spark and Steven Adams' defensive bite. The two together would make one heck of a complete post presence, but neither is an ideal option by himself. Another key could be Serge Ibaka's involvement, as the perimeter-oriented Kevin Love – even if unsuccessful – should draw him away from the basket. That could assist the Cavs with penetration and rebounding, so if the Thunder can't counter that somehow, they could be in danger of going down 2-0 in the season series.
The Pick
You can roll with records in any fashion you'd like, but the Cavs won the first game and have the talent to beat anyone anywhere. This game sports a very tiny line, one that should keep you away from betting on the spread. In virtually a pick'em, it's going to be tough to go against OKC, as they've been quite strong at home all year.
I see the pull in a Cavs upset here, but I expect the Thunder to even this series up. I like OKC straight up and to cover at home.