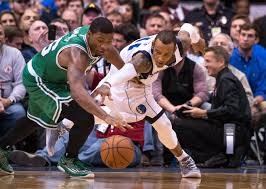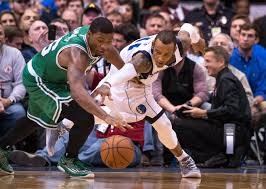 The hot Boston Celtics (35-19 Overall, 16-11 Away) play game four of their road trip and take on the Dallas Mavericks (22-32 Overall, 14-13 Home), who have won two straight. Our Boston plays Dallas NBA free pick has the Celtics at -1.5 and the total is 208.5. The Celtics are 9-1 for their last 10 and sit 2.5 games away from first in the NBA Eastern Conference. The Mavs are 7-3 for their last 10 and are two games away from the final Western Conference playoff spot.
The Celtics are 2-1 on this road trip and continue to whittle away at the Cleveland Cavaliers' lead in the Eastern Conference. They started this road trip with a 108-92 loss to Sacramento on Feb. 8. They then pulled off two wins with the first being a 120-111 victory on Feb. 9 in Portland. The Celtics then beat Utah 112-104 on Feb. 11.
The struggling Mavericks have pulled off two straight wins at home. On Feb. 9, they beat Utah 112-105 in OT. Then on the 11th they hosted Orlando, taking them down 112-80. Thus far on this home stand they are 2-1 with the one loss being 114-113 to Portland on Feb. 7.
Boston Celtics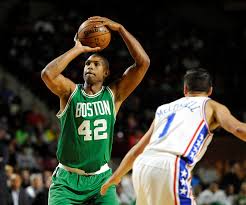 Although small forwards Jae Crowder (14.0 PPG, 5.3 RPG, 48 FG%) and Jaylen Brown (5.7 PPG, 2.6 RPG, 43 FG%) did not play on Saturday, there's a good chance both will be on the court tonight. However, SG Avery Brown (17.1 6.9 RPG, 46 FG%) is definitely out with an Achilles problem. Top scorer Isaiah Thomas (29.8 PPG, 6.3 APG, 47 FG%) is a fourth quarter dynamo. He's hitting 38% of his threes. Center Al Horford (14.9 PPG, 6.8 RPG, 5.1 APG) is connecting on 56% of his shots.
Guard Marcus Smart (10.1 PPG, 4.6 APG, 37 FG%) may see additional action tonight, as will guard Terry Rozier (5.7 PPG, 3.1 RPG, 38 FG%). Center Kelly Olynyk (9.0 PPG, 4.7 RPG, 51 FG%) offers a solid inside presence and a solid shot.
Dallas Mavericks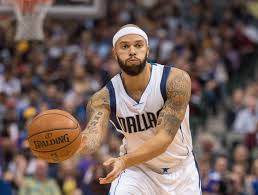 PG Deron Williams (13.4 PPG, 7.0 APG, 43 FG%) returns after a five-game absence due to a toe injury. Young PG Yogi Ferrell (14.6 PPG, 4.6 APG, 43 FG%) did well in his absence and will be ready to relieve him when needed tonight. He's hitting 46% of his three-point shots. Shooting guard Wesley Matthews (15.4 PPG, 41 FG%, 39 3PT%) is a fine two-way player.
In the frontcourt SF Harrison Barnes (20.1 PPG, 5.3 RPG, 48 FG%) leads the team in scoring. PF Dirk Nowitzki (13.4 PPG, 5.9 RPG, 41 FG%) is a fine inside-out player, hitting 38% of his threes. Guards J.J. Barea and Seth Curry both offer double-digit scoring.
Boston Plays Dallas NBA Free Pick
The Celtics are averaging 108.3 PPG while the Mavs are putting in 98.2 PPG. Boston's points allowed ands at 105.8, while Dallas is stingier at 100.2. Boston's offensive efficiency is at 109.5, which is sixth in the NBA. Dallas's efficiency is 104.5 (18th). On the defensive end, Boston and Dallas are 19th and 17th at 106.3 and 106.0 respectively.
In making our Boston plays Dallas NBA free pick, we see this as a close one to call. We're taking the Celtics at -1.5 and the over at 208.5.
Boston Plays Dallas NBA Free Pick: Boston at -1.5 and over 208.5 at GTBets